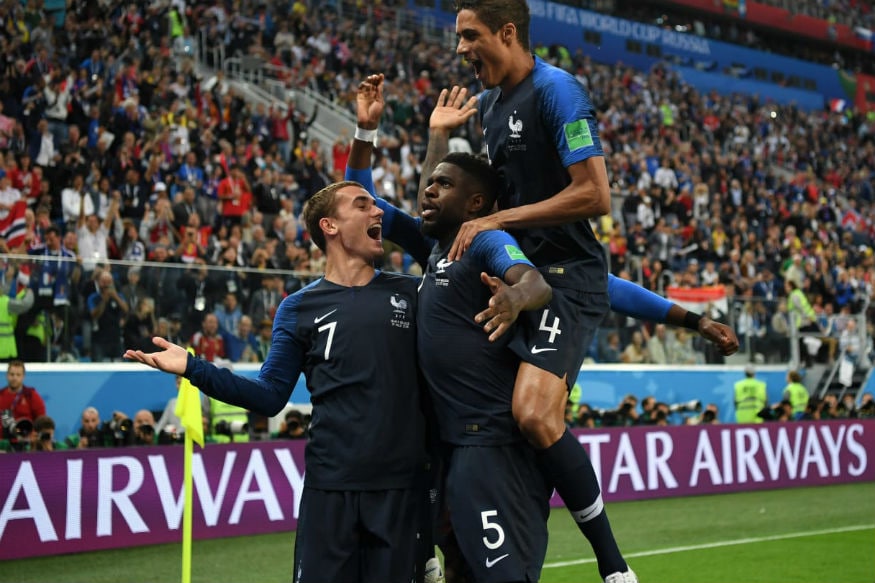 The 2018 FIFA World Cup, if anything, has shown the importance of teamwork and the dizzying heights it can take you to. And no one has exemplified this spirit better than the unlikely finalists – France and Croatia. While the 1998 winners were always among the tournament favourites, few would have thought Croatia would better their previous best, when they appeared in the semifinals two decades back.
France vs Croatia match will take place in Luzhniki Stadium, Moscow. FIFA World Cup 2018 France vs Croatia will kick off at 8.30pm IST on Sunday. France vs Croatia will be broadcast on Sony Ten 2 SD and HD, Sony Ten 3 SD and HD, Sony ESPN SD. They are the official broadcasters of the tournament. FIFA World Cup 2018 France vs Croatia match live streaming will be available on Sony Liv. You can also catch live action, live updates and live commentary on News18.com.
Imagine being Nikola Kalinic at this point in time, sent home by the Croatian coach Zlatko Dalic after he refused to come on as a substitute on their opening night against Nigeria.
These four weeks have seen more than a few surprises, but both France and Croatia have gone from strength to strength through the course of that. Les Blues switched on the style once they got through the first round, while Croatia gave digging deep into your resources another meaning against Denmark and kept the fire in the belly burning against Russia and England.
Getting the win on a bad day is what champions are made of and it is difficult to doubt the brains behind this France side – Didier Deschamps, the captain during French football's finest hour.
Accused of not wanting to 'play football' by Belgium after the semi-final on Tuesday, France has looked a team who still have a gear to go, but fortunately for them haven't needed to be overly worried yet. The young lot is mature and aware that stepping out of line could send things spiraling out of control.
Convincing victories against Argentina and Nigeria marked the Croats' campaign before they quite literally, battled their way through, by enduring tremendous pain and coming from behind, not once but thrice. Led by Luka Modric, a much hated man back in his own country, they almost did not make it to Russia while under the tutelage of Ante Cacic, but managed to regroup and fight back with Dalic at the helm of affairs.
The first time finalists are renowned for their never say die attitude. The presence of fearless characters like Modric, Mario Mandzukic, Ante Rebic, Ivan Rakitic, Sime Vrsaljko and Danijel Subasic, to name a few, have made this crystal clear.
"Nobody expected us to reach the final, but we aren't going to stop now," the Croatia captain told FIFA TV in Moscow. "We will give our best to lift the trophy, this is a unique opportunity. I would exchange all the trophies in my career for this one. We are ready for France."
At the Luzhniki Stadium in Moscow, Croatia are likely to make it a physical battle against France – right from the front to the back where Mandzukic and Perisic act as the first of four lines of defense. It is a ploy that France, clicking as a team at the right time, isn't likely to enjoy, just like they didn't against Uruguay.
Dejan Lovren, Vrsaljko, Vida and Strinic will look to stay tight against the attacking talent that will come at them, and a lapse at any point might leave Subasic exposed to the explosive flair of Kylian Mbappe and Antoine Griezmann, the latter with a happy habit of becoming being prolific in the final weeks of international tournaments. The 19-year-old Mbappe too will be more than happy to run away with the World Cup.
"We are confident, but we don't want to put ourselves under too much pressure. We have to imagine it's just a normal game, and give everything on the pitch. We won't have a lot of opportunities, so we'll have to put them away when they come," Griezmann told FIFA TV ahead of the final.
At the other end, Raphael Varane and Samuel Umtiti have looked good, and alongside youngsters Lucas Hernandez and Benjamin Pavard, and captain Hugo Lloris, have kept a clean sheet in four of their six outings so far. Mandzukic, Perisic and Rebic will look to hurry them into mistakes with their 'run, run, run' strategy.
More than forwards and defenders, the most consuming battle is likely to be in the midfield, where the unstoppable duo of Modric and Rakitic will look to control the pace of proceedings against the immovable pair of N'Golo Kante and Paul Pogba.
While Kante provides cover for the likes of Pogba, Griezmann and Mbappe to flourish and bring out their bags of tricks, Modric and Rakitic are the traditionally calm generals who see the play a couple of steps before it happens.
Deschamps' low risk policy will be tested to the absolute limit against the determined Dalic, whose side cannot afford to switch off even once. For both men history beckons and a chance to exorcise past ghosts is on hand.
A 19-year-old could rightfully burst into the pantheon of legends well ahead of time, or a leader who deserves much more love than he is afforded could bring unbridled joy to his countrymen for the first time since the 1990s.