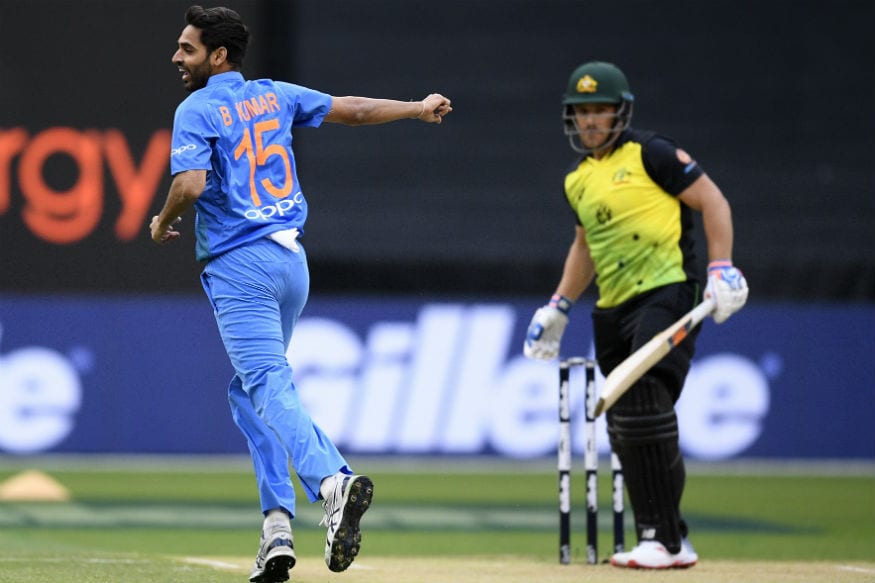 It took Bhuvneshwar Kumar just one delivery to send Aaron Finch back at the MCG, landing the ball at a perfect length, and moving it a touch away forcing an outside edge from the Australian opener. The opening batsman is one of the best T20I players for Australia but issues against a moving ball wouldn't be ideal for him ahead of the four-Test series.

"I think if Finchy plays for us in the Test series, I dare say it's going to be at the top of the order," Test skipper Tim Paine had said.

"He has to open," Shane Warne backed up Paine's comments. "He's a proven performer, he's got a few credits in the bank because he has done so well over a period of time. If he has a few low scores while he's trying to figure out his technique in both forms of the game, he'll be OK."

The Tests, though, is secondary at the moment as Finch gears up to take on Bhuvneshwar in Sydney on Sunday. Bhuvneshwar is at his exceptional best with the new ball, a factor that prompted Virat Kohli to give him three overs up front in the first game. And when the overhead conditions are aligned in his favour, the right-arm seamer simply breathes fire.

In 134 T20 matches across IPL and International games, Bhuvneshwar has bowled 278.1 overs in the first six overs of the match, taking 60 wickets at an eye-catching economy of 5.67. Such is the control he exhibits in these opening stages of T20s that Bhuvneshwar has been able to pick up a lot of wickets at the start.





Finch, on the other hand, is a fearless opener and is least reluctant to switch on the offensive mode from the word go. In 96 T20s, Finch has racked up 1450 runs in 1107 balls in the powerplays at a strike rate of 130.98. He scores a boundary every fourth ball on an average in these overs but when pitted against a skilful bowler like Bhuvneshwar, Finch struggles.





The two have faced off against each other on 10 occasions in this format with Bhuvneshwar getting the better of Finch three times. Remarkably, the Indian fast bowler has conceded runs at an economy on par with his powerplay economy against a rampant hitter like Finch, which is a clear indication that the Aussie struggles against Bhuvneshwar. Finch's strike rate, on the other hand, drops from 130.98 to 91.3 against Bhuvneshwar in the first six overs.

The boundary rate, which is 4.69 overall moves up to 5.75 when he faces Bhuvneshwar, another indication that Finch not only gets bogged down at the wicket against the Sunrisers bowler but also loses his wicket early to him.





A glance at the number of times these two have faced off gives you an indication of when Bhuvneshwar is most threatening against Finch. The Australian's three dismissals against Bhuvneshwar have come within the first five balls he has faced off the seamer.

With Bhuvneshwar getting the better of Finch at MCG and Australia looking to seal the series in Sydney, the Bhuvneshwar - Finch tussle in the powerplay will be the one to watch out for.

First Published: November 24, 2018, 8:07 PM IST