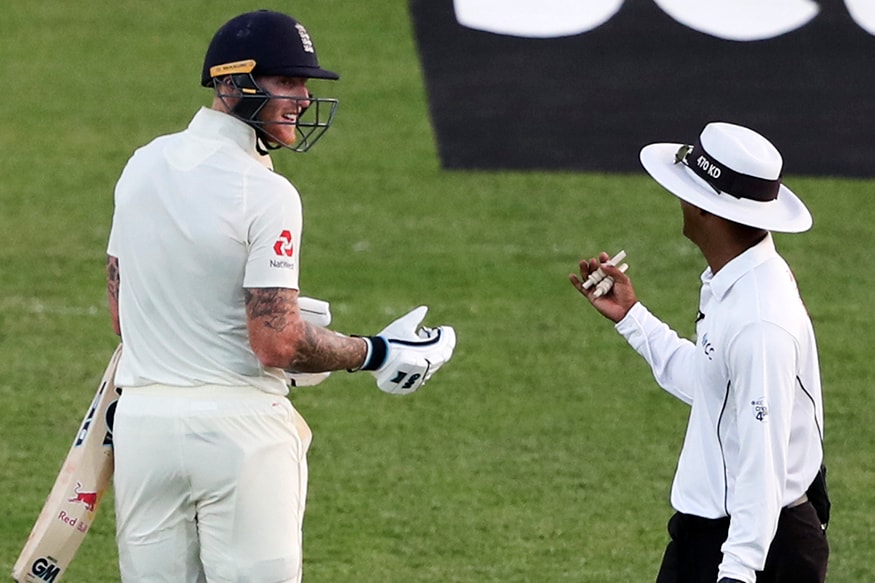 England all-rounder Ben Stokes was at the receiving end of some good fortune as his half-century on the opening day of the St Lucia Test continued despite leaving the field of play after being considered out.
Batting on 52, Stokes was caught and bowled trying to play a pull short in the 70th by Joseph, who did well to adjust in his followthrough to pouch the sharp chance.
But there was an instant reaction from the umpires and the crowd as replays on the big screen of the dismissal showed that the pacer had overstepped.
However, Stokes was already back in the dressing room when the replays was shown, with Jonny Bairstow already on the field. Umpire Rod Tucker signaled a no-ball, following confirmation from third umpire Chris Gaffaney.
Until recently, the end matter would have ended once Stokes left the field.
However, MCC's decision in April 2017, to define Law 31.7, which governs the status of batsmen "leaving the wicket under a misapprehension". The new code took effect from October 2017.
The law now reads:
"An umpire shall intervene if satisfied that a batsman, not having been given out, has left the wicket under a misapprehension of being out. The umpire intervening shall call and signal Dead ball to prevent any further action by the fielding side and shall recall the batsman.
"A batsman may be recalled at any time up to the instant when the ball comes into play for the next delivery unless it is the final wicket of the innings, in which case it should be up to the instant when the umpires leave the field."
Stokes was unbeaten 62 not out at the close of play, having added 124 runs with Jos Buttler to help England finished the day on 231 for four.
"Thank God for technology," said Stokes at the close of play.
"I've never been in the changing room and called out to bat again, that is a first for me and it's probably something that they need to get control of," he said. "I don't think in international cricket you should be walking off and being in the changing rooms and then being back out there two minutes later.
"I was just sat in my chair with my pads on and then I thought someone had got out because of all the shouting, but then the shout was 'no-ball and you're in' so just bizarre. I just had to get myself back into the right frame of mind out there. I had to try and let it go and make sure I was not out at the end of the day."
Stokes also confessed to have made a change in his batting stance, moving across to stand on off-stump. He also revealed that he had taken a trip down memory lane, looking back at one of his more successful knocks to remind himself of what he was doing right.
"I watched myself score a hundred against New Zealand at Lord's [in 2015] before this game to remind myself of a technique where I'd done well and I took it out there with me," he said. "That is a catalyst for how I want to play. I was just trying to find the right tempo between being too aggressive and being too defensive. I think I was a bit stuck over the last couple of months, but watching the video this morning did me the world of good."
Keemo Paul, who has replaced the banned Jason Holder in the game, said it was a relaxing environment to come in, playing in just his third Test.
"It was a good day, I got two wickets," he said post the day. "I was hoping for more but the guys batted pretty well. I know my role, I know what to do with the ball. We have Shannon [Gabriel] and Roachy (Kemar Roach) who mentor me and tell me what to do sometimes. It's a relaxing role for me to come in to."