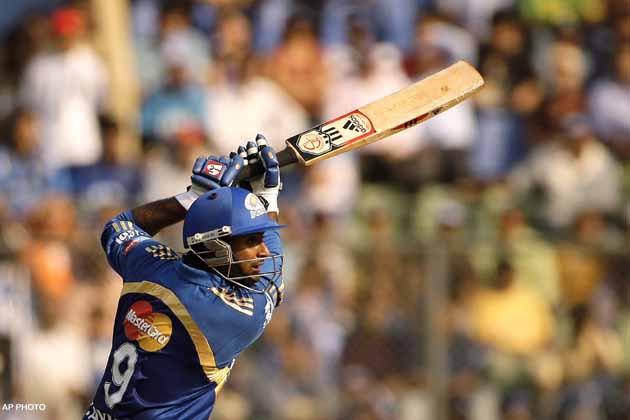 New Delhi: While it's almost certain that Indian's senior brigade – MS Dhoni, Sachin Tendulkar, Virender Sehwag (already out of the tour with a shoulder injury), Zaheer Khan and Harbhajan Singh – will give the upcoming limited-over competition of the West Indies tour a miss, it's time to look at some fresh faces that have set the domestic cricketing arena ablaze and are now itching to replicate that success at the international level.
Ambati Rayudu: Having led the under-19 World Cup side and being touted as the next best thing of the Indian cricket, all looked rosy for the 25-year-old batsman. But the young prodigy had to run from pillar to post – he had moved to Baroda from his state side Hyderabad after joining the now defunct Indian Cricket League (ICL) – for the right recognition and perfect platform for his career. The IPL has provided a new lease of life for this prolific batsman, who grabbed every possible opportunity with the Mumbai Indians with both hands and gave his career a new shape. After scoring 356 runs the previous year, Rayudu has been the second-highest run getter, 362 runs, after the great Sachin Tendulkar for his franchise in this edition. The prodigy seems all ready to fill the shoes of his 'little master' if given an opportunity to do so.
Rahul Sharma: The tall leg-spinner from Punjab reminds us of Anil Kumble – in both his mannerism and his style of bowling. And it's just not that, the Pune Warriors' bowler is as frugal when it comes to giving runs off his bowling as the legend himself and has been the only shining force in an otherwise flagging Pune Warriors' campaign in IPL 4. The 24-year-old has already scalped 14 wickets with his accurate leg-spin and seems ready to take the place of Piyush Chawla, who can be given some rest after his up and down World Cup.
Paul Valthaty: From obscurity to becoming a household name in a fortnight, Valthaty's success has been nothing short of magic so far. The stout-looking batsman hasn't played a first-class game for Mumbai, but has been plundering runs – 359 runs in ten matches – from the time he donned the Kings XI Punjab jersey. If the 27-year- old is looked at by the selectors, it would be an answer to all those people who consider IPL as 'tamasha cricket' and will be a ray of hope for all those budding cricketers who take this six-week cricketing extravaganza as a chance to impress selectors with their cricketing skills.
Iqbal Abdulla: The pint-sized Knight Riders bowler has impressed one and all with his slow left-arm spin up to now in IPL 4. And except Brett Lee, who has been phenomenal with his accuracy and pace for KKR, Abdulla has been the bowler who delivered whenever his skipper showed faith in him. The 21-year-old bowler, who plays for Mumbai in domestic cricket, has already taken 13 wickets in eleven games and is looking hungry for many more in the coming games. He is an able batsman lower down the batting order and could be extremely useful if given a chance.
Siddharth Trivedi: Whether you ask him to start the bowling attack, or fit him in the scheme of things in the middle overs, Trivedi has been a part of the successful recipe of the great Shane Warne and Rajasthan Royals. His ability to surprise the batsmen with his deceptive pace and a well-disguised slower ball have fetched him wickets in both domestic arena as well as in the IPL. The 28-year-old has already taken 40-wickets in his four-year stint with the Royals. His selection for the upcoming Caribbean tour could also be a fitting reward for someone who has been toiling hard in the regional cricket arena for almost 10 years now.