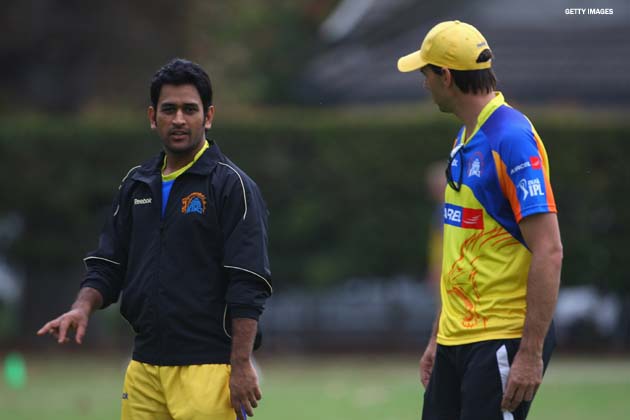 Chennai: Chennai Super Kings coach Stephen Fleming was not concerned by the late finish by his side in their seven-wicket win over Rajasthan Royals, saying that the home side was always in control of the Indian Premier League match. Asked why his side left it so late to win the match in the last ball, Fleming said, "We should not have but we were always in control of things. It got tight in the end after we lost Suresh [Raina] and Faf [du Plessis] and they also bowled well. They did not give us any easy runs, especially Brad Hogg. They put a lot of pressure and the pitch was getting slower and lower. It was not easy to get beneath the ball and clear the field. A few more runs and it would have been tighter," he said.
On captain Mahendra Singh Dhoni's ability to finish matches, Fleming said, "That's why he is a key player and he ensured that we crossed the line without much trouble. This is one of the things he brings to the team, and this is the reason he was sent to finish off the innings."
Asked about his side's fluctuating fortunes in the tournament, he said, "We don't overanalyze our defeats and we don't overanalyze our wins either. It's always going to be a bit up and down. Teams that dominate IPL don't necessarily win the title. We are aware of that but at the same time we are pleased about the recent results. The good thing is that it's not about one spectacular player always delivering, apart from Faf [du Plessis]. So we can only get better," the New Zealander said.
Meanwhile, Rajasthan Royals captain Rahul Dravid rued that his side could not execute the plans and were short by 15 runs. "Our plan did not pan out as much as we would have liked. We can take out a few lessons from this game. 160 would have been a very good score in this wicket. We were just short by 15 runs. There were couple of hits here and there but we did not get those hits."
Dravid conceded that the Chennai bowlers bowled well to restrict his side to 146. "I think [Chennai] Super Kings bowled well. They had two left-arm spinners in Jadeja and Jakati on a track which was slow and turning. Ashwin and Jakati bowled well and they choked us. Kulasekara bowled two good overs at the death," said Dravid.
Ask about why he sent Ashok Menaria ahead of Brad Hodge. "So far our strategy has been pretty good. The players have been given specific roles. We have the experience of guys who can take us home under pressure. That is the role that he [Menaria] has been designated with. May be today he did not. Look at the resources like Hogg and Cooper. Menaria is a talented kid and he is going to be good player," he said.
Asked about giving the last over to Stuart Binny, Dravid said, "I had to be confident. I had no choice. I was hoping that Cooper could get wickets and may be he will get Dhoni out. It was a credit to Stuart and bowled a terrific over in the end. We have young players and not big names. We have been fighting very hard. We got to back the guys that we have. It is not that we have lots of India bowlers sitting on benches with the team. We are trying to make the players getting in and learn and improve," he said.
Dravid felt the Chepauk pitch was a good one though it was on the slower side. "It is a good wicket. It kept low and a bit slow. Thought it was good and sometimes such wickets produced good cricket matches. It is a 160 wicket. I like playing on wickets like this sometimes rather than just having wickets where you score 180 to 190."