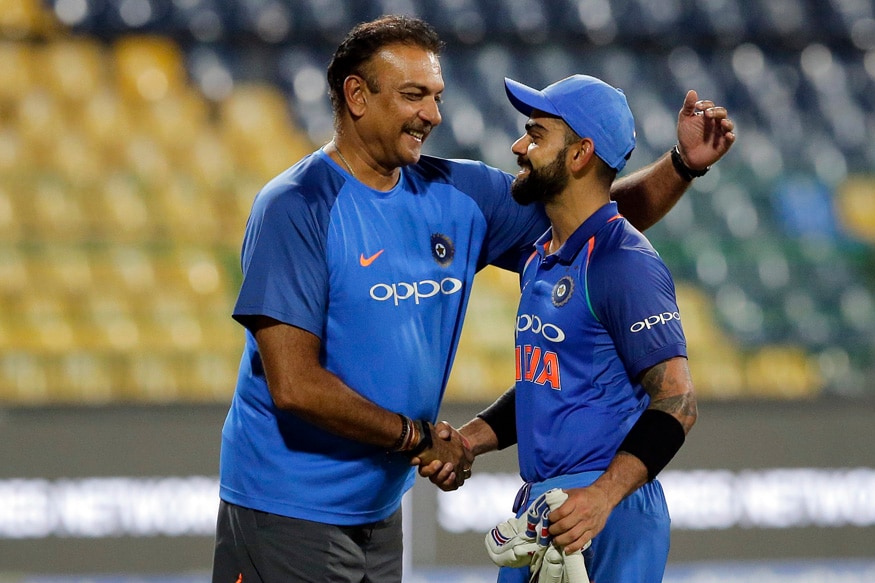 The Indian cricket team is in the middle of schooling South Africa in a three-Test match series, but the larger focus through the next 12 months will be on the T20 side with the World Cup set to begin exactly a year from Friday (October 18) in Australia.
Virat Kohli and coach Ravi Shastri have made it clear that nothing short of a winning the title again will do and are in the process of finalising combinations.
Speaking to the ICC, Kohli reiterated the intent and expects his team to take their chances when it comes by in the build up to the showpiece tournament. For captain Kohli the ICC trophy continues to remain elusive after India lost in the semi-finals against New Zealand in the ODI World Cup earlier this year.
For India, one of the key decisions with respect to team composition will be the availability of former captain MS Dhoni, who won the inaugural edition of the tournament in 2007. India have thrice (2009, 2010, 2012) failed to make it out of the Super eight stages, lost to Sri Lanka in the final in 2014, and could only go till the semi-finals in 2016 on home soil.
"The T20 World Cup in 2020 is a big focus for us, and it's important that we use the next 12 months to place ourselves in the best possible position to compete for another major ICC trophy. Our players will be really motivated to take their opportunities when they get selected for T20I matches to put themselves forward for the T20 World Cup, as we want to have a settled team combination by the time we get to Australia," Kohli said.
Kohli added he hopes to emulate his predecessor in the shortest format of the game, and also said that he would like to be the third Indian captain to win the World Cup title.
India began their preparations to the tournament with a series win against West Indies and a drawn three-match rubber against South Africa.
"India won the inaugural T20 World Cup in 2007 when the format was new and the future a bit unknown. Since then, T20 cricket has truly come of age and it would be an honour to be the second Indian captain to lift the T20 World Cup trophy, and hopefully the third if the Indian women can win it earlier in 2020," said Kohli.
Defending champions West Indies, in recent years have been a team in transition with off field matters influencing selection. However, they seem to have turned a corner and captain Keiron Pollard, who's been brought back into the fold, expects team spirit and competitiveness from his side.
"We have to play well as a team in order to be competitive. We will be looking forward to it. A couple keys to defending the title are playing well and playing consistently. We are a confident team, we back our strengths – one of which is our six-hitting ability – but also mixing that sort of aggression and that awesome power with smart, intelligent cricket as well. I think these will be keys – the grounds will be big and you will have to be smart to get over the line.
"No secrets, we haven't done too well in the last year are so. Our rankings have dropped. But we have some exciting talent in the Caribbean and we are looking forward to defending that title," Pollard explained.
England, current ODI champions, will be looking to complete the limited-overs double and captain Eoin Morgan believes his team is in the right place to build on their recent success.
"Our white-ball focus now shifts to next year's ICC T20 World Cup. With one year to go, the team is ready to build on our exploits over the past few months," Morgan said.
Hosts Australia come into the World Cup having finished runners-up previously and will want to improve on that. Captain Aaron Finch led the team to the semi-finals at the ODI World Cup earlier in the year and believes it's about turning up on the day.
"It's the one global trophy that has eluded the men's team so far and we won't get a better opportunity than on home soil next year. Anyone can beat anyone on their day in T20 cricket so it's going to be exciting tournament that will have a number of teams believing they can win," Finch noted.
Afghanistan, Australia, Bangladesh, England, India, New Zealand, Pakistan, South Africa, Sri Lanka and West Indies have already qualified. Six more teams will join the bandwagon after the T20 World Cup Global Qualifier event finishes in UAE on November 3.
Defending champions West Indies (2012, 2016) is the only team to have won the tournament twice, while Sri Lanka (2014), India (2007), Pakistan (2009) and England (2010) have all won it once.
The women's event will take place first, from 21 February – 8 March 2020.