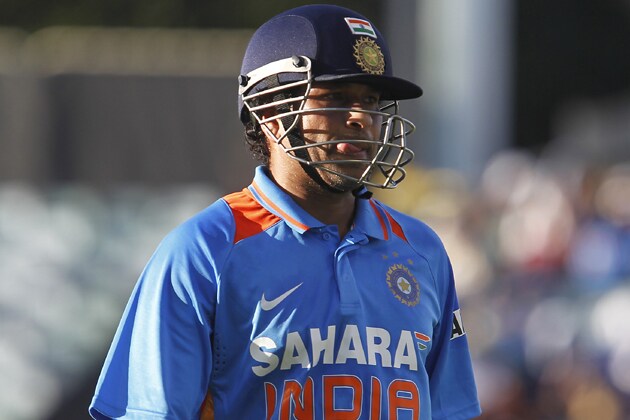 I have a confession to make. I do not want Sachin Tendulkar to make his 100th international century in one-day cricket. For too long this meaningless pursuit of three figures has affected Tendulkar's batting, consumed the media and public and, most importantly, distracted the Indian team.
I want to see Tendulkar leave the game respectfully, not turn out in random ODI matches on some bogus rotation policy which does nothing for the future of Indian cricket while he singularly pursues a number. The player has become greater than the game and that's not doing anyone any good.
With each venture to the crease and another almost inevitable failure during the ongoing CB Series, falling to the likes of Mitchell Starc, Angelo Mathews and Nuwan Kulasekara, the image of an outstanding cricketer, a player who was part of my cricketing awakening and no doubt millions of others, takes a beating. Instead of the memory of Tendulkar being hoisted on the shoulders of his much younger team-mates after India won the World Cup last year, it is a dejected, often isolated Tendulkar hanging his head while walking back to the dressing room that is threatening to be the lasting image. This wasn't the way it was supposed to be.
Tendulkar's bid for an unprecedented century of international centuries has been the talking point since he hit his 99th hundred against South Africa at the World Cup in March 2011. He has now gone 21 Test innings and seven one-day matches without a century despite twice entering the nineties. This relentless pursuit of a century has spanned India's two most devastating Test series defeats for as far back as one can remember, four in England and four in Australia.
For too long this chase for 100 centuries has possessed a nation and the man himself. It shrouded and clouded India's preparations for the tour of Australia which they ended up losing 4-0. Including Tendulkar for the CB Series was a decision aimed solely at giving him further rope to score that three-figure knock. And therein lies the problem.
Why have we become so obsessed with a number? Is 99 no less of an achievement than 100? Think about it – 99 international centuries. That is an epic achievement, unlikely to be surpassed. Tendulkar already holds four batting world records - most runs in Tests (15,409) and one-day internationals (18,111) and most hundreds in Tests (51) and one-dayers (48). What will 100 give him?
As Suresh Menon so aptly wrote in these pages, "perhaps it is Tendulkar who 'educated' a generation into thinking that statistics are more important than anything else." Has the number 100 really become more important than the journey? What will scoring that 100th century get Tendulkar? What will it get Indian cricket? Will he reach three figures and then leave the next day, or will he play the Asia Cup? Going by the way he put his IPL team ahead of his country last year, the answer is rather evident.
When a man chooses not to play one single ODI for almost 11 months, and then suddenly slips back into the format after failing to achieve his goal in Tests, it reeks of selfishness. Tendulkar has become larger than the game, choosing when and where he plays, and that has hurt Indian cricket.
All this could have been avoided had Tendulkar gone on the tour of the West Indies last summer. Instead, the anticipation of the 100th hundred weighed down on India in England. It showed in Tendulkar's batting. Something was wrong. Injury ruled him out of the ODIs against England, and when Tendulkar failed to get to the landmark in the three-Test series against West Indies in India, he should have played the five ODIs that followed. But no, he wanted to score it in a Test match, and so he conveniently skipped the ODIs and prepared for Australia. What happened? Eight innings without that damn century in four defeats that took India's winless streak away from home to eight straight matches.
And now we see him choosing, out of the blue, to play the CB Series. He did not play one single ODI since the World Cup final, which shows how much he thinks he can contribute to India's cause. Making himself available for the CB Series was all about getting that 100th century, and that is perverse. It is not helping India, it is not helping the future. It is all about scoring that 100th hundred.
You are not greater than the game, Tendulkar, and that's why I hope you don't get that 100th century in ODIs.