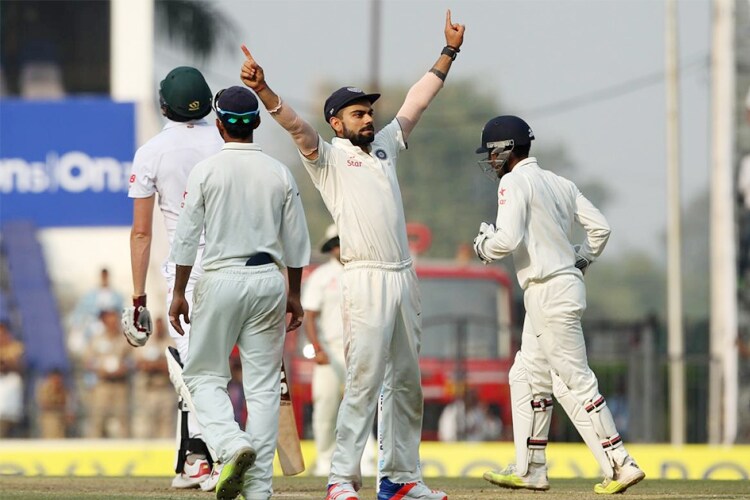 Amid a lot of brouhaha around turning tracks, India claimed a rare Test series win over South Africa – en route ending the visitors' 9-year unbeaten run in away Test series. But for skipper Virat Kohli, it doesn't matter who is saying what as long as the team is winning.
Like Mohali, the Nagpur Test – played on another dry and dusty surface – too ended inside three days, further fuelling the debate around the one-sided tracks being prepared for the Test series.
India won by 124 runs to add to their 108-run win at Mohali and claim a winning 2-0 lead with only the Delhi Test to play.
However, questions around the nature of the track dominated India skipper's press conference post the win.
"It doesn't matter what is written about the pitch or the advantage we have. Winning matters," Kohli told reporters at Nagpur. "I don't mind compromising on averages as long as we are winning Test matches," he added.
No doubt sport is about winning, but it's as much about being competitive and entertaining, which is where this Test series has disappointed fans and experts alike.
The Nagpur Test saw the lowest Test total by a team against India, as the South Africans were bowled out for 79 in their first innings. And it was then likened with Australia's 47 all out in South Africa and India's embarrassing Test defeat in Barbados.
Kohli then reminded that he or his team has never complained about the tracks they are offered on tour.
"We have never complained about the conditions and we will not complain in the future...[It's not right] for people sitting in some other county to comment on the pitches here," the skipper said.
"Even on a turning wicket, if you dig in, you can score runs." But even India have failed to come to terms with the vicious turn.
To that, Kohli replied: "As a batting unit, we haven't applied ourselves properly...I think it [Nagpur] was a challenging wicket; the batsmen applied better in Mohali.
"It is all about application. There are no sorts of excuses on that...Effort from those two [Murali Vijay and Vijay Pujara] as important as [Ravindra] Jadeja and [Ravichandran] Ashwin," Kohli.
Ashwin was declared Man of the Match for his 12-wicket haul, which took his series tally to 24. And Kohli hailed the offspinner as a champion bowler.
"Ashwin is a world-class spinner. He stepped up in a big way for us, even in Sri Lanka. He has been one of the main reasons why we are able to win back-to-back series...It's a pleasure to have someone like Ashwin in the side," Kohli said.
The fourth Test is scheduled to begin December 3 in Delhi.