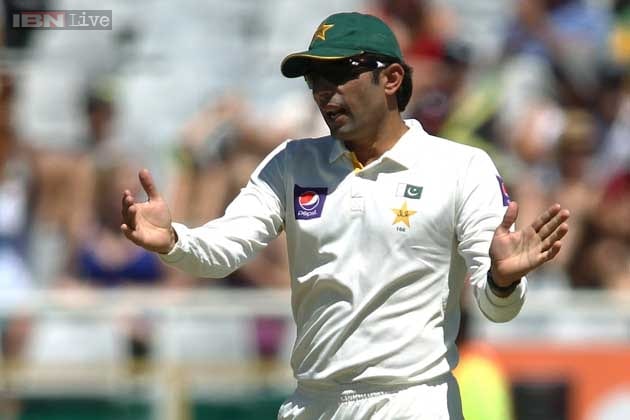 Karachi: Pakistan's shock defeat to lowly ranked Zimbabwe in the second Test match on Saturday has led to calls for the sacking of captain Misbah-ul-Haq and coach Dav Whatmore and for radical changes in the cricket set-up.
Pakistan slipped to number six in the ICC Test rankings after managing a drawn Test series against Zimbabwe and the 24-run defeat has led to a lot of backlash in the cricket community.
"Pakistan cricket has hit rock bottom and we need to rethink our strategies and cricket priorities," former pacer Shoaib Akhtar said.
Former captain Rameez Raja was more forthcoming and called for Misbah to be changed as captain.
"I think Misbah has given all he could to Pakistan cricket as captain. There is now a predictability and staleness in the cricket we are playing. This is the right time now to have a new captain and introduce some new players because we can't do worse then this," he said.
"This defeat is very disappointing and it is very frustrating to see our team losing to a side whose bowling, honestly speaking, is not more than club-level stuff. It is a shameful happening for Pakistan cricket," Rameez said.
Pakistan also lost a match in the three match ODI series on the tour. Misbah also rubbed former players the wrong way when he lashed out at them after the first Test, questioning their wisdom in calling for new players to be included in the side.
Rameez said Zimbabwe deserved credit for the win, adding Pakistan were very poor.
"Our batting is just going down day by day and there is no quality or resilience in it. If our batsmen can't score in helpful conditions against such a bowling attack what can we expect when we play South Africa next month," he said.
Rameez said that when Misbah took over as captain stability was needed in Pakistan team to overcome the spot-fixing scandal and other problems.
"Misbah has gone stale now and is short of new ideas. We need to have a new captain now and fresh direction. This is the time to take decisions because we can't do worse than this," he said.
Shoaib said that he had already predicted Pakistan cricket would be going down because of the state of affairs in the country.
"In the past we heavily depended on our fast bowlers and on playing natural and aggressive cricket.
"We have lost all those traits. In the first Test if Younis Khan had not scored a double hundred we would have lost that Test also. That is how bad we have become as a team," Shoaib said.
He said losing to Zimbabwe was a big setback for Pakistan cricket and the board now needed to make changes in the management and team. Shoaib pointed out that all the traits that were the strength of Pakistan cricket had now been adopted by India.
"Look at the batting talent they have and look at our state of affairs because we are not willing to invest in new and young players and we are not willing to take risks."
Pakistan's former Test leg-spinner, Mushtaq Ahmed termed the defeat shameful.
"All I can say is these bunch of players just don't have in them to do well. After the days we have seen it hurts to see our cricket in this state. Pakistan cricket needs to be given fresh direction," he said.
Mushtaq said he was disappointed by the fact that Whatmore had not produced the goods he was expected to.