Four female umpires will be part of the 14-person strong team officiating at next month's ICC Women's World T20 in Antigua, Guyana and Trinidad. Kim Cotton, Sue Redfern, Claire Polosak and Jacqueline Williams will work alongside eight male umpires Ahsan Raza, Gregory Brathwaite, Shaun George, Wayne Knights, Nitin Menon, Sam Nogajski, Langton Rusere and Sharfuddoula Ibne Shahid during the tournament. Richie Richardson and Graeme La Brooy will be the match referees.

Umpire Williams will be officiating in both Guyana and St Lucia, and will have Redfern and Polosak for company in Guyana along with Brathwaite, George, Knights, Rusere and Richardson. At St Lucia, Williams will team up with the rest of the officials including Raza, Cotton, Menon, Nogajski and Sharfuddoula with La Brooy as the match referee.

A lawyer in Canterbury, Cotton made her debut as an international umpire last season when the West Indies women's team were on tour in New Zealand. Cotton, who apart from Williams is the only female umpire in St Lucia, has also umpired in the ICC Women's World T20 regional qualifier 2018 in Fiji.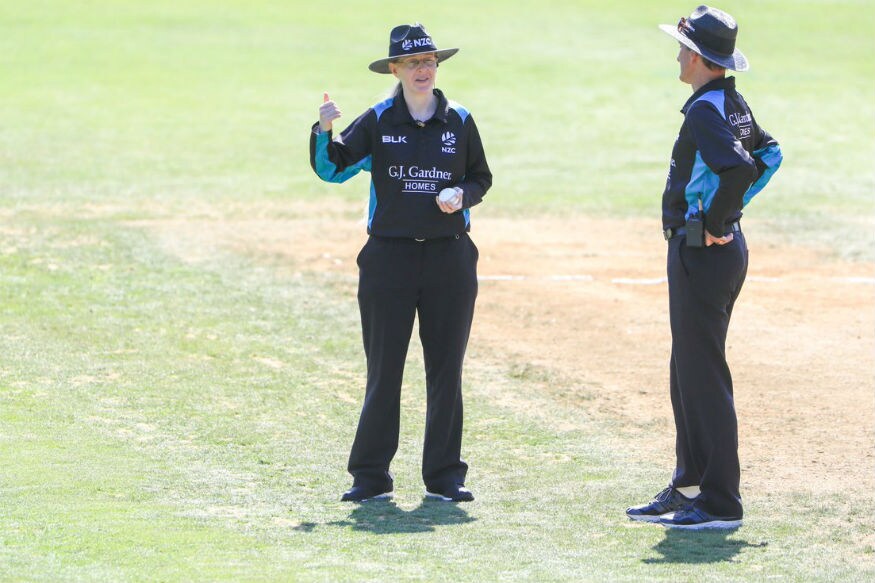 (Image: White Ferns/Twitter)

Former English cricketer Redfern, who played in the ICC Women's World Cup in 1997 in India, also umpired at the World Cup in 2017 in England. Along with her, Redfern, Polasak and Williams were also part of the umpires team at the ICC Women's World Cup last year.

Polasak has also umpired in a men's domestic fixture in Australia, while Williams was the first female umpire to officiate in domestic cricket in West Indies.

New Zealand's clash against India in Guyana will kick start the showpiece event and the umpiring responsibility will be shared between Brathwaite and Polosak on-field, with George as third umpire and Redfern as the fourth official. The second contest of the opening day will see Australia take on Pakistan where George and Williams will be the on-field umpires with Knights as the third umpire and Brathwaite completing the line-up as the fourth official.

After those two games it will be the hosts and defending champions West Indies who will take the field against Bangladesh in the final match-up for November 9th. The game is expected to see high interest, and will be umpired by Rusere and Redfern. The third umpire will be Polosak while, Knights will be the fourth umpire.

(With ICC Inputs)

First Published: October 25, 2018, 1:22 PM IST