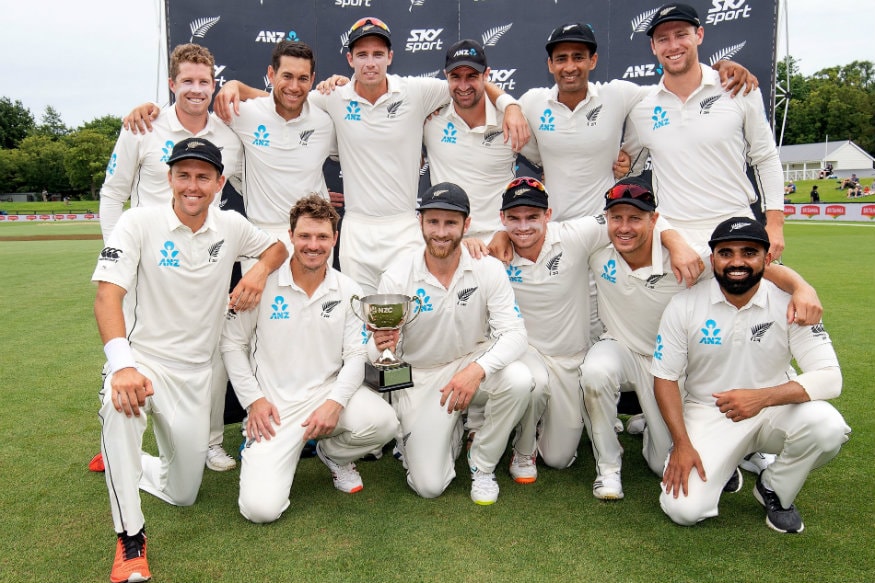 New Zealand captain Kane Williamson lauded the collective effort of his team as the home side wrapped up the second and final Test at Christchurch and sealed the two-match series against Sri Lanka 1-0 by a mammoth 423 runs on Sunday (December 30).
"It is a fantastic achievement, it is always sort of one game at a time, one day at a time," said a beaming Williamson at the post-match presentation ceremony.
"After the last match, which the guys fought really hard and Sri Lanka played outstandingly, to come here we wanted to play a bit better and be able to penetrate that feisty quality that Sri Lanka showed in the previous game, which we were able to do.
"So all in all it was a great team effort and amongst that we have had a lot of great individual performances."
It took all of 12 minutes and 14 balls on the final morning for the hosts to bowl out Sri Lanka for 236 and record their fourth successive Test series win, the first time a New Zealand side had managed to achieve such a feat. The 423-run was also New Zealand's biggest win in a Test in terms of runs.
Coming on the back of a 2-1 series win in UAE against Pakistan where the surfaces were slow and now having to face the opposite end of the spectrum with the pacers ruling the roost, Williamson said that he was proud of the way his side adapted to the varying conditions.
"Four series wins is a proud achievement," he said. "We have played a number of series at home, guys are familiar with these conditions and know what to expect.
"Bigger workload for the seamers and obviously spin played a big part in the last series - that's the nature and beauty of international cricket, you have to adapt and different people are stepping up in different roles."
Williamson also singled out the performances of the two local lads, Rob Nicholls (162*) and Tom Latham (176) who added 214 runs of the fourth wicket in New Zealand's second innings to set Sri Lanka an improbable target of 660 to chase.
"A couple of brilliant contributions with the bat from the two local boys and we have required big runs as well," said Williamson. "It was not just about getting big starts, getting 80s or 100s, they went on, made it count and really put us in a strong position. To chase 500, 600 runs is obviously a very difficult task. Two very important contributions which were required."
While there were plenty of telling contributions for the hosts in the second Test probably the most important one came from Tim Southee who not only shone with the ball but showed his pedigree with the bat as well.
Coming into bat in the first innings with his team floundering at 64/6, Southee hammered a 65-ball 68 and then prised out two important scalps day to wrest any advantage from Sri Lanka on the opening day. His match-haul of 5/96 coupled with a half-century helped him take the Man of the Match award.
"Anytime you win a Test match it is a great feeling. It is nice to get some runs all the time. I have been working hard on my batting and it is nice to get some rewards. I guess 170 in the first innings was quite a good score on that wicket," said Southee.
"Feel very good, it was a nice winter, had the chance to do plenty of conditioning but have a big summer ahead. So, yes the body feels good and it is nice to have a couple of days off. Great to be part of another series win."
While there was elation in one camp, there was plenty of dejection in the other. Having bowled out New Zealand for 174 in the first innings, the visitors had a chance to push the advantage but the batsmen faltered at crucial stages.
They did stage a fight in the second dig but it came a bit too late, something which captain Dinesh Chandimal agreed they will have to work upon.
"Disappointed with the way we batted in the first innings in both matches. We'll have to learn to get good starts, especially in the first innings," said Chandimal after the tough loss.
"I am really happy how we played in the second innings, we fought hard as a team but we have to learn how to get good starts as a batting unit."
Chandimal was effusive in praise of his pacers who did a really good job in the first innings and insisted his side was upbeat and had good energy with a number of away tours lined up.
"We just want to keep improving and I am sure the boys will do that. After winning the toss, the pacers bowled very well, they have done a really good job. When the situation comes we have to execute our plans and I am sure the boys will come up with the goods.
"We have Australia and South Africa coming up. If we can compete with them and win, it'll be good for our confidence."