On August 29 2019, a day celebrated as National Sports Day in India, Poonam Yadav became the 11th woman cricketer to receive the Arjuna Award from India's President Ram Nath Kovind. Yadav became the fifth active Indian woman cricketer to be conferred with the award after Smriti Mandhana, Harmanpreet Kaur, Mithali Raj and Jhulan Goswami.
A look at her performances in recent years makes it clear she deserved the distinction. Since her international debut in 2013 against Bangladesh in a T20I, Yadav has gone on to become one of the cornerstones of a side that has been key to the rise in popularity of women's cricket in India.
The leg-spinner has excelled in the shortest format of the game and is India's leading wicket-taker in T20I cricket with 74 scalps in 54 matches. She topped the T20I wicket-taking charts in 2018, taking 35 wickets at an average of 14.91 and a strike rate of 15.4 and is currently second in the ICC T20I rankings.
Her ODI numbers are also good – in 41 matches, she has taken 63 wickets at an average of 21.09 and a strike rate of 33.2. Yet life could have been very different for the girl from Uttar Pradesh.
In her youth, Yadav mostly played gully cricket with other boys – something that troubled her parents because worries over her safety when she wasn't home always existed. To continue playing the sport, she had to move to Agra since her school had no team for the girls. It was a move that helped her eventually make it to the Indian team.
Yadav would train at the Eklavya Sports Stadium where she got to interact with senior players like Preeti Dimri and Hemalatha Kala on a regular basis. Yet success didn't come easy.
She went through a lean patch of form playing for UP in 2009 that saw her write a note to her father – who always supported her ambitions – where she said she was going to quit cricket.
"I was working hard on batting and bowling, but results weren't showing up. I wasn't performing to my expectations. My scores were like a phone number: 2,4,5," she told CricBuzz in 2013.
"My sister-in-law found the note that was left in a book a year later and showed it to my father. He asked me what had happened and when I told him, he said, 'if you fight, you'll manage to get past this phase; if not the first or second year, you will find success eventually'."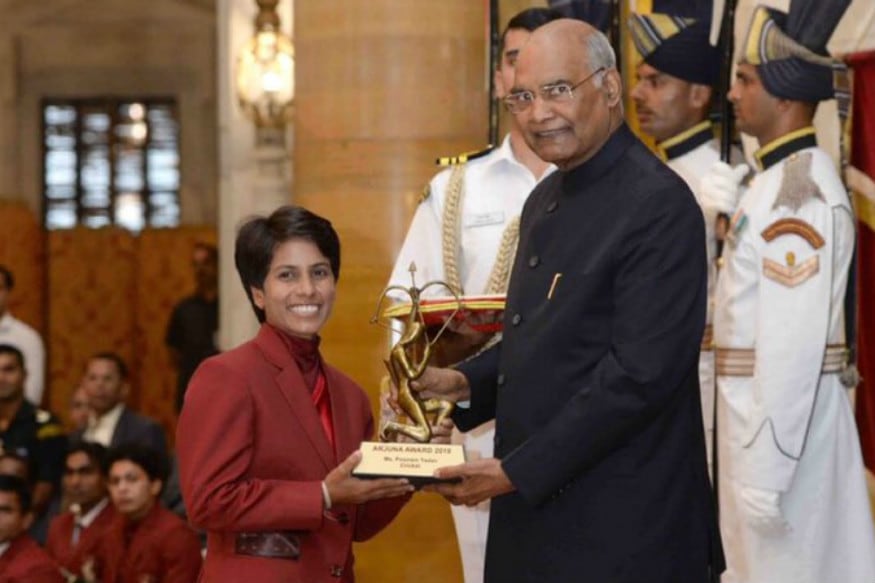 India's Poonam Yadav (left) receiving the Arjuna Award from President Ram Nath Kovind. (Source: Twitter)
Her decision not to quit was eventually vindicated as she has grown from strength-to-strength as a bowler and went on to establish herself as a key member of the Indian women's cricket team.
One of the reasons she has been so successful in her international career is her use of variations and her aim of building pressure on batsmen by bowling as many dots as she possibly can.
She generally bowls slow through the air, forcing batsmen to generate pace on the ball or risk playing her quota of overs out without getting too many runs.
One of the best examples of just how much damage she can cause came in the women's T20 Asia Cup final against Bangladesh in 2018.
She returned figures of 4-9, running through the Bangladesh batting line-up. Her efforts weren't enough to win India the match but her spell was memorable.
Her consistently impressive returns on the international circuit eventually saw her rewarded with a Grade A BCCI contract – one of only 4 players to be in that bracket besides Mithali, Harmanpreet and Mandhana.
At only 28 years of age, Yadav still has more than a few years of international cricket left in her and given how much she has already achieved, one wouldn't bet against her establishing herself as an all-time great before she calls it a day.