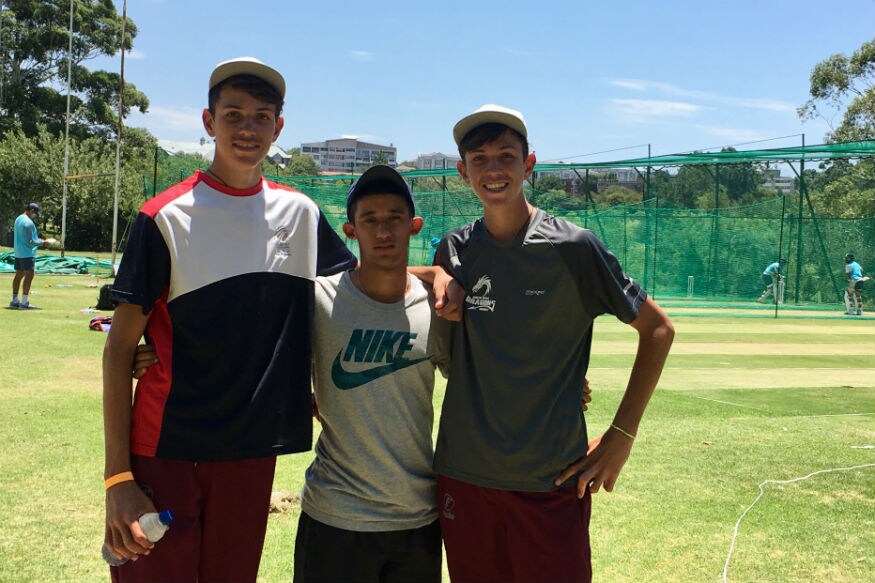 Johannesburg: Even as the Indian players hit the training ground on Sunday morning at the outdoor training facility at the Wanderers Stadium in Johannesburg, a middle-aged man could be seen watching the action closely from behind the cordon created by security for the media. Considering that he wasn't part of the ground staff, it seemed odd that he battled the scorching heat to sit and watch Virat Kohli and boys train at the nets. But a closer look revealed a slight smile on his face every time one of the two left-arm pacers (net bowlers) bowling at the Indian batsmen managed to beat their bat.
On being approached by CricketNext, the man introduced himself as Koos Jansen, father of both the left-arm pacers in action at the nets – Duan and Mirco. The twins had been called upon by the coach of the U-17 Dragons team Claude to bowl at the Indian batsmen at the nets. But this wasn't their first tryst with the Indians. They were also called to bowl to the India 'A' team that had come to the Rainbow Nation in 2017 with coach Rahul Dravid.
In fact, Koos cannot stop but smile when he says that his boys just couldn't stop bragging after Dravid patted them and encouraged them to keep working hard so that they could make it to the next level and play for Highveld Lions. Dragons is the age-group team of the Lions. "They had profile pictures with Dravid for I don't know how long. They would keep showing it to everyone and it is obviously a matter of great pride for me because Dravid is a legend and when he tells my boys to keep up the good work, it means a lot," he said.
Even as he finished saying this, India skipper Kohli walked into the nets a second time and as luck would have it, the batsman wanted just four bowlers to bowl at him. Navdeep Saini, Hardik Pandya, Duan and Mirco. And the twins kept bowling till the end before Kohli walked out of the nets, shared a couple of words of encouragement with the youngsters and then agreed to click photos with them.
In between, the two brothers also found time to discuss the nuances of pace bowling with India's bowling coach Bharat Arun as the latter seemed really impressed with the boys. He even took them to chief coach Ravi Shastri who shook hands with them after they bowled their hearts out in the punishing weather.
Jansen twins with Indian bowling coach Bharat Arun (Image: Cricketnext)
Speaking to CricketNext, after what seemed like the best day in their lives, the twins said: "It was just an amazing day. We don't really have words to describe how we feel right now. But man, Kohli is unbeatable. At times, you feel that you have bowled a really good ball and it will take his edge or beat him, but he still finds a way to adjust and hit you. With the India 'A' team, we looked like bowlers, but here, Kohli was toying with us. Dravid Sir told us that we should keep working hard and not lose focus."
But the smile as they started to look for towels to wipe themselves after a long bowling session showed that these two are living a dream.