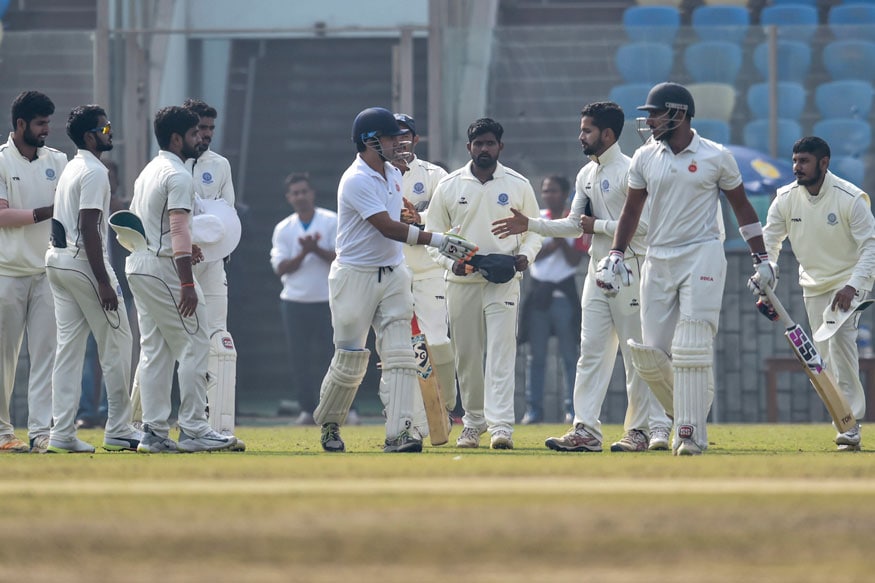 New Delhi: Eighteen years back, 19-year-old Gautam Gambhir walked out in Delhi colours at the Ferozeshah Kotla against Rajasthan in the Ranji Trophy Super League match. On Saturday, he gifted the same Delhi side the perfect farewell knock in his final professional cricket match.

On a misty morning at the Kotla, Gambhir completed his 43rd First-class century against Andhra Pradesh off 163 balls, eventually scoring 112 off 185 balls before getting caught behind off Shoaib Khan. The script couldn't have been more perfect for the Delhi soldier and sometimes 'captain', who is in his 76th and final Ranji Trophy game with over 6,200 runs to his name at an average of over 54.

The setting was a far cry from the packed Wanderers or Wankhede — the scene of his greatest triumphs as an international cricketer at the 2007 World T20 and the 2011 World Cup respectively. The sparse crowd though was much appreciative with banners like 'Thank You, Gauti' put up by the Delhi & Districts Cricket Association (DDCA) on Saturday morning after getting a 'guard of honour' while walking into bat on Friday in possibly his final innings.

The southpaw has been one of the most influential Delhi players and leader of his generation, which has seen the likes of Virender Sehwag, Ashish Nehra, Vijay Dahiya, Aakash Chopra and Ishant Sharma all wearing India colours. With all his international achievements, Gambhir has always been a colossal figure when it came to domestic cricket as well.

In his second season for Delhi, Gambhir notched up a double ton against Railways — becoming the youngest Delhi batsman with a Ranji Trophy double at the age of 20. The record has since been rewritten by current India wicketkeeper Rishabh Pant, who achieved the landmark as a 19-year-old a couple of seasons back.

"Best wishes for your journey ahead @GautamGambhir it was a pleasure being on the field with you," Pant had tweeted after Gambhir's announcement to retire.


Best wishes for your journey ahead @GautamGambhir 🙌🏻 it was a pleasure being on the field with you . pic.twitter.com/YSNuTAaqRw

— Rishabh Pant (@RishabPant777) December 5, 2018



The high-point of his domestic career came in 2007-2008, though Gambhir remembers it one of the lowest point in his life when he missed out on selection for the 2007 50-over World Cup. In Ranji Trophy that season, Gambhir piled on 730 runs in five games at an average of 91.25 with four hundreds — including a century in the finals — to guide the team to the title after a 16-year-wait.

Gambhir scored an unbeaten 130 in the final against Uttar Pradesh in January 2008 in a nine-wicket triumph for Delhi. The hunger to score runs for Delhi has not waned for the former captain as last season he was the sixth highest run-getter with 683 runs in nine games at an average of 56.91 with three hundreds as his team entered the Ranji Trophy finals once again, only to lose to Vidarbha.

In his final game as well, Gambhir guided youngsters like fellow opener Hiten Dalal and first-time Delhi skipper Dhruv Shorey in the middle as he scored another determined century.

"For the players to follow you, sometimes you have to lead the charge as well. I have done the same with Delhi as well by trying to live honestly on certain principles and try to help young kids who deserved to be helped," Gambhir had told CricketNext in an exclusive interview.

"I want to go out there and win a game of cricket for Delhi," he said about his final match.

He may not get the perfect finish for the team, but his century is surely a fitting exit for a giant of the game who served his state side with distinction for nearly two decades.


First Published: December 8, 2018, 2:12 PM IST