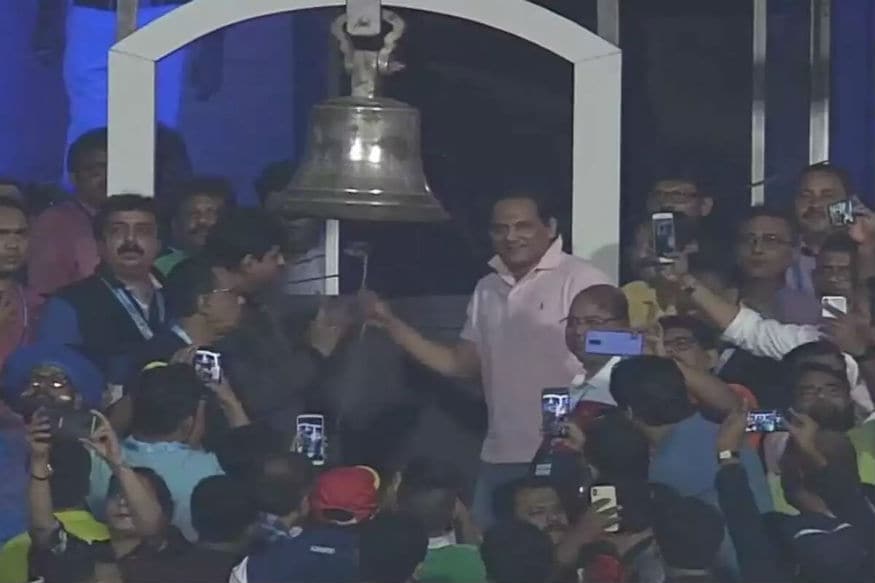 Gautam Gambhir slammed the Board of Control for Cricket in India and Cricket Association of Bengal for giving the honour of ringing the Eden Gardens bell to Mohammad Azharuddin before India's first T20I against Windies on Sunday (November 4).
Azharuddin is a former India captain who played 99 Tests and 334 One-Day Internationals, and found tremendous success at the iconic venue in Kolkata. However, he was banned by the BCCI for life in 2000 for alleged match-fixing.
India may have won today at Eden but I am sorry @bcci, CoA &CAB lost. Looks like the No Tolerance Policy against Corrupt takes a leave on Sundays! I know he was allowed to contest HCA polls but then this is shocking....The bell is ringing, hope the powers that be are listening. pic.twitter.com/0HKbp2Bs9r

— Gautam Gambhir (@GautamGambhir) November 4, 2018
The ban was lifted 12 years later by the Andhra Pradesh High Court, which termed the punishment 'unsustainable'.
In January 2017, Azharuddin was disallowed from contesting Hyderabad Cricket Association elections due to lack of clarity on the status of his ban by the board. However, earlier this year, the BCCI allowed him to contest the polls and also said he was no longer prohibited from holding any position in the BCCI, ICC or any other affiliate bodies.
Gambhir has a special connection with Kolkata and Eden Gardens; he led the Kolkata Knight Riders for seven years in the IPL winning two trophies. The president of the CAB is Sourav Ganguly, who made his international debut under Azharuddin's captaincy in 1992.
Interestingly, former Indian cricketer Sanjay Manjrekar tweeted about it being time to "reacquaint ourselves with one of the most crucial documents on Indian cricket." While he did not make any mention of Azharuddin or him ringing the bell at Eden, he linked the CBI report.
I guess, the time has come for all of us to reacquaint ourselves with one of the most crucial documents on Indian cricket.https://t.co/Z0kDMWZAYX

— Sanjay Manjrekar (@sanjaymanjrekar) November 5, 2018
The CBI report was the basis of the life ban on Azharuddin, which read that it was "clear that Azharuddin contributed substantially towards the expanding bookie/player nexus in Indian Cricket." However in 2012, the Andhra Pradesh high court declared the life ban imposed by the BCCI on the former Indian captain illegal, with a division bench of the high court setting aside the order of the City Civil Court which had previously upheld the ban after Azharuddin challenged it.