Gambhir's Essex woes and Indians in county cricket
With Gambhir struggling at Essex, a look back at how other contemporary Indian batsman fared in county cricket.
Updated: August 29, 2013, 8:36 AM IST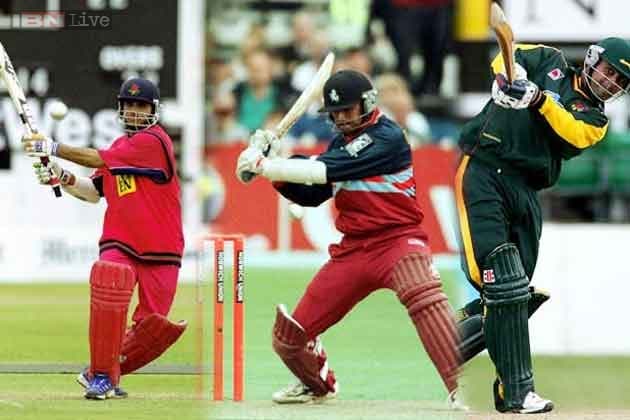 Gautam Gambhir's attempt to impress the national selectors with runs scored in county cricket has so far not gone as planned, with scores of 31, 21, 2 and 0 leading up to the first day of Essex's four-day match against Gloucestershire at Bristol. With Gambhir struggling in his first few innings (two first-class, two 40-overs) with Essex, here's a look back at how other Indian contemporary batsman fared in county cricket when they headed to England in efforts to either improve their game or get back into the national team.
Rahul Dravid (2000, 2003)
Dravid, looking to hone his batting skills in bowler-friendly conditions, was signed by Kent for the 2000 season and finished with 1221 first-class runs in 16 matches at 55.50 with two hundreds. He achieved most of his 50-over success in the National League where he scored 437 at 43.70 with two half-centuries and a century. Dravid played two Benson & Hedges matches for 50 runs and two NatWest Trophy appearances produced 76 runs. More than his runs, it was Dravid's attitude, demeanour and professionalism that impressed the people at Kent. As he admitted, those five-odd months spent in England boosted him tremendously. And it was no coincidence that from 2001 Dravid became one of the best batsman in the world.
Dravid returned to the county circuit in 2003 a transformed batsman at the international level, and played 12 50-over matches for Scotland. He made 25 in his first appearance in the National League and followed with a golden duck against Pakistan in a tour match, but proceeded to stun Somerset with 120* and 129 versus Nottinghamshire. His run of form ended with 600 National League runs at 66.66, with a total of three hundreds and two fifties.
Sourav Ganguly (2000, 2005, 2006)
The former India captain endured a disappointing maiden county season for Lancashire in 2000 when it came to the real deal, first-class cricket. Recommended to the club by Bob Simpson who had been a consultant with the Indian team at the 1999 World Cup in England, Ganguly struggled in the four-day matches but did well in the 50-over format.
In 21 County Championship innings, the left-hand batsman scored 671 runs at 31.95 with a best of 99 from his six fifties. He struggled in the Benson & Hedges Cip too, tallying a poor 62 runs in six innings with a best of 22*. But in the National League and NatWest Trophy that Ganguly excelled. In the National League he amassed 569 runs at 51.72 from 13 innings, the highlight of his two centuries being a stylish knock against Gloucestershire. In three Natwest innings he made 200 runs with a best of 135*, giving him an average of 100.
Ganguly's second county stint was in 2005 with Glamorgan. He was more successful in four-day cricket with a century and three fifties in nine innings at an average of 62.57, but could score just 114 runs in five T20 innings.
In 2006, Ganguly joined Northamptonshire on a short-term deal to replace Chris Rogers. In six first-class innings he averaged 4.80 with a highest of 9 and in two 50-over outings Ganguly made 80 runs. He played the most in T20 cricket, scoring 220 runs at 27.50 from nine innings.
Mohammad Kaif (2002, 2003)
Kaif first played county cricket in 2002, for Leicestershire. He played just one County Championship match in which he made 56 runs. In his solitary National. League appearance, Kaif scored 60*.
Kaif played for Derbyshire in the 2003 season, without doing much of note. He scored 332 first-class runs in 15 innings with a best of 87, averaging just 22.13. In eight National League games he made 225 runs with a best of 70. In five Twenty20 Cup innings Kaif averaged 18.53 with one half-century. In the C&G Trophy he averaged 76.50 with two fifties in two innings. He was not recalled to Derbyshire.
Virender Sehwag (2003)
At the age of 24, following a successful World Cup, Sehwag was signed on by Leicestershire for the 2003 season. It was not a very fruitful sting, as after taking his time to adjust to challenging conditions Sehwag's season was cut short by a back injury. He was most comfortable in the first-class matches where he scored 478 runs in ten outings and averaged 47.80, he second best for the club after Brad Hodge's 62.29, with two centuries and a fifty. He was less successful in the National League where he tallied 233 runs in seven games at 33.28 and made three half-centuries. He made 74 runs in three C&G Trophy games and in the Twenty20 matches scored 86 run-in six innings at an average of 14.33. His contract was terminated by mutual consent and Sehwag has not played for any county since.
Yuvraj Singh (2003)
Yorkshire's high-profile import for the 2003 season - and only the second Indian at the club since Sachin Tendulkar in 1992 - came a cropper with only 145 runs in the County Championship. Having hoped the opportunity to play in England would help improve his cricket, Yuvraj entered the county season after a successful run in the World Cup but struggled for form in England.
He started off well in the Twenty Cup but flopped in he one-day and first-class formats. He averaged just 14.55 in 12 County Championship innings and in the National League made 169 runs at 21.12 from eight innings, with one half-century. Yuvraj scored 27 in his only C&G appearance and finished the Twenty20 games with 154 runs at 30.80 with one fifty. Like Sehwag, he has not returned to county cricket since 2003.
Dinesh Mongia (2004, 2005, 2006)
Former India batsman Mongia played one season with Lancashire, in 2004, and produced some sterling performances. He then turned out in consecutive seasons for Leicestershire, in 2005 and 2006, with more success. In 2004, when he was called up from club team Little Stoke by Lancashire as cover for the injured Carl Hooper, Mongia made an immediate impact with 89 in a Championship game against Warwickshire. He returned when Stuart Law was ruled out and enjoyed further success, finishing the season with 470 first-class runs from nine innings at 67.14, with two hundreds and two fifties.
The following season Mongia signed for Leicestershire and made 684 first-class runs at just over 40 but his best performances came in the 50-over National League where he was successful with bat and ball as Leicestershire fell agonisingly short in their bid for promotion from the second division. Mongia scored 481 runs at 37, with five fifties, and took four wickets.
Mongia returned in 2006 after good performances for Leicestershire and accumulated 657 runs in 16 innings, at an average of 46.92, the sixth-best for the county that season, though a little more than a third of what top-scorer HD Ackerman (1804) scored in ten more innings. Mongia hit three centuries - 129* against the touring Pakistanis, 161 against Glamorgan and 165 against Essex. He captained too, when Jeremy Snape was absent.
Have your say: Do you think Gambhir will make an impact for Essex?
---
---
Team Rankings
Rank
Team
Points
Rating
1
Australia
3028
116
2
New Zealand
2406
115
3
India
3085
114
4
England
3882
105
5
Sri Lanka
2454
91
FULL Ranking
Rank
Team
Points
Rating
1
England
5405
123
2
India
5819
119
3
New Zealand
3716
116
4
Australia
3941
109
5
South Africa
3345
108
FULL Ranking
Rank
Team
Points
Rating
1
Australia
6047
275
2
England
5959
271
3
India
9319
266
4
Pakistan
6009
261
5
South Africa
4380
258
FULL Ranking
Upcoming Matches