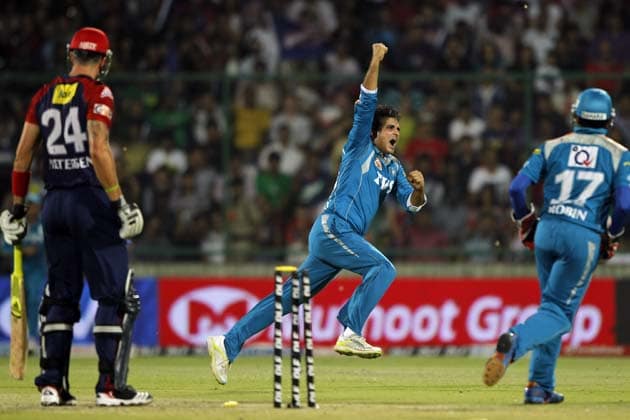 Some get frustrated, some angry, some sport a cynical smile, and he drives many of us bananas at times. Watching Sourav Ganguly play – at 39, internationally retired, nicking more than hitting – can be excruciating. But put a captain's armband on him and you see Ganguly transforming into an ageless wonder.
Leadership comes naturally to Ganguly and that statement needs no validation. Somehow, Kolkata Knight Riders (KKR) couldn't live with that truth, perhaps out of desperation to win. But Pune Warriors India (PWI) were quick to spot what could shore up a fluttering flame. And the result was Ganguly turning the clock black, taking wickets, scoring runs, and running around Kotla like the Wimpy Kid, only stopping short of, perhaps, taking his shirt off.
One doesn't need to tickle the brain much to recall the furore Ganguly's KKR axing created. Besides expectedly enraging the Kolkata fans, Ganguly the national hero was turned into Ganguly a regional icon: an observation wide off the mark when you are talking about India's most successful captain, but as tough as old boots for the hardline Kolkata fans. The anxious period of Ganguly's bio got over when PWI came to his aid last year, and went a step further to make him Pune's captain-cum-mentor this year.
But while as a captain Ganguly got Pune off to a winning start in IPL 5, as a player he was scratching around until landing in Delhi. Before that match-winning 41 and two-wicket spell against Delhi Daredevils, some said Ganguly was in the Pune XI just by virtue of being a captain. That finger-pointing had its roots in Ganguly's trivial average of 14 in the previous six games. And by being involved in as many as three run-outs, he gave enough fodder to his critics in waiting.
The architect of India's killer instinct chose to answer that criticism on the field, as he did throughout his international career. He hadn't bowled in the IPL since 2010 but took matters in his hands against a rampaging Virender Sehwag-Kevin Pietersen duo at the Kotla. And when he uprooted Pietersen's stump first ball, the world stood up and took notice. Ganguly showed that he is a leader above everything else. Instead of passing the buck, he put himself in the firing line to lead by example.
The same set of people who questioned his place in the team a day earlier lauded him for his tenacity and fighting spirit. The Kotla episode also highlighted that Ganguly's endurance and self-belief is unmatched. But what it also tells is that despite being frustrated at his failure, fans come back to see Ganguly play game after game. The fan-response he receives is perhaps second only to Sachin Tendulkar. But the emotions he brings to the field and the resultant scenes that creates has no parallels.
So while Ganguly's reflexes may be sluggish and his cricketing skills not the same, his knack to lead from the front hasn't deserted him yet. His run around the Kotla may be the moment of IPL 5 so far, but if he takes Pune to the crown, it could be the story of IPL's five-year history.