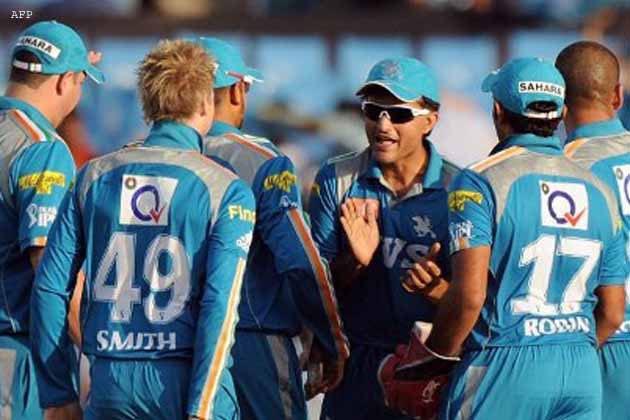 Kolkata: Despite a miserable stint in IPL 5 where his team Pune Warriors finished with the wooden spoon, Sourav Ganguly has not ruled himself out of the next edition, saying he would not even be 40 during season six.
After a decent start to IPL 5, Ganguly went through a lean patch both as a batsman and a skipper, and his captaincy of late was subject to speculation with reports claiming he would mentor the side next season.
But Ganguly on Tuesday said that he was yet to take a call on the matter. "[About next year], I will see next season. As a matter of fact, I would not be even 40 when IPL 6 will begin in 2013," Ganguly said. "I'm also a human and prone to failures. Somehow you have to deal with it. Many captains have failed [in the IPL] but it's Sourav Ganguly who always makes the headlines. I'm satisfied with my fitness. Obviously, I can't be fit like a 23- or 24-year-old. But at least, I didn't spill a catch or regret something on the field," he said.
Predicting a Kolkata Knight Riders versus Chennai Super Kings final in the ongoing fifth season, the former India captain said mystery spinner Sunil Narine was the number one reason for Kolkata's outstanding show this time around. "Sunil Narine is the number one reason for their good show this season. He is having a psychological effect on the batsmen. By him bowling a tight spell, [it] puts additional pressure on the batsmen against the other bowlers," he said.
"In Twenty20, it depends on the current form. Delhi had finished last in the last year but they topped the group league this season. It's a two-month-long tournament, played once in a year. So it's about the team that performs in the period."
The Pune Warriors skipper also ranked Kolkata captain Gautam Gambhir among the top captains and said: "The second [reason] being Gambhir's fine form and captaincy. I'm quite impressed with his captaincy. He is one of the best captains of this IPL."
The Bengal stalwart was of the opinion that the mystery spinner Narine would not have the same effect next season. "It took me one or two balls to pick him. Even Ajantha Mendis did something similar in the first season. But the real challenge for Narine will be to perform in the next season. I'm sure the batsmen will play [him] better," Ganguly said. "One must remember that in a format that demands to play shots against every bowler, Narine has a flat trajectory and it's difficult for somebody to step out against him. He has a lot of variations and you have to adjust and change your shot selection at the last moment."
Ganguly further said that playing in the IPL invovled more pressure than international cricket, but the two forms of cricket should not be compared. "Of course playing in a franchise has more pressure than when you are playing for the country. You play international cricket non-stop and there's time to come back in the next series after a failure," he said. "But here the next IPL is after a year, so everybody remembers the failure. They [owners] do interfere and obviously it's a part and parcel of the game as they spend so much on a team. You have to deal with it.
"For a captain, picking the XI is the most difficult job in IPL. But in international cricket, you just have to pick the best from a squad of 14. So you just can't compare IPL with international cricket."
Pune won four of their first seven matches but only to finish last, and Ganguly said the team looked out of confidence during the last phase. "We were No. 1 after the first seven matches but went on to become last ... The team looked to have lost confidence during the last phase of the tournament. It showed in the way we could not chase down Mumbai Indians' 121 [losing by one run] and KKR's 137 [losing by 34 runs]," Ganguly said.
Ganguly, however, said speedster Ashok Dinda was the find of their season. "Ashok Dinda was outstanding in this IPL. It's difficult to pick the next two best things to have happened for Pune Warriors," Ganguly said.
Dinda suffered an injury as Pune's form went down in the IPL, but Ganguly said the speedster's loss was not the reason. "Calling Dinda's injury a setback would be wrong as a team should not be over-dependent on a particular player. It feels bad obviously. We tried to come back but it's easier to talk than perform in the middle," he said. "In T20, it's about taking chances. There is very less time to settle. But not performing for a few matches won't necessarily make you irresponsible."
Asked about the failure of Aussie skipper Michael Clarke, Ganguly said probably he lacked match practice. "Even we were expecting a better show from him. But one has to understand the format. All three formats are different. He played T20 after a long time and it's difficult to adjust. It's not the same case with Chris Gayle or David Warner, who are T20 specialists."
Ganguly said it would really help the Indian players if the board allows the cricketers to play overseas. "That's one problem with the Indian players. The board here does not allow players to compete in T20 in other countries. I was offered to play in Australia and Bangladesh T20s, but the BCCI did not allow [iy], being the captain of Pune Warriors India," he said.
Ganguly also spoke about his teammates Rahul Sharma and Wayne Parnell, who were detained during a raid at a rave party in Mumbai, and said the issue was blown out of proportion.
"It's a case that has been blown out of proportion. It's being at the wrong place at the wrong time. I'm 200 percent sure they have not tested positive for the drugs. I'm sure the tests are out and had they been tested positive, the entire country would have gone gaga about it," Ganguly said. "Both are talented young cricketers. Parnell did well for us, while we expected a better show from Sharma. I'm sure they will do better in the coming days and represent their respective countries."