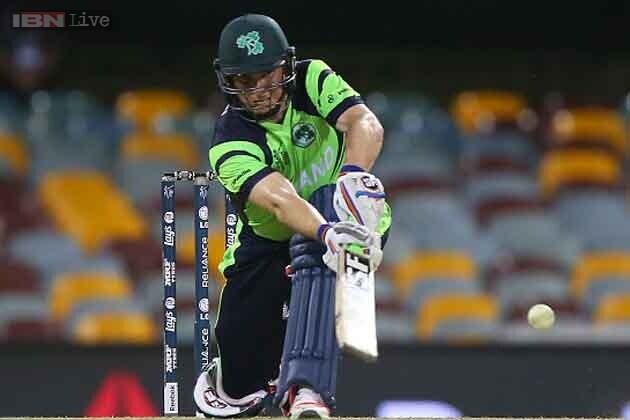 Brisbane: Ireland captain William Porterfield hailed big-hitting Kevin O'Brien and rock-steady Gary Wilson for carving out a nervy two-wicket World Cup win over the United Arab Emirates in Brisbane on Wednesday.
Chasing 279 to win at the Gabba, Wilson top-scored with 80 off 69 balls although it was O'Brien who gave the innings vital impetus with a swashbuckling 24-ball half-century as victory was secured with just four balls remaining.
Earlier, Pakistan-born Shaiman Anwar scored the first hundred by a UAE batsman at a World Cup with 106 off 83 balls.
Ireland now have two wins in two while the UAE have lost both their opening pool matches.
"Wickets in hand are always a big thing, especially when you've got lads like Kev and Wilson coming in," said Porterfield, whose team had started their campaign with a win over the West Indies.
"One key factor was the way we played in the last 20 overs of our innings."
He added: "It was a bit closer than we would have wanted but we'd take that any day of the week.
"Confidence is high in the squad, and the fixtures start coming thicker and faster now."
Ireland are third in Pool B and well-placed for a quarter-final spot, although they still have to face South Africa, Zimbabwe, defending champions India and Pakistan.
The UAE have now lost both their opening games, having previously gone down to Zimbabwe by four wickets.
Skipper Mohammad Tauqir admitted the game got away from his side in the last 15 overs especially when Kevin O'Brien, who hit the fastest World Cup century at the 2011 event, came to the crease.
"That's cricket. The spinners were playing well, but Kevin O'Brien took the game from us," said Tauqir.
"It was difficult because there was a lot of dew as the game went on and the ball was slippy."
Tauqir praised the innings of Anwar.
"In the dressing room, his nickname is Sir Viv Richards.
We knew he could do it."
Follow @ScoreWithData for more World Cup 2015 stats and analysis

####