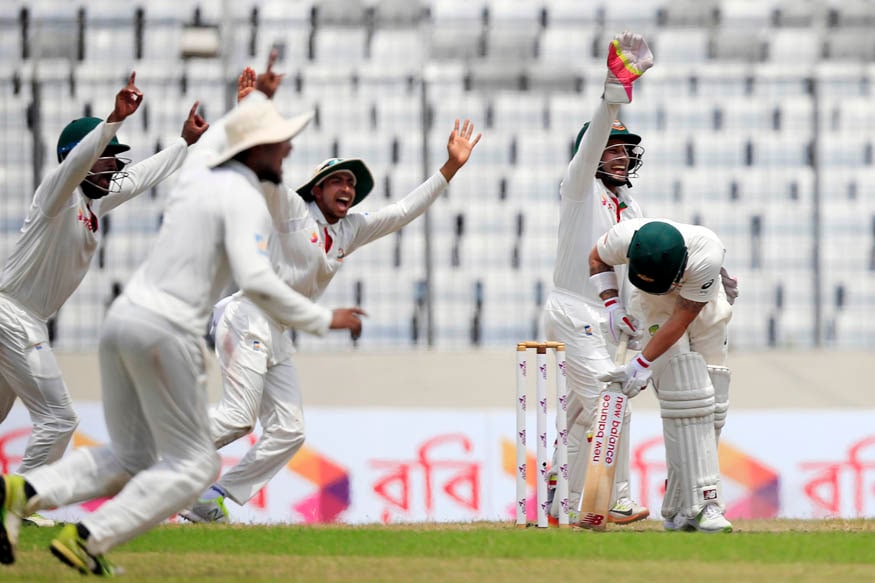 Acclaimed cricket writer Gideon Haigh has revealed in his latest book 'Crossing The Line' how Australia's defeat at the hands of Bangladesh for the first time in Tests last year was described by Cricket Australia's team performance chief Pat Howard as being achieved by players who were not up to Sheffield Shield standard.
Bangladesh had defeated Australia by 20 runs in the first Test of the two-match series in 2017 for the first time ever sparking widespread criticism of the Australian side Down Under. Haigh's book reveals how in the aftermath of the defeat Howard sent a scathing email to the national side writing how they lost to a side that would "not get a run in any of the state teams."
"I am sitting in a cafe in Dhaka hotel at the conclusion of the first Test loss ever to Bangladesh. I am personally embarrassed and take accountability and happy to accept any criticism that comes our way," Howard wrote. "For some of you sitting here in Dhaka you are fully aware of how poor a result this is and you have a material opportunity to address in the next few days.
"Rightly the system is often judged on the outcomes of the national team. As you can imagine there are many questions being asked of us, and I think they are fair. I am reasonably confident that many of the players that have just beaten us would not get a run in any of the state teams.
"To the CA Team Performance - When you go home at the end of the day, does what you do actually make a difference? CA spends over $100m on players' wages and teams, all in the effort of producing great national teams. We have failed, you have failed and I have failed and it is not good enough."
Howard's remarks seemed to have done wonders for the Australian side who came back strongly in the second Test defeating hosts Bangladesh 7 wickets in Chittagong.
Haigh also touches upon Australia's decline as a One-Day International unit in recent times. In the book, one player describes the 50-over side as being nothing like a team whereas another player questioned Darren Lehmann's coaching tactics.
"A player summed up the one-day side in a word: 'Individuals'. There were no basics, no planning. You got together in the morning, went your separate ways at night. It never felt like an Australian 'team' in any sense of the word."
"Another player felt that Lehmann had fallen into this coaching fashion simply through running short of things to say: 'I love Boof. He's got a great heart and he loves the players. But, really, he hardly coached technique at all. 'You're struggling? Just whack it.' 'You're going for runs? Just bowl yorkers.' 'We'll smash them.' He really just had no other answers but to try and build up this arrogance.'"