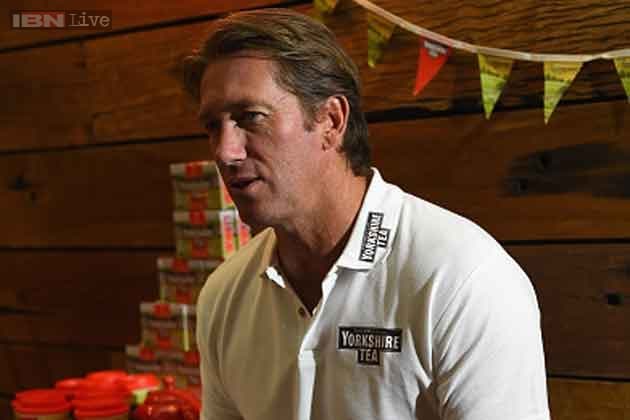 Sydney: Glenn McGrath winces when you ask him about the last of the 944 international wickets he took, in fading light at the Kensington Oval in Barbados. "It was a rubbish full toss," he says. "Lucky for me that Russel Arnold hit it straight up in the air."
McGrath was a freak, and not just in the manner in which he could land the ball where he liked on or just outside off stump. His corridor of uncertainty was the batsmen's boulevard of broken dreams. He also had a memory that could shame a Mastermind contestant. When we first spoke, after his 98th Test in Bangalore in October 2004, he had taken 446 wickets. He could tell you in the correct order, including the mode of dismissal. In most cases, he could even explain how he had set the batsman up.
"At that time, I could sit down with a piece of paper and write them down one by one," he says with a wry grin. "These days, I don't think I could. Been a long time since I've retired."
McGrath admits that when he quit the game after that 2007 World Cup final, a career in coaching was the last thing on his mind. Yet, he has just got back from another stint in Chennai, where he took over from the legendary Dennis Lillee - "He's a good man, Dennis" - as the director of the MRF Pace Foundation in 2012. "If I'd known some of the things I teach the boys now, I reckon I'd have had a better career," says the man who left the Test stage in January 2007 with 563 wickets at 21.64.
McGrath isn't just hard on himself. He's not very indulgent when it comes to his fraternity. There has been much sympathy for bowlers after the rule changes that have meant one fewer fielder outside the circle, and next to no chance of reverse swing. According to him, the bowlers' plight has been exacerbated by a failure to stick to basics. "I'd like to see them really be able to bowl the yorkers," he says. "At the end of the day, it is still about being able to deliver the ball, and land it where you wanted to."
In perhaps the best ODI ever played - at Edgbaston in 1999 - Australia managed to prevent South Africa getting past 213. In these days of 300 and 400-plus scores, McGrath insists that it's up to bowlers to upgrade their skill set just as the batsmen have. "The changes in the laws, the Power Plays ... it is what it is. And the bowlers have to be able to adapt just as the batsmen have to the whole IPL/T20 style game with a bunch of new shots. The bowlers' skill levels have gone up as well, but not to the same extent."
In his time, McGrath could be relied on for his pre-series predictions, which usually involved Australia whitewashing whoever they were up against. Even now, though, he assures you that it wasn't an act. "When I played, I believed them (the predictions)," he says. "I didn't think we would draw a match, let alone lose one, so it was pretty easy back then. I guess sometimes, I might have dug myself a hole by coming out and saying that I think Australia is going to win 4-1 or 3-1. And the first question would have been, 'Okay, so which Test are you going to lose?'"
He has worked with both Varun Aaron and Umesh Yadav, and been impressed by the improvement in Mohammed Shami as this Australian adventure has gone on, but McGrath's eyes really light up when he speaks of the wealth of fast-bowling options at Australia's disposal. Josh Hazlewood broke into the Test side this summer, Mitchell Starc, Pat Cummins and James Pattinson have already done so, and he has big hopes for Nathan Coulter-Nile as well. That's in addition of the old guard of Mitchell Johnson and Ryan Harris.
"If all of them are fit, I think the selectors have got a real tough job trying to narrow it down and pick three or four," he says. "If everyone is fit, it's the best bowling attack in the world." He adds that in terms of depth, the current situation is probably rosier than his halcyon years. "In our day, the team was pretty settled - with myself, Warnie, Jason Gillespie. Then you had (Michael) Kasprowicz and Andy Bichel.
"There wasn't a big turnover of players. Since I've retired, there have been quality fast bowlers, no doubt about that, but the turnover's been a bit more, just through injury and what have you. But I think they are getting to a stage now where injury will play less and less of a part."
McGrath will head back to Chennai in June, and then head over for the Ashes, where he's likely to be part of the BBC's Test Match Special team. As a player, he lost the Ashes just once - to Michael Vaughan's team in 2005. On Thursday night, at the Cat and Fiddle in Sydney, there was a reunion of sorts, with McGrath and Vaughan captaining teams of four in A Question of Cricket, a quiz arranged by Yorkshire Tea. McGrath sledged away happily between rounds, but in the end, Vaughan's team won by a solitary point. Never shy of a quip, McGrath reckoned it might be all that England win this year.