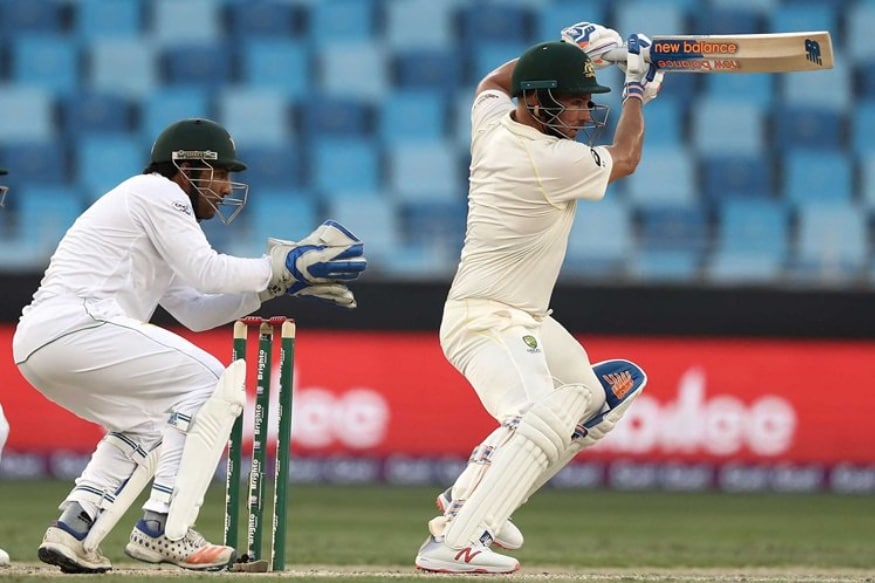 Australian opener Aaron Finch believes that despite the massive lead of 325 runs Pakistan hold at the end of Day 3 of the first Test, his side can stage a comeback in the remaining two days of the game in Dubai.
"I thought the way we fought back at the end was a really good effort," Finch said post Tuesday's play. "It's obviously not ideal to lose 10 for 60 through the middle and the last session, but we fought back really well. The game is firmly in Pakistan's favour but we're still going to fight hard and hopefully win a game of cricket still, if we bowl like we did yesterday and tonight.
"Yesterday even though they got 480 we were brilliant, we stuck at our guns, and also to get them three down tonight. It's going to be tough to chase down a total or to keep them out but that's our goal, to keep them out and if we get in that position, who knows?"
Finch was having bright start to his Test career but his innings was halted at 62 courtesy of a brilliant catch at short mid-on by Asad Shafiq. His dismissal was followed by a collapse of the visitors, with Australia losing all their 10 wickets for 60 runs.
"It was nice to get a few in the middle, but I probably left us hanging only getting 60," he said. "If I go on and get 140, 150, and Ussie does the same, then we're in a different situation. But not to be. Hopefully in the second innings we can put some real pressure on Pakistan.
"We had the opportunity to get in. The first 20-30 balls is the hardest in these conditions and we'd done a lot of that hard work and both let it slip. If we kick on like I said, it's a different game. We both take responsibility for that, we let them bowl at two new batters a lot and that's unfortunate."
However, the opening batsman also reckoned that the Pakistan bowlers performed well on the day. "They bowled beautifully through a 40-minute period there where we couldn't get away. They were stump-to-stump with very straight fields, in-out fields that you just can't get away. It was unfortunate to chip one to short mid-on, but hopefully next time either go right over the top or keep it on the carpet."