The likes of Ajinkya Rahane, Murali Vijay, Prithvi Shaw, Hanuma Vihari, Rohit Sharma and Parthiv Patel, who are part of India's Test squad for Australia, will feature in the first of three four-day games for India A in New Zealand, and coach Rahul Dravid believes it will serve as a perfect preparation for all the international stars ahead of the big tour Down Under.
"I think it will be a very good opportunity for some of the boys who are requested by the senior team management to be a part of the A tour," Dravid told BCCI.tv.
"They will be able to gain some match-time experience even if the conditions are not going to be exactly the same or it is not like being in Australia.
"The A team format is pretty competitive and it is match-time experience. It is a good opportunity in the lead up to international tours. What we see nowadays is that there is not much time for practice or practice games in the lead up to an international series because of the amount of cricket that is being played," he added.
India are scheduled to play three Twenty20 Internationals against Australia before the focus shifts to the four-match Test series, which will get underway from December 6. All the above-mentioned players will play the first four-day game, starting November 16th, for India A against New Zealand A before travelling to Australia.
The tour has gained more significance as India play only one warm-up game before the first Test begins at Adelaide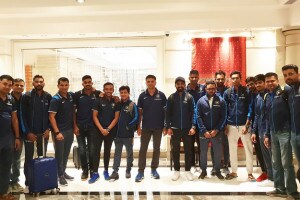 "It is really nice to be able to hold such tours just before the Indian team visits these countries," said Dravid. "We are trying to achieve that with the A team programme. We are trying to have shadow tours. We did it in England and we could obviously not do it in Australia, but it is great to go to New Zealand instead."
Apart from helping the senior players, Dravid said the tour will also provide young players an opportunity to share the dressing room with the likes of Rahane, Vijay and Rohit.
"From Indian cricket's perspective by organizing these tours we can give the boys a better chance to prepare for an international series," he said.
"It is exciting to have the senior boys with us. The objective for us is to prepare them for Australia and at the same time, the younger boys get an opportunity to share the dressing room with them. The experience rubs off and we try and create that environment."
India A will also play three 50-overs games in New Zealand but Dravid said the focus will be more on the red-ball cricket.
"The focus on the New Zealand tour is more about four-day cricket and I think we are playing really good white ball cricket. I have seen this on the A tour over the last two and a half years. We have been really competitive and building a very good bench strength. The IPL really helps in that department," he explained.
"The push from my perspective and some of the thinking and planning that has gone into is that we try and improve our longer format cricket, especially when travelling overseas. Keeping that in mind, we have increased the number of Test matches. We did that we New Zealand came here. We requested them to play an additional game. We are trying to increase the amount of red ball cricket that our boys can get to experience.
India are also scheduled to tour New Zealand where they will play five One-Day Internationals and three T20Is in January-February.