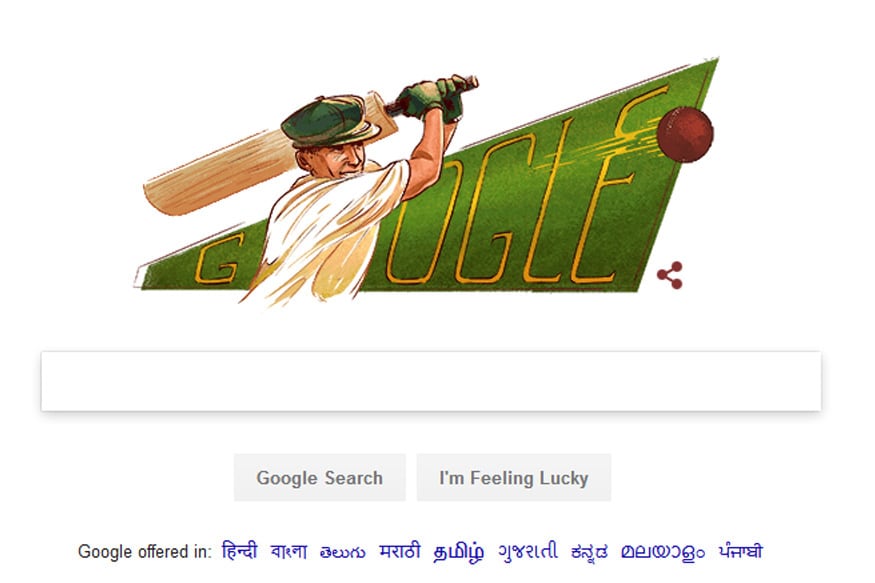 Google paid tribute to 'The Don' Sir Donald Bradman with a doodle on his 110th birth anniversary on Monday. The doodle shows Bradman playing an animated stroke through the off side.

Born on August 27, 1908, in Cootamundra, New South Wales, Bradman is widely regarded as the greatest batsman to have ever set foot on a cricket field. He made his debut for Australia at a tender age of 20 against England in Brisbane and by the time he retired from the game in 1948 Bradman had etched a permanent name for himself in the top echelons of the game.

In 52 Tests, Bradman scored 6996 runs which included 29 hundreds and 13 fifties and a highest score of 334 against England. He needed just four runs in his last innings to scale an average of 100 in Test cricket but was dismissed for a duck by spinner Eric Hollies. He retired with an with an astonishing average of 99.94 in Tests.

Bradman still continues to hold a number of world records to his name. He was the first player to score two triple centuries in Tests and the first and only batsman to score a triple ton batting at No.5 He amassed 12 double-centuries in his career, a record which is yet to be scaled.

After his retirement, Bradman assumed numerous roles in cricket as an administrator, commentator and a writer. He was knighted in 1949.

Bradman passed away at his residence on 25 February 2001 after suffering from a bout of pneumonia aged 92. He was inducted to the International Cricket Council (ICC) Hall of Fame in 2009.

Social media was abuzz as they remembered 'The Don' on his 100th birthday including Sachin Tendulkar, who recalled a special meeting with Bradman

"It's been 20 years since I met the inspirational Sir #DonBradman but that special memory is so vivid. I still recall his amazing wit, warmth, and wisdom. Remembering him fondly today, on what would have been his 110th birthday," wrote Tendulkar on Twitter.




It's been 20 years since I met the inspirational Sir #DonBradman but that special memory is so vivid. I still recall his amazing wit, warmth, and wisdom. Remembering him fondly today, on what would have been his 110th birthday. pic.twitter.com/JXsKxKwZJm


— Sachin Tendulkar (@sachin_rt) August 27, 2018
First Published: August 27, 2018, 11:50 AM IST