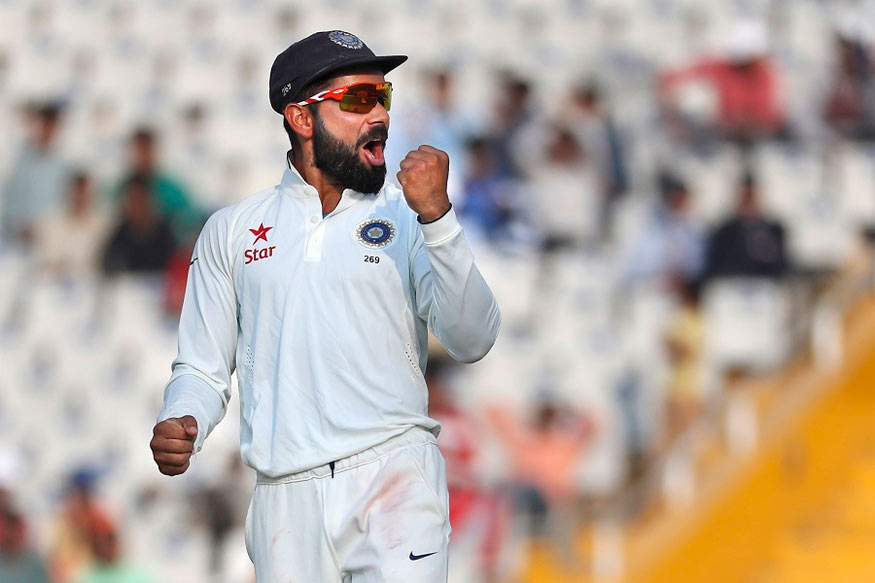 Mohali: India captain Virat Kohli on Tuesday revealed that his team got the extra motivation for winning the third Test after he lost the toss and therefore the opportunity to bat first on a good wicket.
Winning the toss and batting on the opening day is considered as a big advantage in Indian conditions but Kohli and Co overcame that to win the game by eight wickets.
"None of the pitches have been turners," said Kohli after the comprehensive win that gave India 2-0 lead in the five-match series.
Kohli was surprised at the England fans' reaction after the toss.
"We have just played very good cricket. We are getting more and more confident. We lost the toss, bowled them out for 280. I was surprised to hear the cheer when they won the toss. You still have to go out and win the game. We got motivated by that actually," he said.
He was all praise for his three spinners Ravichandran Ashwin, Jayant Yadav and Ravindra Jadeja, who also starred with the bat down the order.
"The lower-order contribution is a proud achievement. That pushes the opposition back. Ashwin is a champion, No. 1 allrounder, Jadeja is in the top 10, and for Jayant to show the maturity in his first Tests. He asked me for the fields he wanted. He took their spinners on.
"For our quicks (Shami and Umesh) to hurry their batsmen is great too. Shami feels the injury was a blessing in disguise. He has become more hard-working. He has come back fitter and stronger. Very happy with the way the guys have stood up. Felt bad for Karun Nair the debutant but he is a good batsman. I am sure he is looking forward to his next Test," added the Indian captain.
England captain Alastair Cook felt being bowled out for 283 in the first innings set them back.
"It was a good toss to win but if you get bowled out for 280 you won't win games. You need to get 400 on this pitch at least. We knew from the last time we beat them after getting them out for 300," said Cook.
Asked about the positives he could take from the loss, Cook said: "Stokes (Ben) is a brilliant player. He gives balance to the team. He is only going to get better and better. Haseeb (Hameed) showing character was a positive. It has been a frustrating four days. Credit to India, they outplayed us. Unfortunately, Haseeb has to go home (due to injury). Showed a lot of character to come out and bat".
First Published: November 29, 2016, 6:02 PM IST