Happy Birthday Ishant Sharma: Charting His Transformation into An Elite Test Bowler
Ishant has picked 71 wickets in 18 Tests post 2018. His average of 19.14 and strike rate of 41.7 is the third-best in this period amongst the 25 pace bowlers who have played a minimum of 8 Tests and taken at least 30 wickets.
Updated: September 2, 2020, 1:16 PM IST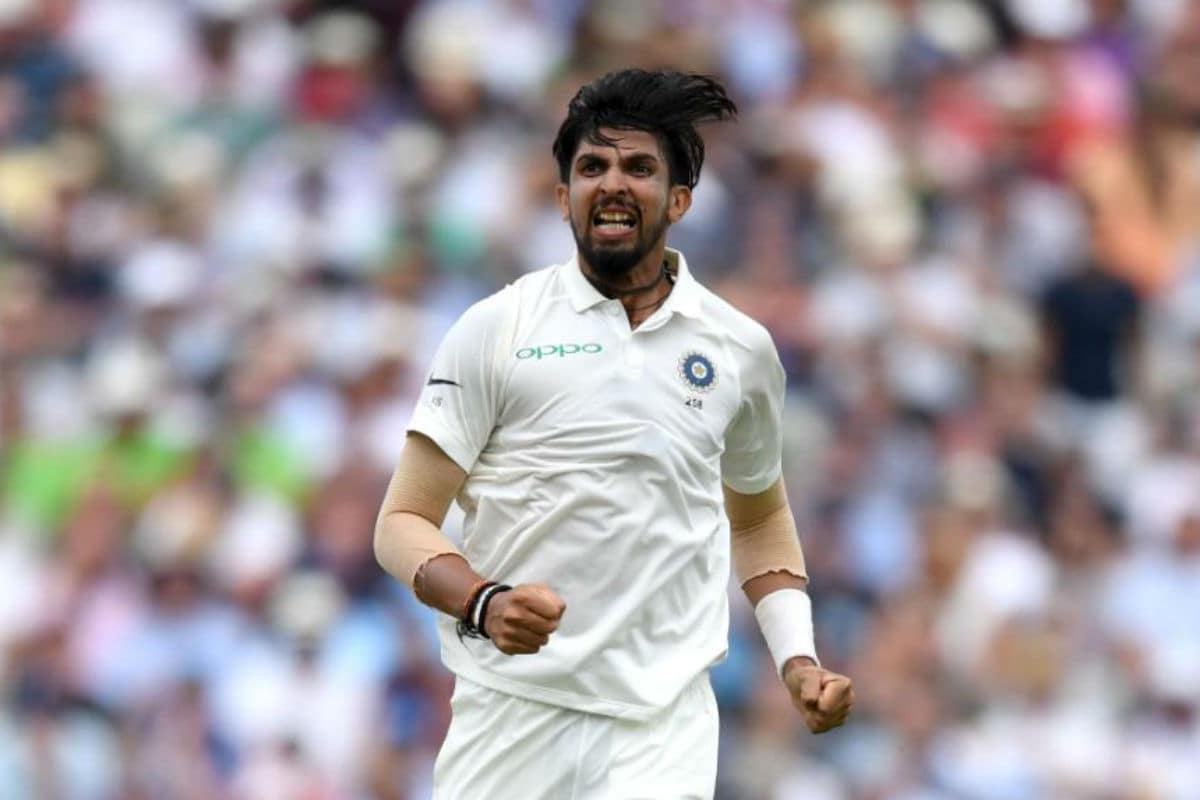 July 17-21, 2014, Lord's: England were set a target of 319. Ravindra Jadeja gave India the initial breakthrough before Mohammed Shami ended a threatening stand between Alastair Cook and Gary Ballance getting rid of the latter with the team score at 70.
England still had the best of their batting line-up intact. But India had Ishant Sharma! He castled Ian Bell's off-stump before inducing Cook to nick one to MS Dhoni behind the stumps. Two huge wickets in successive overs – the match had changed on its head!
Joe Root and Moeen Ali led the home team's fightback with a century partnership and India were desperate for a wicket. Cometh the hour, cometh the Man!
Ishant dug it in short and the ball hit Ali on the gloves and went straight into the hands of short leg – India had the breakthrough with the last ball before Lunch.
But the lanky Indian paceman wasn't done, yet!
Also Read: BCCI Gets No Bids for Kit and Apparel Sponsorship Despite Lower Base Price - Report
He decimated the England middle-order post Lunch dismissing Matt Prior, Ben Stokes and Root in the space of 7 deliveries. England were now reeling at 201 for 8. It was now a matter of time. Stuart Broad became Ishant's 7th victim before Jadeja finished off the match effecting the run out of James Anderson.
India had pulled off a famous 95 run victory.
7-74 in 23 overs – Ishant Sharma gave his best bowling performance in Test cricket. He had begun the year with heaps of wickets in Auckland and Wellington.
But this was different. It marked a major transformation in his Test career. A new Ishant Sharma was born!
THE TRANSFORMATION
Ishant picked 149 wickets in his first 53 Tests till the end of 2013. His next 148 took just 44 Tests at almost 13 runs less per dismissal and 17 balls quicker per wicket.
He became a more consistent wicket-taker with his Failure Percentage (Percentage of Matches in which wickets taken less than 3) significantly improving from 47.17% to 34.09% - basically from failing in every second match he failed once in every three matches.
Ishant's bowling average placed him amongst the bottom three pace bowlers (min. 50 wickets) from his debut (May 2007) till the end of 2013.
Also Read: BCCI Announces CRED as Official Partner of IPL, Sourav Ganguly Lauds Team
Post 2014, he has jumped to number 12 in average amongst the 31 fast bowlers with a minimum of 50 wickets during this period. His average is better than the likes of Vernon Philander, Josh Hazlewood, Kemar Roach, Tim Southee, Trent Boult, Jason Holder and Shannon Gabriel amongst others in this time-frame.
BEST PERFORMANCES AND CONTRIBUTION IN WINS
8 of Ishant's 10 best performances in an innings have come post 2014.
Apart from Lord's 2014, Ishant gave another fine showing in England when his 5-51 was instrumental in routing the home team for 180 in the second innings of the 2018 series opener in Birmingham.
He was also India's leading wicket-taker in this series.
Although Cheteshwar Pujara got the Man of the Match, it was Ishant's spell of 5-54 which gave India a match-winning 100-plus lead in the first innings of the series decider at Colombo (SSC) in 2015.
No fast bowler has taken more wickets in victorious matches for India than Ishant. A little over half (150 of 297) of his wickets have come in wins for his country. This is a testimony of not only his longevity but his brilliant transformation post 2014.
Zaheer Khan comes second on the list with 149 and then there is daylight before the others follow. Interestingly, Ishant's average in wins for India of 24.61 is better than that of the Zaheer (25.77)!
His average in wins has improved to 21.1 post 2014 and is better than Roach, Woakes, Shami, Southee, Starc and Boult to name a few bigwigs during this period.
GREAT RECORD IN SOUTH AFRICA, ENGLAND AND NEW ZEALAND
Post 2014, Ishant has aggregated 60 wickets in just 13 Tests in South Africa, England and New Zealand (SEN). His average (23.68) and strike rate (46.4), both place him at number 6 amongst the 24 fast bowlers with more than 20 wickets in a minimum of 10 matches in these countries.
His average in SEN in this time-frame is better than Philander, Wagner, Morkel, Boult, Southee and Hazlewood amongst others.
AMONGST THE BEST IN THE WORLD POST 2018
Ishant has picked 71 wickets in 18 Tests post 2018. His average of 19.14 and strike rate of 41.7 is the third-best in this period amongst the 25 pace bowlers who have played a minimum of 8 Tests and taken at least 30 wickets.
He has better numbers in this period than even the likes of Cummins, Rabada, Anderson and Bumrah!
Ishant has taken 30 wickets in 7 Tests in the ongoing ICC World Test Championship. He has the best bowling average of 15.5 amongst the 15 pacers with a minimum of 20 wickets in the Championship.
He has been instrumental in India's success in Test cricket during the last two and a half years. It has the best win percentage of 58.33% in this time-frame (post 2018).
Ishant's success during this period can be credited to his variation in line and length and an increase in pace. He is bowling a higher share of his deliveries just outside the off-stump pitching it fuller at a higher speed. Short quick bursts have replaced the long war-horse spells where he predominantly bowled his stock back of length deliveries. Coupled with this he has found a new weapon – the ability to swing the ball.
Most of his critics had written Ishant off after the first half of his career. And scoffed even at the prospect of him playing Test cricket.
Ishant has now represented his country in 97 Tests. Only Kapil Dev has more Test caps amongst pace bowlers for India.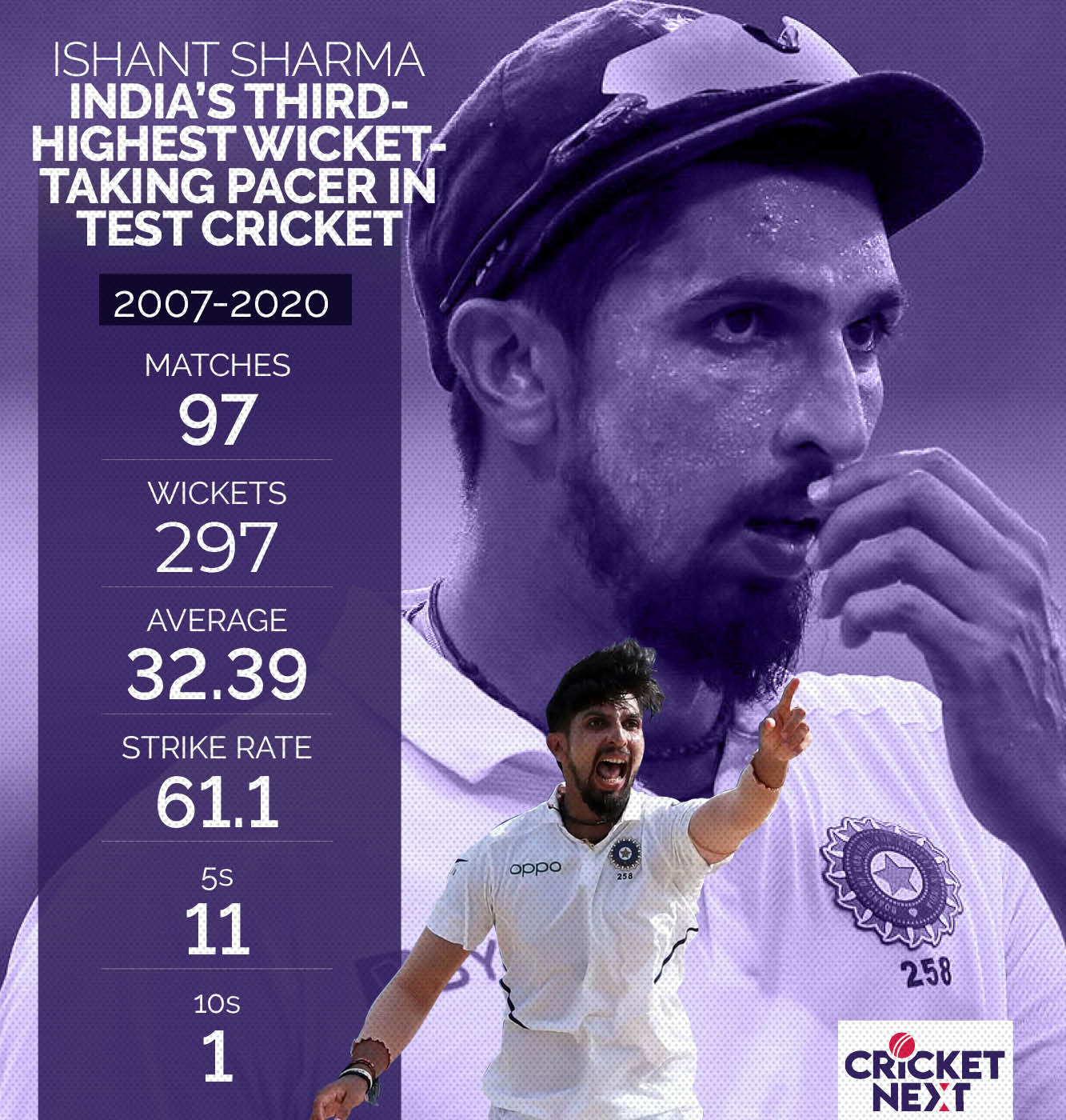 More often than not fast bowlers get worn out towards the end of their career, especially when their first half has been average at best. But that was not the case with Ishant. He got better with age and experience and has completely transformed himself into a genuine match-winner for India and a world-class bowler.
This metamorphism has meant that Ishant's overall average in Test cricket is better than Zaheer Khan, albeit marginally. Yet, while the latter is considered as a great Test bowler for India, Ishant has not quite got his due.
Time to change that as he turns 32 today!
---
---
Team Rankings
Rank
Team
Points
Rating
1
Australia
3028
116
2
New Zealand
2406
115
3
India
3085
114
4
England
3882
105
5
Sri Lanka
2454
91
FULL Ranking
Rank
Team
Points
Rating
1
England
5405
123
2
India
5819
119
3
New Zealand
3716
116
4
Australia
3941
109
5
South Africa
3345
108
FULL Ranking
Rank
Team
Points
Rating
1
Australia
6047
275
2
England
5959
271
3
India
9319
266
4
Pakistan
6009
261
5
South Africa
4380
258
FULL Ranking
Upcoming Matches