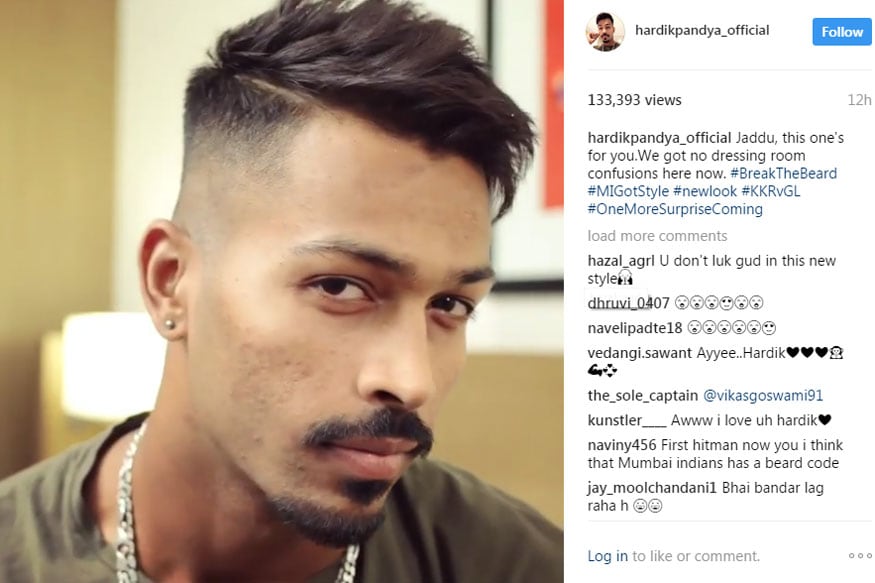 Mumbai Indians all-rounder Hardik Pandya is well known for his style quotient and the 'Blue Brigade' player's swagger and style was on display on Instagram, where he posted a video in response to Ravindra Jadeja's post on Twitter, where 'Jaddu' had introduced his new look.
Pandya took to Instagram and posted the following video, where he first appears in his old look and then reveals his new look, with the beard shaved off.
He also added a personal message for Jadeja, which said: "Jaddu, this one's for you.We got no dressing room confusions here now. #BreakTheBeard #MIGotStyle #newlook #KKRvGL #OneMoreSurpriseComing"
Ravindra Jadeja had earlier posted a video ahead of his team's clash with Royal Challengers Bangalore, in which he revealed his new 'cool' look. Although RCB and India captain Virat Kohli couldn't stop laughing on seeing Jadeja.
ALSO READ: IPL 2017: Ravindra Jadeja Sports New Look, Virat Kohli Finds It Funny
Hardik Pandya has been an integral part of the Mumbai Indians team, whichhas won five matches on the trot this season. The Mumbai Indians will take on Delhi Daredevils, looking to make it six in a row, when they take to the field at the Wankhede stadium on Saturday evening.
First Published: April 22, 2017, 11:39 AM IST