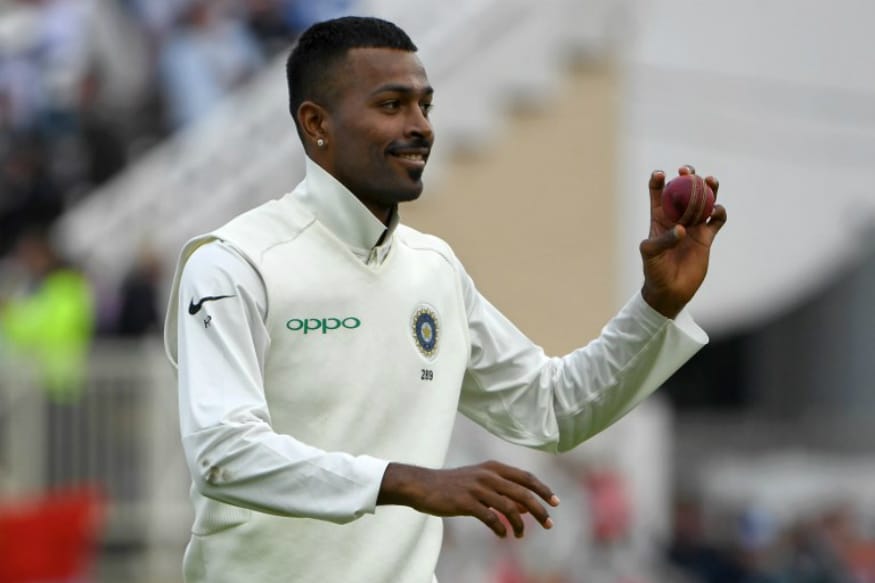 "Hardik Pandya is the mystery player in the Indian team. He looks like a bowler when he bats, and a batsman when he bowls."

Social media is a harsh place, particularly for Indian cricketers who come with the 'all-rounder' tag. It only gets worse if you're of the fast-bowling type, which invariably leads to comparisons with Kapil Dev.

Hardik Pandya clearly hates comparisons. "Let me be Hardik Pandya. Let's stop comparing me with anyone. I will be happy if you don't," he hit out after the second day's play where he bagged his first Test five-wicket haul.

Pandya's situation now isn't too different from that of one his peers in the dressing room a few years back. Ravindra Jadeja was trolled - and abused - incessantly on social media for being a bits-and-pieces all-rounder. He was the butt of all jokes to do with Indian cricket, the reason for everything wrong with Indian cricket.

Jadeja overcame all that to become one of India's crucial bowling weapons in the subcontinent. So much so that the prefix 'sir', which was once used to mock him, gradually became one of admiration.

On Sunday, Pandya took baby steps towards doing something similar and changing perceptions. He came into the third Test with some critics calling for his exclusion, and some questioning his bits-and-pieces skills.

But as he himself posted on his Instagram account the following day, he made 'the ball do all the talking'. He stunned England - and his critics - with a dream spell of 5 for 28 from just six overs, giving India a serious shot at victory in Nottingham.







The impressive and promising part of the bowling display was his ability to adjust to the conditions. The bowling figures were a mere consequence. Pandya hit the perfect length – neither too full nor too short – and got the ball to swing from the perfect channel in and around off-stump.

Pandya was not as quick as his pace-bowling peers but hit his rhythm much earlier than them. Mohammed Shami and Jasprit Bumrah, the new-ball bowlers, took time to settle down and allowed England's openers to race past 50 within 11 overs. Shami was wayward and wasted the new ball, while Bumrah was often too short albeit skiddy.

It was Ishant Sharma who broke that pattern and provided the breakthrough in a fine spell, putting India on track again. Pandya then went one level higher.

The key to his bowling was his understanding of his limitations. The conditions – and England's shaky batting – were such that the bowlers didn't have to try anything fancy. Pandya did just that and bagged crucial wickets that included Joe Root, Jonny Bairstow and last Test's hero Chris Woakes.

The way he got Bairstow, in particular, was one that would please any frontline bowler. Knowing he was getting the big outswingers on target, Pandya lured Bairstow to tap singles on the off-side by placing a deep backward point. The batsman had to alter his scoring area and went for an off-drive but only managed a nick to second slip.

Pandya then did something similar with Woakes; after being hit for two boundaries in the over through the off-side, he banged in a surprise short-ball, finding the top edge on the way to the keeper. The wickets of Stuart Broad and Adil Rashid weren't too difficult for a bowler in such fine rhythm.

But the road ahead will only be tougher for Pandya, for criticisms now will be replaced by expectations. His role until now was to give the regular pacers a break, and his wickets are almost like a bonus. The maximum he has bowled in a Test innings is 17.1 overs he did in Lord's, and that's only because India incorrectly played two spinners. Why, he might not have bowled that early in Trent Bridge had it not been for an injury to R Ashwin!


(ICC)

That will change if he takes the step forward as a frontline bowler. The other all-rounder in the side, Jadeja, took that step successfully with heroics in the subcontinent. India will need Pandya to do that, at least in overseas conditions.

The challenge is tough in his other discipline – batting – as well. Unlike Jadeja, Pandya doesn't have the cushion of being a lower-order batsman. Jadeja hasn't taken the bigger step with the bat, despite having scored three triple-tons in first-class cricket and bats at No. 7 or 8, while Pandya walks in at 6. His runs are not a bonus, but a necessity.

Pandya is trying to improve - both in batting and bowling - by doing things he is not comfortable with. He is defending and leaving deliveries, and his 108 runs in five innings have come at a strike-rate less than 50.

The most stringent and open criticism of Pandya ahead of the third Test came from Michael Holding.

"There must be someone that can bat better if they want a batsman, there must be someone who can bowl better if they want a bowler. But it seems as if they are trying to fill two spots with one person. He is not there yet," the West Indies legend told ESPNcricinfo.

Indian fans have taken objection to the comment, particularly after Pandya's heroics in Trent Bridge. But beyond the emotions and the highs of the performance, there is plenty of truth in Holding's views.

The 'yet' there is the key, and the Nottingham show is a baby step towards changing that.

First Published: August 20, 2018, 2:51 PM IST