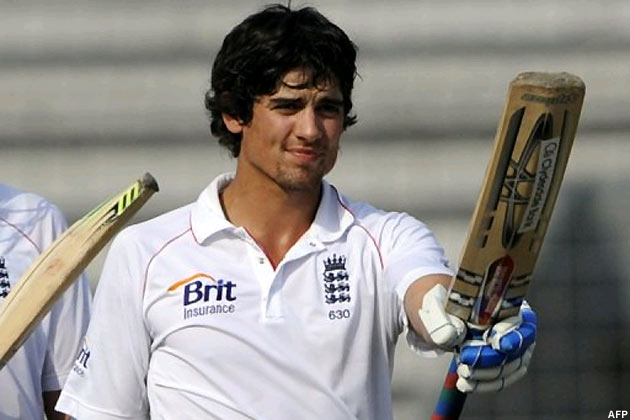 England are not out of danger yet, but if their overnight pair goes on to help draw this Test match on Monday, the Alastair Cook-Matt Prior combo will go down in the annals. Comparisons with Brisbane 2010 are bound to be rife today and tomorrow if Cook and Prior continue to gnaw away at India and take this match out of defeat's reach. Not least because the man at the fore of a most remarkable and, many will feel, surprising fight back is Cook, who set the tone for England's Ashes success in Australia with an unbeaten double-century that earned a draw two years ago.
Cook is a marathon man in the truest sense of the word. He is old-school, not particularly pleasant to watch, but a damn fine batsman. He knows how to graft, how to mould his game to suit the situation. He is epitomized, to borrow from Charles Portis' 1968 Western novel, by true grit.
Cook is no stranger to batting hours on end. Five times he has batted over 400 minutes in an innings. The longest he has batted in a Test is 773 minutes, when he scored 294 in 545 deliveries against India at The Oval in August 2011. Then there was that unbeaten 235 in 2010-11 Ashes opener in Brisbane, when Cook batted 625 minutes and 438 balls with England resuming their second innings 221 runs in arrears of Australia. In the fifth Test of that series, Cook batted 488 minutes in Sydney.
Paul Collingwood, a former team-mate, remarked on air how Cook was one of the fittest players in the game, and in fact right up there with international athletes. It was again in plain sight for all to see. This man doesn't work up a sweat, he makes others perspire. Cook has so far batted 501 minutes for his unbeaten 168, which is the highest score by an England captain in India. In scoring three figures, Cook also become the first batsman in Test history to score centuries in each of his first three matches as captain (he faced 410 balls for his 173 in Chittagong in 2010 and followed up with an unbeaten 109 to seal a 2-0 whitewash of Bangladesh).
Cook today drew level with Kevin Pietersen, Andrew Strauss and Ken Barrington for most centuries by an Englishman. He is one shy away of tying England's all-time century record. At 27, with 6764 runs and 21 centuries, he is set to break all of his country's batting records. England have a captain they can bank on, and that is immense given their fragility against spin.
The dominant half in a stand of 141 in 51 was Prior, a wicketkeeper-batsman whose ability to battle is known back in England. This is a man with 26 first-class centuries, and he showed his appetite for a scrap with an innings of purpose. Prior is not one to shut shop and graft. He plays his shots, and did so today with a series of cuts and sweeps that off-set India's bowlers. As in the first innings when he made 48, Prior was confident of front foot and back when playing spin.
All this left India a bit ruffled, and they will most certainly bat at some point on Monday. Pragyan Ojha bowled well but could not dislodge either batsman, and R Ashwin will be sobered by the fact that dismissing Cook for 41 on Saturday, he has bowled 53.3 overs without taking another wicket. It was thought that on the fourth evening there would be sharp turn, but although Ashwin spun a couple past the bat to raise hopes that turn never eventuated, except for one ball from Ojha that kicked up and hit Cook on the shoulder. Zaheer Khan's lack of movement was a concern because of how skillful he used to be with the old ball, and while Umesh Yadav got some reverse swing going in a crucial spell after lunch he too did not manage to trouble Cook and Prior.
India have so far been denied by the brilliance and tenacity of two men who refused to accept that defeat was an option. Monday promises to be a cracker of a day.