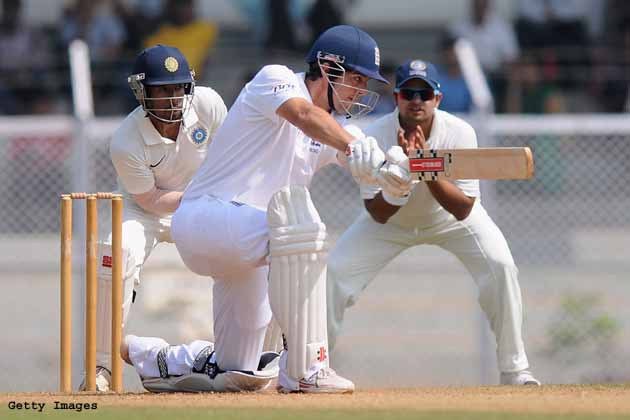 England XI first innings, day one
England XI 408 for 3 in 90 overs: It's stumps. It's been a great day for the visitors batting-wise. Kevin Pietersen has been the player of the day with 110, while Alastair Cook (97), Nick Compton (74) and Ian Bell (56 not out) also spent plenty of time out there in the middle. Just the day the tourists needed ahead of the first Test. Former India spinner Amit Mishra picked up two wickets for Haryana to trouble the batsmen a bit. India's spinners should take a lot of heart from that. That's it from us. Will be back with day two tomorrow. Ciao.
England XI 397 for 3 in 85 overs: Kevin Pietersen (110) steals the show with a quick ton. However, retires hurt soon. Ian Bell is now leading the charge with a fifty. Plenty of batting practice for England batsmen ahead of the first Test.
England XI 323 for 3 in 74 overs: Kevin Pietersen is in his element and scores a quick fifty. At present he is unbeaten on 64, while his partner Ian Bell also looks solid on 31. Both have added 77 so far for the fourth wicket. Every England batsman has spent some time out there in the middle today.
England XI 271 for 3 in 64 overs: Kevin Pietersen and Ian Bell at the crease, moving along at a good clip. Bell has hit two sixes and fours and his batting on 23 off 18 balls. Pietersen on 20 off 39.
England XI 254 for 3 in 60 overs: Amit Mishra gets a second wicket. Jonathan Trott sweeps and misses and is gone for 46.
England XI 245 for 2in 59 overs: Jonathan Trott and Kevin Pietersen are in control. England's No. 3 is on 45 off 75 balls and Pietersen batting on 18 off 22. Their stand is worth 34.
England XI 211 for 2 in 52.1 overs: After a very, very long time in the field Amit Mishra comes on to bowl and almost immediately gets Nick Compton, who also misses three figures. Mishra brings himself on after 50 overs have been bowled and takes a wicket in his second over. Compton is out lbw for 74 to the Haryana captain. Kevin Pietersen is the new batsman.
England XI 192 for 1 in 43 overs: Compton has reached 75 and looks like will sail to 100. But then so it seemed with Cook. Meanwhile, Trott is taking his time, 9 off 28.
England XI 166 for 1 in 34.1 overs: Alastair Cook misses his century by three runs. He chased a wide ball from offspinner Jayant Yadav and edged a catch to the substitute keeper Sandeep Singh. Nick Compton is on 58.
England XI 142 for no loss in 30 overs: The visitors continue to motor along at close to five runs an over. Cook close to a century, Compton to a half.
England XI 136 for no loss at lunch in 28 overs: England skipper Cook (82*), the dominant partner in the partnership, is fast approaching a century as Compton helps himself to 43*.
England XI 122 for no loss: Erratic Haryana being made to pay by Cook who has now helped himself to 77 with Compton too enjoying himself at 42. Surprisingly though, no sign of Amit Mishra yet.
England XI 79 for 0, fifty for Cook: The England skipper has been uncharacteristically aggressive this morning, bringing up the landmark in 66 balls, including 10 fours.
England XI 51 for 0: Pretty modest bowling being dished out by the Haryana bowlers. Cook, especially, having no trouble as he makes his way to 32 with the help of 6 fours. Compton on 14.
England XI 24 for 0: Cook (14*) and Compton (5*) have got off to a very confident start. Another good innings by Compton here will seal the opening spot for him in the first Test.
The England XI have won the toss and elected to bat against Haryana at Ahmedabad, which is their third and final warm-up match before the first Test against India.
Graeme Swann was not available for selection as he has flown back home to attend to his ailing daughter but should be back in time before the first Test.
The tourists, who are fighting with injuries to pacemen Stuart Broad and Steven Finn, included fast bowlers Stuart Meaker and Graham Onions to the eleven for this match.