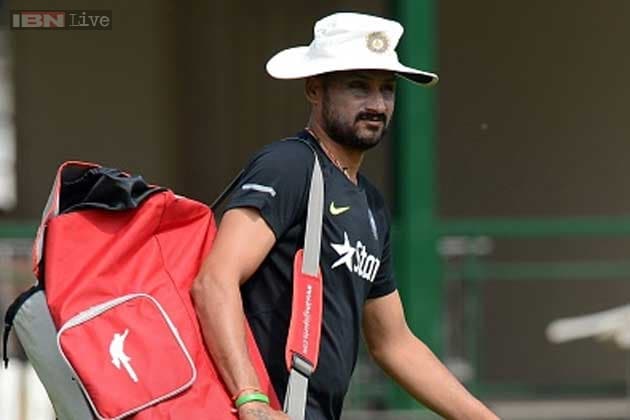 Colombo: Harbhajan Singh, pads on, walked past the sight screen returning from a hit in the nets here at the P Sara Oval. Every now and then, his head turned towards Virat Kohli and KL Rahul batting in the middle - something he won't be required to do over the next five days.
The offspinner, a veteran of 103 Tests, looked pensive as he continued towards the Indian dressing room, head down, with a train of thoughts seemingly running across his head. The drop from the second Test was clearly hurting the once 'turbanator'.
He was dragging his bat in between, like a shocked batsman taking the long walk back. "I haven't played my last Test, no I haven't," he was probably telling himself. But it might not be the case. Test cricket might have seen the last of Harbhajan Singh at Galle.
The throw-me-a-dare Harbhajan has been absent for quite some time. The man who nudged Ricky Ponting at Sharjah, made the Aussies his bunny at home in 2001, danced to the DJ's tune during the 2007 World T20 semis in South Africa and never took a step back confronting Andrew Symonds in Australia hasn't been on the park of late.
All we see of Harbhajan is dropped shoulders and a hung head while taking his hat back from the umpires. There's a thing or two in his eyes when training at the nets, some sadness, some struggle to come to terms with what's happening or what's coming - the nigh, the inevitable.
Surely he would not want it to end the way it seems it will. His 417 Test wickets, 704 in all international cricket, credit him with a chance to doff his hat after an inspired performance. A press conference to announce the inevitable will be a sorry way for the curtains to come down.
Has he lost hope, or he still has hope? Only Harbhajan knows that. But, as things stand here in Sri Lanka, he will at least carry that hope to the Sinhalese Sports Club - the venue for the final Test of the series.
But if the team's demands advocate him staying out of the eleven, that could be it for Harbhajan Singh Plaha - India's most prolific offspinner to date.