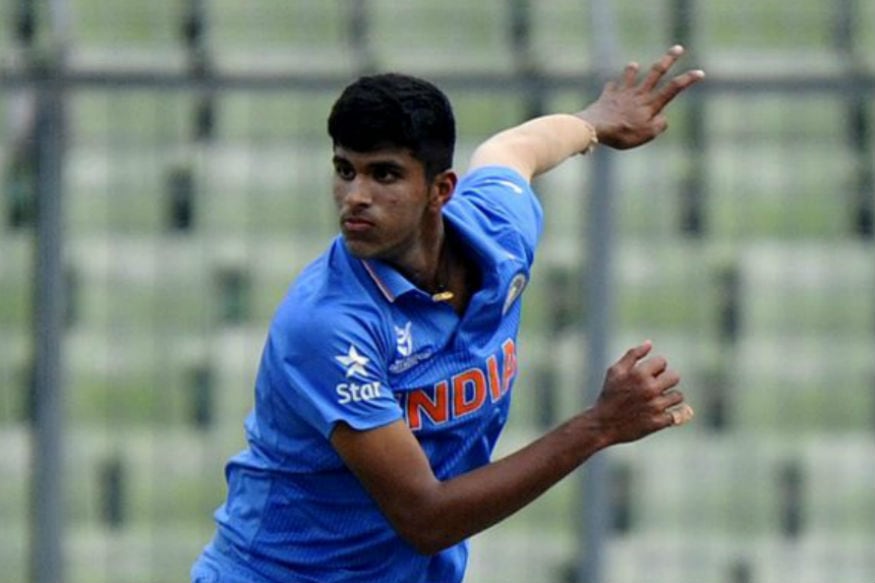 Indian spinner Washington Sundar, who is back in the mix of things after being out of action due to a freak ankle injury is gunning for a spot in the Indian team for next year's T20 World Cup.
Initially more of a batsman in the domestic circuit, Sundar has worked hard on his bowling and gives the team a reliable option with his accuracy, and he said that while bowling in the powerplay is a challenge, it's one that he relishes.
"It's a difficult job to do in T20s. To hit the right length is very difficult and of course errors will happen. It's a tough job, but that's something that excites me as well," Sundar told ESPNCricinfo about bowling in the powerplay.
"It's challenging to bowl to both right-handers and left-handers in the powerplay and I have enjoyed it ever since I was given that role in T20s about two-three years back. Adapting to different wickets is definitely very important. Hitting awkward lengths to every batsman might not be a great option. You need to figure out what works against that particular batsman and that is what I feel is important as a powerplay bowler."
Sundar emphasised that it's hard to follow a set template while bowling to batsmen, as each one comes with their own set of challenges.
"My mindset varies from batsman to batsman. One might be strong on the off side and the other maybe strong on the leg side. Especially at this international level, there's no margin for error and it's important to do your homework. You need to be really precise with the lengths and lines you want to bowl," he said.
"The clearer you mindset is, the calmer you can be when you bowl. If you know what you want to do, you don't generally think about too many things. You only think about execution. It's just about that clarity of thought and not having too many other things in my mind that helps me."
Sundar sustained the injury he has been recovering from while playing football during warm-up, and he said that he "couldn't believe" he would be out for the period he was after that.
"I couldn't believe that I'd be bed-ridden for four-five weeks after that injury," Sundar said. "I've never been that way before. It was the reality and I just couldn't do anything. Probably, I feel I had to go through that phase and experience it in my life to grow. But I was very fortunate to get through it, thanks to my family and my physio and trainer - Rajinikant and Thulasi Ram.
"They worked so hard on me. Day in and day out, I was training with them to get fitter - two-three hours in the morning and then two-three hours in the evening. My injury was kind of complicated, no actually it was very complicated, and needed a lot of time and attention. When I came out of the injury, I became fitter and in a very better shape and better space."
Finally, Sundar spoke about what his immediate goals are.
"I just want to stay in the present and not think too far ahead. Definitely, playing for India in a World Cup is a dream, but for now I just want to work on my game and stay in the present."