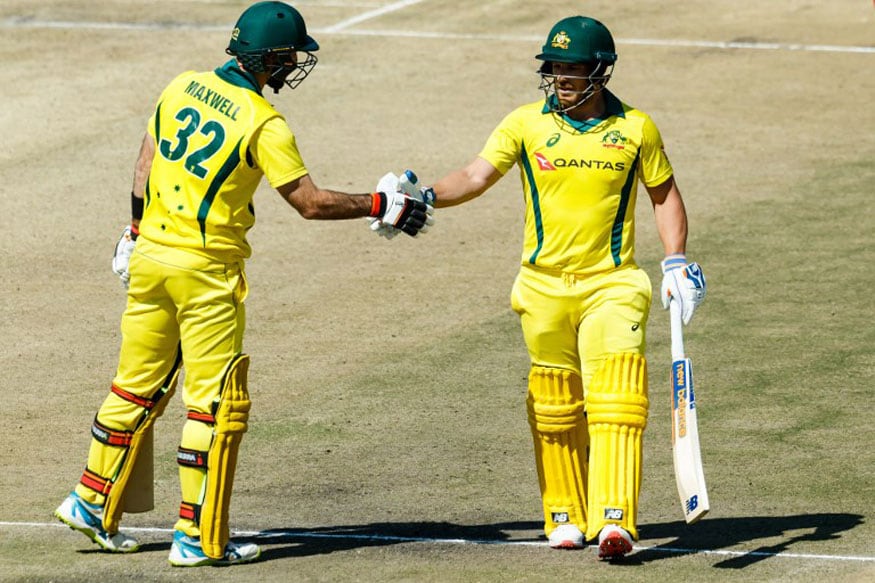 Glenn Maxwell's hopes of making it to the 2019 World Cup in England took a serious hit after captain Aaron Finch made it clear that he was not impressed with just his batting abilities, and wants him to prove his worth as an all-rounder.
Maxwell was part of the Australian team that lost the three-match ODI series against South Africa 1-2. Maxwell, who scored 35 off 27 balls, came into bat with 95 runs needed from 8.4 overs in the final ODI, but could not take his side home and was dismissed in the 49th over of the innings.
According to the skipper, Maxwell needs to pull his weight as an all-rounder to be part of the ODI set up.
"If you look at Glenn's stats recently, he probably hasn't made as many runs as he would have liked as a pure batsman," Finch said after the third ODI in Hobart.
"Therefore for him to be in the side and as an all-rounder, he's probably batting in that No.7 spot."
Finch strongly believes that Maxwell is not upto the mark just as a batsman, and the fact that Marcus Stoinis and Alex Carey have made their chances count, make things even more tougher for him.
"Guys are playing reasonably well around him," said Finch, highlighting the efforts of Stoinis and Carey. "'Maxi' would have liked some more runs, and obviously wants to bat higher.
"But the reality is he's in the side as a bit of an allrounder but he hasn't scored as many runs that he needed to over the last little while in one-day cricket to probably justify taking up a top-four spot.
"That's just reality at the end of the day."
Maxwell, known for his explosive batting, has scored only one century which was against Sri Lanka in the 2015 World Cup. In 35 innings, he has registered five half-centuries though he has scored more than 50 only once in the last 22 months.
After that knock against England, former captain Ricky Ponting said Maxwell had "work out the best way for him to play", and the Victorian duly responded, revealing during the JLT One-Day Cup that he had "adjusted a few things technically and mentally as well".
While Finch sees him as a No. 7 for the national team, Maxwell bats two places higher for his state and scored close to 200 runs in seven innings with an 80 as Victoria won the ODI title this year.
The right-hander admitted that his role in the state team meant "there haven't probably been as many opportunities to have those bigger scores but I feel like I've been batting as well as ever".
Immensely talented, Maxwell has been a puzzle for Australian cricket. The Victorian has been criticized heavily by Steve Smith and Darren Lehman, fined for his words about batting after Matthew Wade and was asked to "train smarter".
But it is his mate, Finch's evaluation that will sting.
"It's important we start to really nut down the balance of the side and get that right moving forward," Finch said when asked if Maxwell's position in the side was in danger.
"We're all under pressure when we lose. No doubt about that. Between the batting line-up not having got it right for a little now while there's going to be some questions asked whether it's of Maxi, whether it's (Chris) Lynn, (Travis) Head, myself, or 'Stoinis'.
"There's going to be questions asked of all of us."
For Maxwell, the competition to tie down a spot is against the likes of Ashton Agar and the returning Adam Zampa, which makes his off-spin and fielding abilities an important resource.
His seven overs in Hobart was the most he bowled since January 2016 and his last wicket came in June that year. Maxwell has bowled only 20 overs since including Sunday evening.
South African captain Faf du Plessis, who was dropped off the bowling of Maxwell, praised the bowler after the match, while skipper Finch said he "bowled really nicely today".
The all-rounder will have his eyes set on the solitary T20I against South Africa, that will be played on Saturday. The focus then shifts to the three-match T20I series against India, followed by a couple of domestic games and the Big Bash League.