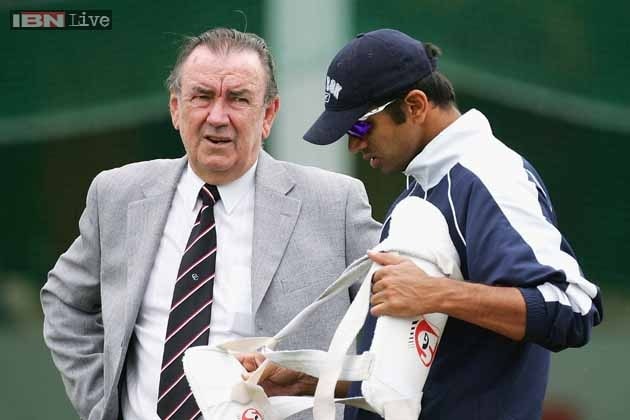 Sydney: Former Australian captain Bob Simpson and New Zealand's women cricket's ex-captain Debbie Hockley were inducted in the International Cricket Council (ICC) Cricket Hall of Fame at a special function here on Thursday.
The duo received their commemorative cap from ICC President Alan Isaac in an event that was also attended by Cricket Australia (CA) chairman and ICC Director Wally Edwards, England and Wales Cricket Board (ECB) Chairman and ICC Director Mr Giles Clarke, and a number of living ICC Hall of Famers.
Hockley is the fourth female and Simpson the 72nd male cricketer to be inducted into the ICC Cricket Hall of Fame.
Hockley, born Nov 7, 1962 in Christchurch, made her international debut in January 1979 when she featured in the third Test against Australia in Melbourne. In December 2000, she announced her retirement after the final of the ICC Women's Cricket World Cup in Lincoln in which New Zealand beat Australia by four runs.
In a career spanning 22 years, Hockley played 19 Tests in which she scored 1,301 runs with four centuries and seven half-centuries, and 118 ODIs in which she mustered 4,064 runs with four centuries and 34 half-centuries. With her inswing bowling, she took five Test and 20 ODI wickets.
Simpson, born Feb 3, 1936 in Marrickville, Sydney, played 62 Tests and two ODIs for Australia from 1957 to 1978. His 4,869 Test runs include 10 centuries and 27 half-centuries, with his highest score of 311 coming against England in the fourth Ashes Test of the 1964 series at Old Trafford, Manchester.
With his leg-spin bowling, Simpson captured 71 wickets, including a career-best five for 57 against England in the 1963-64 Ashes in Sydney. In 1965, Simpson was named Wisden Cricketer of the Year.
Simpson retired in January 1968 after the Sydney Test against India, but returned at the age of 41 in December 1977 to lead Australia in the home series against India and the away series against the West Indies. While Australia beat India 3-2, it lost 3-1 to the West Indies, with Simpson's final Test at Sabina Park, Kingston, Jamaica, ending in a draw.
Overall, Simpson captained Australia in 39 Tests, winning 12 and losing 12.
In 1985-86, Simpson was appointed as Australia coach and when he handed over the baton to Geoff Marsh after the ICC Cricket World Cup 1996, Australia was back as a force to be reckoned with.
During Simpson's tenure, Australia won the ICC Cricket World Cup 1987 and reached the final of the 1996 tournament (both held in the subcontinent), won four consecutive Ashes (1989, 1990-91, 1993, 1994-95) and ended the West Indies' 15-year unbeaten run in Test cricket in 1995, in its own backyard.
Simpson served as an ICC Match Referee in the three-Test series between India and Sri Lanka in India in 1997, and then worked as India's consultant coach in 1998-99. That also included his involvement with the side during the ICC Cricket World Cup 1999.