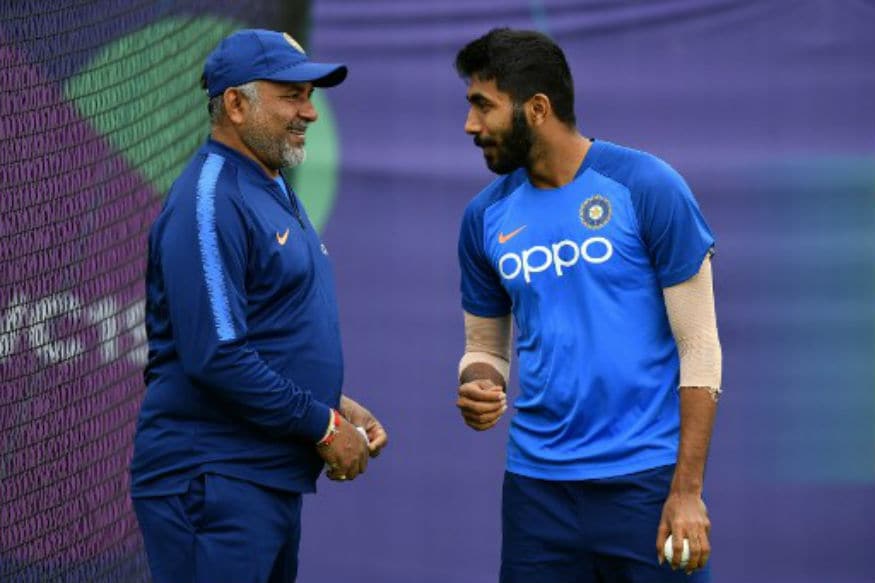 India bowling coach Bharat Arun believes that the recent success being experienced by the country's best pace bowlers comes down not just to hard work, but open communication with the coaching staff too.
Arun believes that India always had a decent battery of pace bowlers but what was lacking was the proper care to ensure the players not only had long careers, but didn't lose their pace too much with time.
"With all the skill-sets they were acquiring, the pace should have ideally shot up or remained consistent. When we started to look into it, we realised there were multiple factors that affected fast bowlers," Arun told the Times of India in an interview.
"Over-bowling was one. The monitoring of workload was missing. There was lack of sufficient rest. And under-bowling too was an important factor. It all boiled down to individual conditioning.
"There has to be a lot of dialogue between the coach, the physio and the trainer. Only when a bowler begins to tell you how he feels, and shares his thoughts, beliefs and fears completely, will it allow the people around the bowler to manage him efficiently."
Arun believes that pace bowlers being 'honest' with the coaching staff has helped them monitor workloads and rotate bowlers, something which he also credits India skipper Virat Kohli and head coach Ravi Shastri for encouraging.
"It (honest) is a word that is used often but what is important to consider is the underlying context attached to it.
"Ahead of the Sydney Test, Ishant Sharma came up and said he wouldn't be able to play because he was facing some discomfort. The team decided to go in with three fast bowlers and included Kuldeep.
"After the Australian series, Bumrah was supposed to travel to New Zealand. But he came up and said, 'I'm really feeling tired (after the Oz series). I've given everything'. Of course he had.
"He took his break, went back home, took some rest and stayed fresh for the next series. Much of the credit here goes to Virat and Ravi for making this space available to the players."
And while Arun is full of praise for all of India's current pace bowlers, he reserves special praise for Bumrah, who in his words was the 'driving force' for the transformation of this bowling attack.
"He (Bumrah) has been the driving force of this fast bowling attack. He came in and took the world by storm. That motivated the others to step up.
"That was the initial build-up to this attack. It all started in South Africa last year. I remember Ravi telling these boys, 'From now on, no bowling up'.
"In the second innings, they shot off South Africa for 131. That was the beginning of a story that these boys are busy scripting right now."