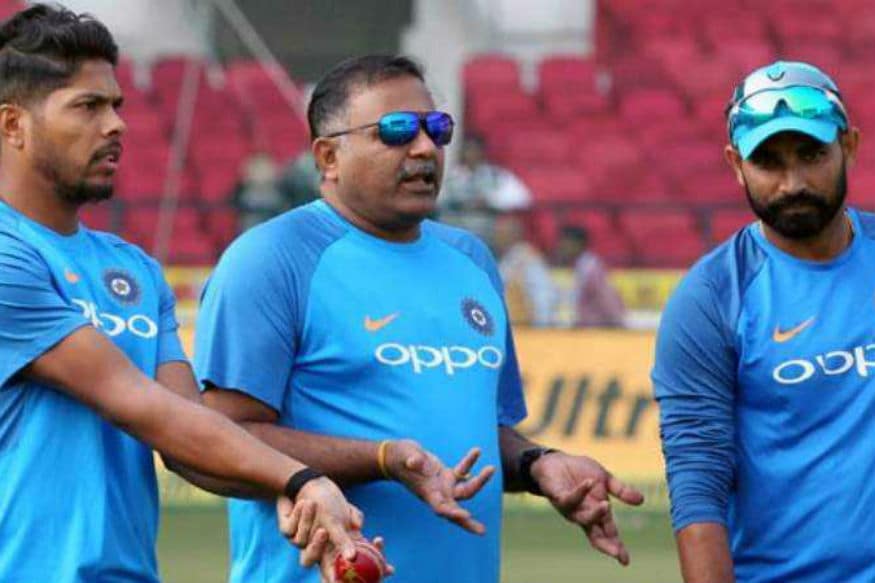 Workload management is the reason India's pacers are able to bowl at speeds more than 140 kmph consistently, bowling coach Bharath Arun has said.
Arun said the support staff constantly track the bowlers' movements on the field during match days using a GPS tracker, which helps them decide the workload at training sessions. The likes of Ishant Sharma, Jasprit Bumrah, Mohammed Shami and Umesh Yadav have shown tremendous consistency and pace in the last two years, and Arun explained the reason for the success.
"When we talk about workload management, we are looking at the number of overs a bowler has bowled. But then a bowler can over-exert himself in a game and that is not under your control. So we use the GPS tracker to monitor all his movements on the field," Arun said on episode three of Inside Out, a show hosted by India women coach WV Raman.
ALSO READ: World Cup Loss Still Hurts Us: Bharath Arun
"For example, a bowler runs around 20 km on the field. And the tracker gives us a lot of data and information about the bowler concerned. By analysing those data, you can manage the workload at training sessions. Basically, you need to find the right balance. And the Indian bowlers have managed to do that so far.
"This is the reason why we are successful as a bowling unit and the bowlers can bowl at 140 kmph regularly."
Earlier in the month, Arun had said it would take at least six-eight weeks for pacers to be ready to play an international match.
"It'd take us at least 6-8 weeks for us to play international matches, whereby we'd be first working on the skill, and fitness in the camps and then we'll progress onto match simulations, and hopefully the BCCI can organise a tournament just before we play the international matches, that would be great for us," he told Fancode.
"I'm not worried about the bowlers because they've had ample time in the last 2 months, to work on strength and their fitness. Very rarely does an international cricketer, especially our bowlers, would get this kind of time to work on their fitness. Also, it is a wonderful opportunity for them to get over the little niggles, that they may have got over the long season."