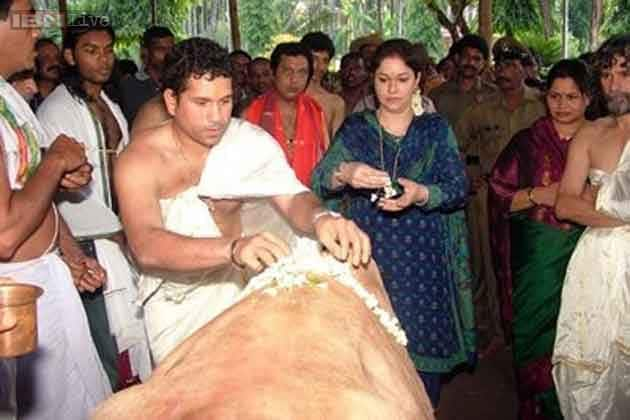 New Delhi: A government run temple in a small village in the Western Ghats of Karnataka played an important role in the life of Cricket legend Sachin Tendulkar. Kukke Subramanya temple, about 100 KM from Mangalore was a little known pilgrim centre before Sachin Tendulkar made a pilgrimage to this serene place in mid - 2006. Tendulkar had spent three days at the temple performing several special poojas seeking divine blessings to improve his health and sagging career.
He was accompanied by his wife Anjali and other family members. Even though, he wanted to keep his visit a secret, the news was leaked and spread like a wildfire. Thousands of Sachin fans from neighbouring areas made a beeline to Kukke Subramanya to see the 'God' of Cricket.
Sachin, who was battling a tennis elbow injury performed 'Naga Dosha Pooja', 'Sarpa Sankara' and even did a 'Gou Pooja' (worshipping a cow by offering food) at the ancient Subramanya temple.
The priests, who did the Pooja for him, were so impressed by his humility and dedication. He showed a great interest in all the poojas he performed. The chief priest Sarveshwar Bhat still remembers that Sachin would get up at 3 o'clock in the morning to take bath in cold water to attend early morning rituals.
Sachin's visit to Subramanya made the temple famous all over India overnight. People from across the country started visiting it seeking remedy for various personal and professional problems. Tendulkar's career also made a great progress after his visit and he was back in the form once again hitting a century after a century.
When Sachin Tendulkar visited the Kukke Subramanya temple, Raghavendra Shastry, advisor to former foreign minister S M Krishna set up a website on the temple and its rituals. He claimed the site received 17.5 lakh hits in seven hours due to interest generated by the cricketer's spiritual sojourn. The temple website even crashed due to heavy traffic.
Former test Cricketer Ravi Shastri has also visited Subramanya, two years ago.
Many top politicians and big corporate leaders offer pooja at Kukke Subramanya, regularly.
Kukke Subramanya is now one of the richest muzrai (government run temple) temples in Karnataka. It s annual revenue has gone up to several crores.
Will Sachin Tendulkar make another spiritual sojourn to Kukke Subramanya, once he hangs up his boots?

####