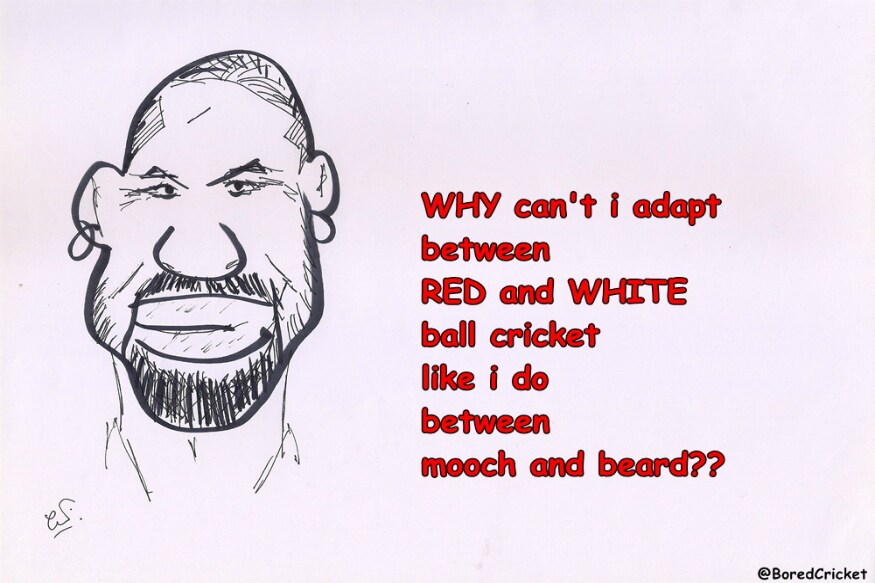 More than any Indian batsman perhaps, Shikhar Dhawan sucks good form for all its worth. Much like bad form sucks Dhawan for all he is worth. By the time Dhawan boarded his flight back from England, he must have felt quite worthless. Though not quite in a Yograj Singh wishing MS Dhoni kind of way.

Even though he had fared better than the other openers till the fourth Test, it was The Oval that did him in. KL Rahul and Alastair Cook shot ahead, while Dhawan's footwork shot him in the legs. Two LBWs in two innings. His post-dismissal, pre-review chats with Rahul lasted longer than his teeny-weeny stints at the crease.

And that is what most will remember of Shikhar Dhawan from England.

How then did Dhawan turn it around from 9/11 to 9/18? From London to Dubai? From red ball to white ball? From out to in? From Sony to Star? Did those ads get to Dhawan too?

Much as red-ball Dhawan and white-ball Dhawan are two different beasts, it's easier said than done. And a lot had to be said, and even more done, for Dhawan to pick up the pieces, his two left feet and the outside edge of his bat – and convince himself that he indeed was worth it.

This would not have been possible without his ODI opening mate, Rohit Sharma. Who in Virat Kohli's absence was there for Dhawan – sometimes far more than necessary.

Flight day for the Asia Cup saw Dhawan make it earlier than usual to the airport. He wanted some me-time. With both red-ball Dhawan and white-ball Dhawan. He wanted the twain to meet. After checking in his baggage (and he had plenty), he made it to the deserted Business Class Lounge.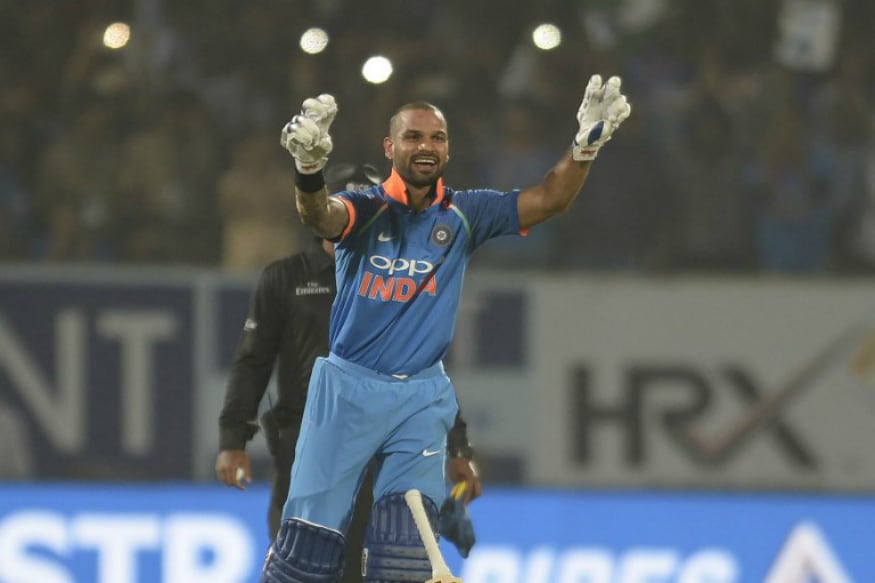 Yet, Dhawan yearned for more privacy. He furtively made to the men's room, once there, he locked himself in a stall with his two phones, and started to text himself. This was a trick he had learnt from VVS Laxman at Sunrisers Hyderabad.

Phone with red cover was, you guessed it, for red-ball Dhawan. White cover for white-ball Dhawan. A third phone that was tucked away, was for odd-ball Dhawan (the one who's dropped).

Red Ball Dhawan (RBD): You forgot the process again. You got the first Test…

White Ball Dhawan (WBD): Why are we still talking Test cricket?

RBD: That's who I am

WBD: But you don't exist now. It's about the new process now. ODI process. Try new things.

RBD: I am finished? What are you…

WBD: Relax boss, I'll make a few moves and we'll both be back

RBD: What moves?

WBD: You're playing in the first Test against Windies…

RBD: How? You're crazy…flat track confidence as always...I didn't have to leave all those balls and still edge them

WBD: Nothing new, yaar, you know...there is no process…don't keep using that word

RBD: But it's a big word, everybody uses it and loves it…Mahi bhai loves it too

WBD: Even GC loved it

RBD: Who GC?

WBD: Don't be stupid you, Greg Chappell…always acting the innocent one…you are full idiot, Delhi style. I know what you know and you don't know what I know…why we are even talking…first game against Hong Kong, big 100…easy...then, next day more…white ball Dhawan is rock star




RBD: What about me? Scars from England…outside edge scars…lbw scars…dropped catch scars…dropped from team scars…I'm finished boss

WBD: NO. You are boss, boss, boss hahaha it's simple. Hong Kong easy match. Pak no pressure. Dubai we will go shopping after winning against Pak…you will be Sheikh again…Sheikh Shikhar…hahaha…I'm funny…hahhaa…process is important to be funny also…hahaha

At this point, Dhawan doesn't realise, that in his excitement, he's both texting and talking aloud and LOL-ing too. In the adjacent stall, there is company. None other than his captain, Rohit Sharma.

Rohit Sharma(RS): Oye? #TheOne…

Shikhar Dhawan (SD): Oye? #Hitman…

RS: What the…just saying

SD: What the you?

RS: oh, nothing…just great…just saying that I was in the neighborhood so dropped in to take a look for some peace and quiet…and it's great to be here…nice and quiet…after a tough day at the office…where everybody does their best but it doesn't always go…go to plan…but no complaints…just great..how're you…just saying that we have a great chance in Dubai for the Asia Cup…I think…just saying that if we play to our potential we can rest some key players and beat Hong Kong easily and then play those key players and beat Pakistan easily, that will be great I think…just saying…we need to do the basics right…Great…how're you…you're looking great?

SD: But you can't see me, Hit

RS: But I'm just saying I know what you look like…what are you doing, One?

SD: No secrets between brothers…

RS: Great!

SD: I was doing process…texting myself

RS: Great…I was doing the same…




(Both speak over each other): Red Ball Dhawan to White Ball Dhawan…Red Ball Rohit to White Ball Rohit…

Both crack up loudly.

SD: Lax' bhai taught you too?

RS: No…no…Sachin Paaji at MI…

SD: What? But he didn't need this…

RS: Just saying it's always great to talk to Paaji but Paaji is just great…always think about everyone…so I'm just saying because VVS also had this red ball white problem thing which was not great maybe Paaji taught him also…how to adapt to different conditions…to different phones…the different formats and how to format your own disc drive to different formats…it is no computer science just saying…

SD: SH*T but Lax' bhai played much less ODIs…than me

RS: Great…but even then he was a great player and you cannot take that away from him…that he played much less than me too…just saying ODIs…

SD: But how will this process help us if it couldn't help him…

RS: Great…ok, maybe not so great for him but at least he played so many Tests and he was definitely a great Test player and who knows if he even had a mobile phone then and if he had to handwrite all this that would be a lot of work but he had beautiful wrists and who knows…maybe those wrists became beautiful by writing all these notes to himself…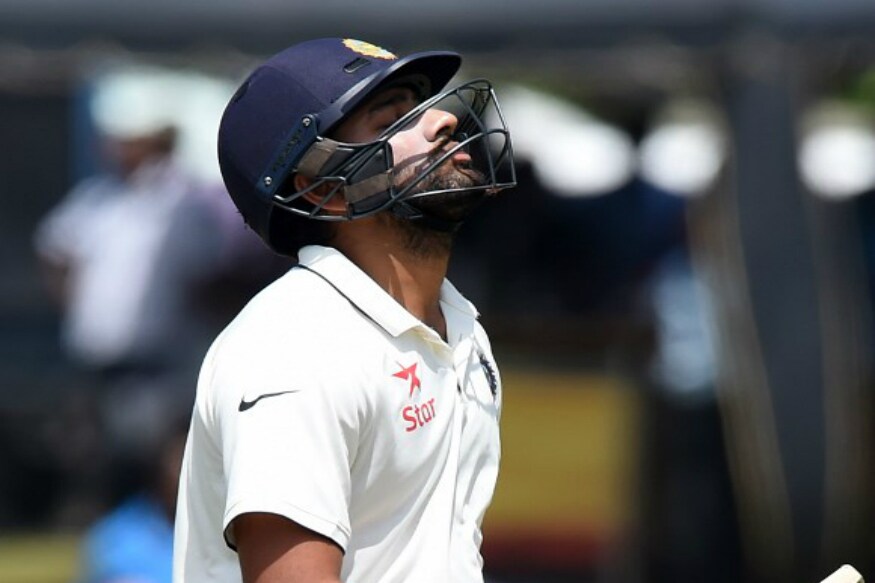 At this point there is outrageous laughter from a third stall. It's Ambati Rayudu

Ambati Rayudu (AR): Laxman Bhai taught me too…to text between ICL Rayudu and IPL Rayudu…back then…he was laughing at me all that time…I don't think he was serious…

RS: Oye SHUT UP! Just saying you are…Yo-Yo Test FAIL!

Both Dhawan and Rohit crack up.

SD: And I keep getting dropped from Test team…haha

RS: And I don't get picked for Test team hahaha…

(While VVS Laxman played 134 Test matches, he appeared in only 86 ODIs. The conflict between the red-ball cricketer and white-ball cricketer is a perpetual one. Rohit (185 ODIs), Dhawan (107 ODIs) have only played 25 and 34 Tests respectively. Rayudu has played 36 ODIs but yet to make his Test debut.)

(However plausible this may be sound, this is largely a work of fiction)

(Gaurav Sethi branded Bored Cricket Crazy Indians (BCC!) to bring bloggers together. He also branded Che Pujara, Jatman and Thank You Sachin! – as a cartoon, before it became a farewell cry. He used to work on brands. Now he works on himself. He tweets at @BoredCricket)

First Published: September 21, 2018, 11:59 AM IST