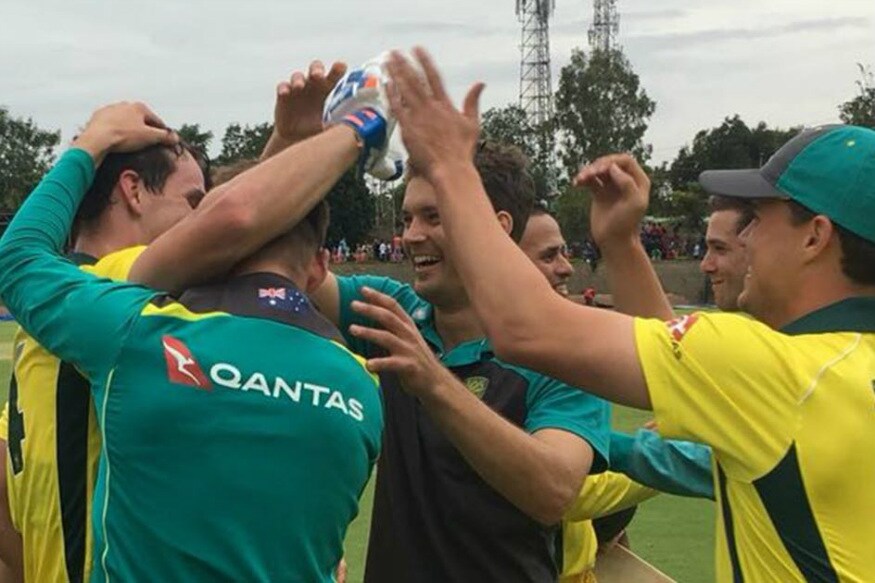 They don't call you 'The Beast' for nothing! On Monday, in a must-win clash against India B in Alur with Australia A needing five to win off the last ball, Jack Wildermuth smashed a flat-batted six over mid-wicket to take his side to the final of the Quadrangular Series.
With 19 runs required of the final over, the 24-year-old hit Prasidh Krishna for two fours in the first five deliveries. The equation then boiled down to 5 off 1 and Wildermuth sealed the deal with a maximum. Moments after the five-wicket win (DLS method), Wildermuth revealed what was going through his head in the last over.
"Watch the ball, try and put it over the fence," the all-rounder told a group of reporters after the match. "We needed 19 off the last over, we needed boundaries so that's all we could try and do."
Chasing 247 from 40 overs after a couple of rain interruptions, Australia were reduced to 155 for 5. Despite wickets falling at the other end, opener Usman Khawaja was moving on pretty solid, and all he needed was some support. However, coming in at No. 7, Wildermuth took it upon himself to get his team over the line.
Australia needed 28 runs off 12 balls which turned into 19 off six after Khawaja got to his 10th List A century in the penultimate over. A defeat would have allowed South Africa A to reach the final but Wildermuth was having none of it. Both Khawaja and Wildermuth remained unbeaten on 101 and 62 respectively.
"I knew I had to take the innings deep," said Wildermuth, who smoked five fours and three sixes during his 42-ball knock. "'Uzzie' (Khawaja) is obviously the set batsman, I tried to not put too much pressure on him and if we could take it deep we were always a chance.
"They bowled really well, their spinners. It was quite tough, it was turning quite a bit. Each of us needed to target a bowler that was probably spinning into us because it's really hard to get under the ball. We were really trying to go there for a couple of overs and we couldn't quite get it out of the meat of the bat for a bit."
Talking about the last-ball six, he said: "I knew if I had a ball in the slot I could put it over the fence. I'd been trying to play that same shot a couple of times during the over and I probably didn't get them and just made sure I watched the ball really hard. I knew if it was there I could put it over the fence."
Australia will now once again meet India B in the series-decider in Bengaluru on Wednesday. Having lost the first match to India A, Australia needed to win their remaining two games to qualify for the final. While it was the captain Travis Head who scored a century to lead his team to victory against South Africa on Saturday, Khawaja played the role of a senior man to perfection against the Manish Pandey-led side.
"We knew we needed to win," said Wildermuth, who made his international debut last month in a pair of Twenty20 Internationals in Harare. "We didn't start the tournament as well as we would've liked but the last two batting innings have been really great, especially from our top order.
"Someone has stood up and got a hundred – 'Uzzie' and 'Heady'. It's great to get a bit of momentum into the final now."