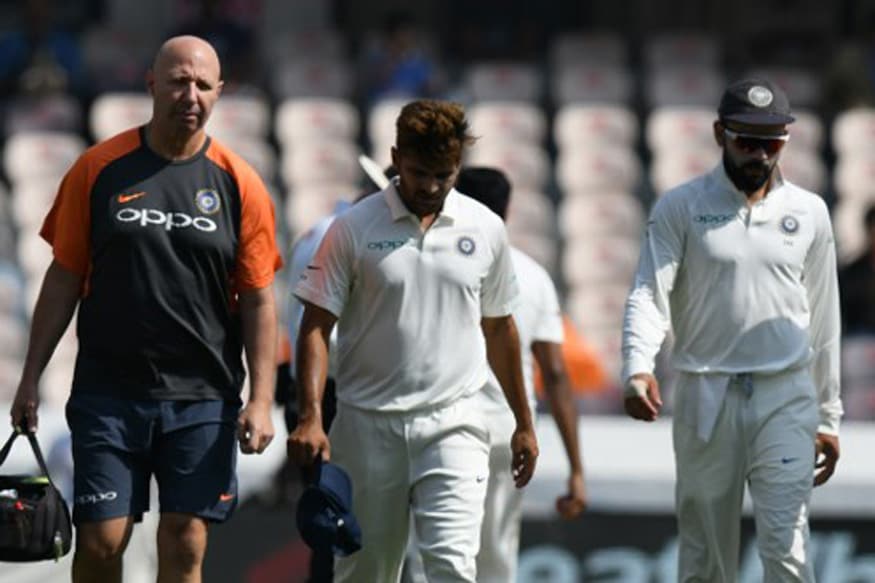 Shardul Thakur has revealed that captain Virat Kohli's comforting words helped him overcome the disappointment of having to limp off after bowling just 1.4 overs in his debut Test against the Windies in Hyderabad last month.
"I was angry when it happened," Thakur told Times of India. "Who wants to start a debut match like that? No one. It is a terrible feeling, believe me.
"It is better to accept what happened rather than complaining about it. It is in the past for me now. I want to recover as soon as possible and return to cricket field.
"Virat immediately rushed towards me and asked 'what happened?' I told him that I won't be able to continue. He saw my condition. I was tense and almost cried but Virat bhai's words helped me handle that terrible situation. He spoke with Patrick Farhart and advised me to go back and relax. He gave me the confidence and asked to talk to him after the match. After that he came to me and asked about my injury. He said that 'these things are normal for an athlete."
After the injury, Thakur has been advised rest before going into rehabilitation. This was the second time that Thakur had to leave a tour midway due to an injury. He was sent home from the Asia Cup 2018 after suffering a right hip injury while playing against Hong Kong.
"Farhart is assisting me. He is taking one step at a time. According to him, I should be fine soon," he said. "As an athlete, you have to deal with these challenges. When you bowl, you aim for wickets and team's win. And when these things happen, it really hurts. It took time for me to accept it. I am now concentrating on the recovery process."