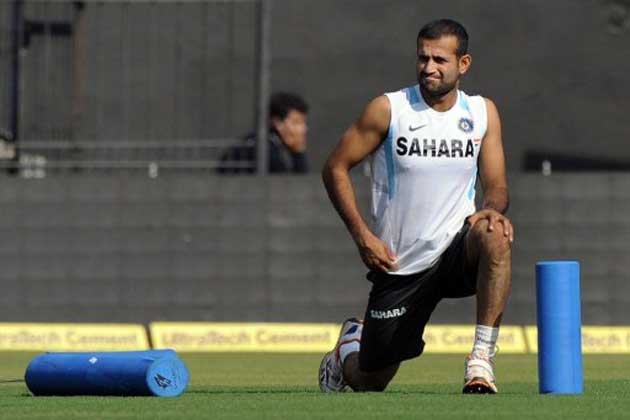 New Delhi: Irfan Pathan hates the idea of being another run-of-the-mill cricketer who is just happy about plying his trade day in and day out without making a mark.
"I look at my career as someone who should be able to make a mark while representing the country rather than being a cricketer who just comes, plays and goes back home. I want to use each and every opportunity that I get to win matches rather than just be another cricketer," Irfan, who has been named as a replacement for R Vinay Kumar said.
His performance during Asia Cup in Bangladesh came in for criticism but the talented left-arm pacer is not worried.
"There is no point in getting angry with critics. There is more satisfaction if I can produce some good performances which will make them eat their own words. That's the way to do it. There has been times when my fitness has been criticised and I haven't complained. I tried to sort it out and come back stronger," he replied.
Asked about his own assessment, he answered, "I played 8 ODIs after my comeback and have got 13 wickets. I have scored around 100 runs in the five innings that I have batted. For someone like me, the more I play international matches, the better I will get."
Irfan termed his selection as "pleasant surprise" but didn't forget to mention that he was working hard at the National Cricket Academy during the past few weeks.
"Obviously, when I was overlooked initially, I was thinking about what are the areas I needed to work upon and was focussing on my training at the National Cricket Academy.
"I am pretty satisfied with the hours that I have put in at the nets and in the indoor sessions there. After this call-up, the focus will shift to the Lankan series."
However, Pathan said Sri Lanka tour would be a good preparation for the Indian cricketers ahead of the World T20.
"Playing now in Sri Lanka will be an advantage because the T20 Cup will also be played there; so we will get a chance to get used to the conditions....Any opportunity given to me will be fully utilised."
Pathan rated West Indies as strong contenders for T20 championship, to be held between September 18 and October 7.
"I think West Indies will be a dangerous team and they will be strong contenders because they are the most suited for this format," he said.
Pathan, who recently saw Yuvraj Singh training at the NCA in Bangalore, is convinced that the left-handed batsman would return to top-flight cricket after undergoing chemotherapy.
"I saw Yuvi training at Bangalore. He is running pretty fast. I am sure he will come back into the team at the same pace he is running. It felt nice to see how he fought cancer. There is a lot youngsters can learn from him, not only in India but all over the world. Only he can tell when he will be match fit."
In this comeback phase, Irfan has always credited noted pace bowling coach TA Sekar for his contribution.
"It's always a delight to talk about various aspects of bowling with Sekar sir. Since I was at the NCA, I didn't get much time to interact with him. Once I am back from the tour of Sri Lanka, I would certainly, again like to have a couple of sessions with him."
Many of his team-mates were off to Europe and the US spending their holidays, but the 27-year-old decided to stay back at home and enjoy the time with his folks.
"I had 20-day break which rejuvenated me. I went to Gir forest and it was a lovely experience. I have joined 'Save The Tiger' campaign. So it was a nice little break before I got back to training."