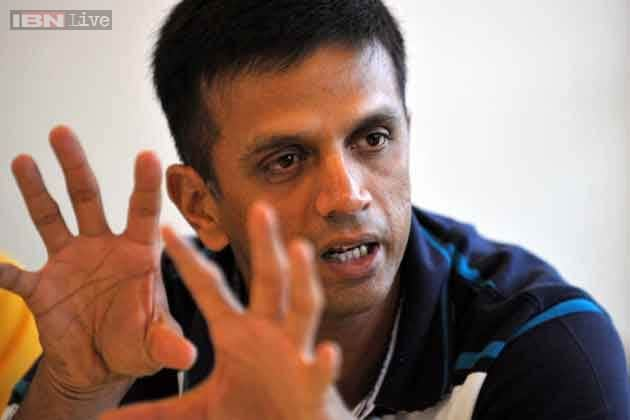 Former captain Rahul Dravid on Wednesday emphatically ruled out the notion that he was interested in taking up the India coaching job after Duncan Fletcher's departure.
"No, absolutely not. I am only looking at India A and Under-19 appointment (as coach). I am not thinking about that (national coach's post)," Dravid said.
Dravid, came to Mumbai as an invited guest at the convocation of the International Institute of Sports Management along with Maharashtra Chief Minister Devendra Fadnavis, emphasised that team director Ravi Shastri and the other support staff in Bangladesh were doing a great job.
"Ravi and his team are doing a fantastic job with India. I have no aspirations to go up to that level at the moment," he insisted.
"It's an important stage for any player - being part of India A, U-19 squads. I am very happy I have been given that job. There will be 2-3 series and I will share my experiences as player with them," he said.
He said his role as mentor of IPL team Rajasthan Royals over the last couple of years would stand him in good stead in his new assignment.
"Definitely. Having spent a couple of years as role of mentor after having spent many years as a player, I have been able to see things from the management and coaching side. The more you do it, the better you become. I am looking forward to it," said Dravid.
Dravid, 42, felt that one can't lay down a particular criteria while picking a player for the India A team as the selectors would have different goals in mind at different times.
"Look, in terms of criteria it's up to the selectors and the team management to decide. They will have a vision.
Sometimes they will pick young players, sometimes pick players who want to make a comeback into the India team and sometimes pick players depending on future (India) tours.
"There are various parameters. You can't decide that only these sorts of players can be chosen. It won't be fair.
"The selectors have seen a lot of domestic cricket. I see my job as coaching the players who are selected. I am not really into selection. I will try and help them in their journey to get to the next level."
Dravid, who has played 164 Tests, was of the opinion that at the higher level a coach's job is more of a guide.
"I don't think you need to teach India A players to play or bat. They are there because they are successful. It's all about helping them reach the next level.
"At the under 23 level basic coaching is not necessary. At that level you are looking at someone who can be a guiding factor, someone who can help you by creating a good environment and share some of his experiences," he explained.