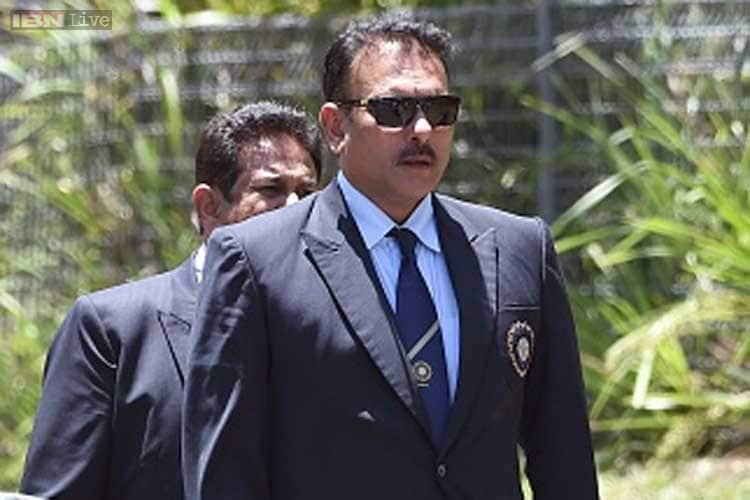 Kolkata: Asserting that the Indian cricket team does not require "more coaches" than what it already has right now, Director Ravi Shastri said on Sunday that he might just be there "longer" than expected.
Shastri was retained as Director of the team for the tour of Bangladesh, which starts with a one-off Test on June 10 and also features three ODIs after it.
Addressing a pre-departure press conference here, Shastri said the team is not exactly hard-pressed for a chief coach right now.
"We have got three coaches, we don't need another coach.
"I will double up as head coach if need be, so there is no issue whatsoever," said Shastri when asked whether the side would miss having a national coach after Duncan Fletcher's tenure came to an end earlier this year.
"Speculation, perception, that is your problem, not my problem. As far as coach is concerned, we don't need one," he insisted.
Quizzed further on how long he will continue with the team, Shastri said, "When we come back from Bangladesh, I will sit with them (the BCCI) and decide. I don't rule out anything. I might be there much longer than what you think."
Asked whether the team is confident of a good show against the lower-ranked Bangladesh, Shastri said, "We respect every opponent and Bangladesh is another opponent."
A talking point ahead of the tour has been the Test comeback of veteran off-spinner Harbhajan Singh and asked whether he would be leading the Indian attack, Shastri said it would be a combined effort.
"We welcome Harbhajan back in the side, he is a good operator and will bring plenty to the plate. (But) it's going to be an India bowling outfit, not anyone in particular leading the pack," he said.
On to other developments in Indian cricket, Shastri welcomed the appointment of batting great Rahul Dravid as the new India A and Under-19 coach.
"I have already had a chat with Dravid. There is no better news for Indian cricket ... There cannot be a better man for that job. He will be with the youngsters and that will help the senior team," he said.
Speaking about the newly-appointed BCCI cricket advisory committee, comprising retired greats Sachin Tendulkar, Sourav Ganguly and VVS Laxman, Shastri said the trio's contribution would be good for Indian cricket.
"Look at the people there, they come with a lot of quality, they have been there for a lot of time, they can only contribute. They are to take Indian cricket forward so that's very good and I am sure they would have done that yesterday in that meeting as well," Shastri said referring to the committee's maiden meeting on Saturday.
"When we come from Bangladesh obviously I will have a chance to sit with the Board and take things from there. So take one step at a time. Focus now Bangladesh. And as far as coach is concerned, there is no need we have got enough out there to sort things in Bangladesh," he asserted yet again.