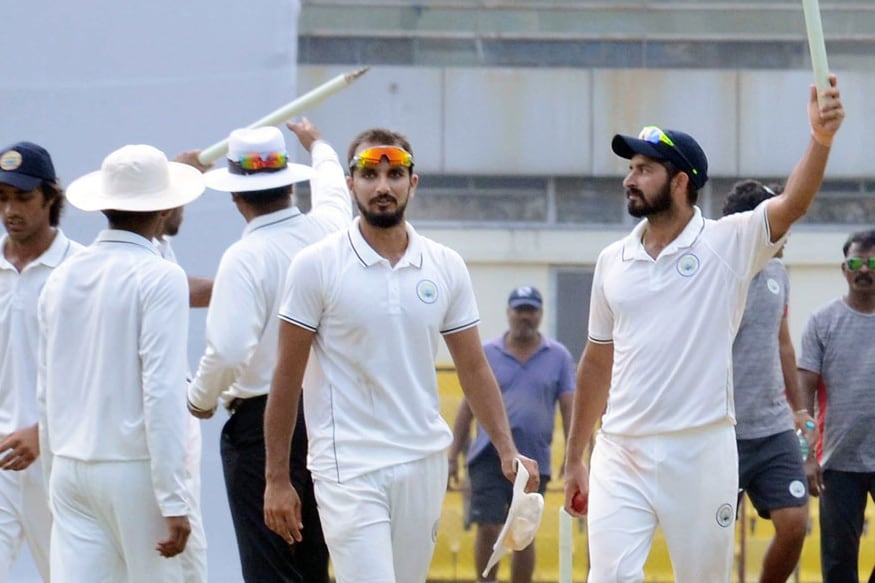 Kolkata: Out of favour pacer Mohit Sharma says he is mentally stronger and fitter and keep motivating himself talking to India regulars like Mohammad Shami and Bhuvneshwar Kumar.
"You may be away from cricket physically but mentally you're always involved in the game. It's really great to have a pool of fast bowlers these days. It's always a healthy competition and we are always in constant touch among ourselves off the field. I always keep talking to Shami and Bhuvi, it's really motivating," Haryana captain Mohit said on the sidelines of Ranji Trophy match against Tripura.
The 28-year-old who had an impressive 13 wickets from eight matches in the World Cup, leaked 1/84 from seven overs in his last ODI appearance, against South African on October 25, 2015 as an ankle injury forced him to miss the World T20 this year.
Sharma also said he's able to stay lean that has enabled him to add some extra pace into his bowling.
"I did not compromise on my rehab and tried to ensure that I don't put on weight. Glad that I'm able to add a couple of yards to my bowling."
Terming it as the worst phase of his career, he said:"Injuries are part and parcel of any fast bowler. You have to deal with it and it's something that's not in your hands. It has taught me a lot, about how to become mentally stronger come what may. My focus is primarily on fitness now. I have had a good last season," Sharma, who has featured in 26 ODIs and eight T20Is, said.
He had a special mention of former India bowling coach Bharat Arun, who has helped me.
"Bharath Arun has always inspired me. He always stresses on strengthening the mental aspect. After all, cricket is all about becoming mentally stronger and Arun has played a big role in this."
Asked whether he's eyeing the seamer all-rounder slot in the team and honing his batting skills, Sharma said this should happen naturally and he's not making any special effort on it.
"Becoming seamer all-rounder should happen as a natural progression. If the captain is convinced then gradually I would be promoted from Nos 10 to 9 to 7 or 8. But all my life I've concentrated on my bowling. If I am able to contribute to the team as a batsman, the captain would naturally notice this. I don't want to run after it or do it consciously. It should happen in a steady manner."
Keeping his individual aspiration aside, the former India pacer is focused on leading Haryana to the Ranji Trophy quarterfinals
"Now I'm leading my state and so I'm thinking more about the team, keeping the individual ambition aside. The focus firmly on taking my team to the quarters.