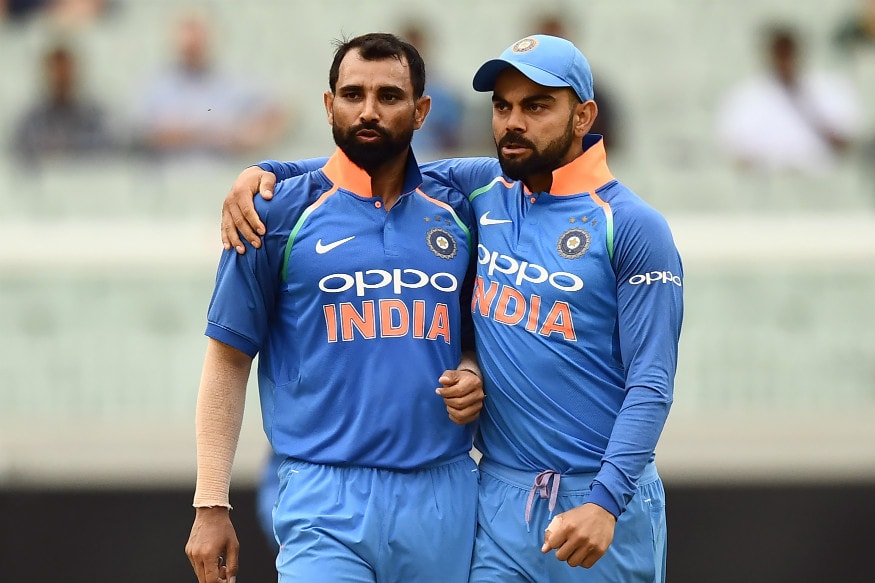 Mohammed Shami has been in some form in coloured clothings ever since his return to limited-overs cricket. Having been bogged down by a career-threatening knee injury and some personal problems in the past, the 28-year-old pacer had to fight his way back into the Indian One-Day International side and is now almost certain to travel to England for the 2019 World Cup.
Shami was brilliant in his last ODI series in New Zealand where he was adjudged the Man of the Series for picking up nine wickets in four matches at an average of 15.33. In the process, he also became the fastest Indian to reach 100 ODI wickets.
"Yes, it has been a very difficult period. I never run away from difficult circumstances. I face them bravely and always remain positive," he told India Today.
"As far as cricket is concerned, it took me nearly 18 months to recover from the knee injury and play for the country again. Not just physically, it is mentally very disturbing too. You have to be very strong to counter it. Patience is the key as the daily procedure, the recovery regime, the repetitive nature of the entire thing can irritate and depress anyone. It is difficult to sit out and watch the team playing matches without you. I will never forget that year and a half of my life after the last World Cup.
"I am thankful to God that I have been able to make this record. There are many reasons behind it. Biggest is the unbelievably brilliant atmosphere in the dressing room, followed by the confidence that I have in ability right now and also the things that I continue to learn from our coaches.
"Everything has contributed and combined to take me to another level. There are many minute things which bring in a lot of confidence and help us to get into the rhythm. For instance, not just on the ground, have a look at the way we (Indian players) treat each other off the field too. We enjoy every little thing. This helps a great deal."
Shami is in the best form of his life and has been playing regular cricket without showing any signs of breakdown. The right-arm pacer said he is ready for the World Cup and also credited the fitness-oriented atmosphere in the Indian dressing room.
"I am grateful that I have been very fit over the last seven, eight months. I want to continue focusing on my line and length. That is exactly what I did and the results are there for everyone to see. I am all ready for the ICC World Cup 2019. As you can see, I have lost weight too. I am trying to improve my fitness and focus on the game. I want to give my best.
"I feel the biggest factor for my comeback has been the change in the culture of the team, the fitness awakening that we have had has had a huge impact on me. I looked at others and worked on my game. I have enjoyed it fully. The fitness culture that we have in our team is amazing, you cannot even think about it. We have changed it completely in the last four or five years.
"Also, the best thing about Virat (Kohli) is that the players feel comfortable to discuss anything with him. A captain should know how to get the best out of each player and Virat is a master in it. The biggest plus about him as a captain is that all of us always remain chilled out, bindaas and discuss anything with him. With a free hand that he has given, we are able to achieve everything."
Shami said it will be an even contest between bat and ball in England, and feels that the Indian has enough variety in the bowling attack.
"I think we will witness exciting contests in England. The wickets will be good, the conditions will be excellent. Not only the ball will be hit all over the park but will also carry for the bowlers. So, it will be a 50-50 scenario for both. Execution will be the key, how much a bowler can focus on his line and length will be the key," he said.
"You need a package and we have a full package. Be it the pacers, the spinners or even the part-timers, everyone is perfect in making a contribution. The role of Kedar (Jadhav) is also brilliant in between all of us. We have fast, swing, variations and all the other qualities you can think of in the three formats. This is the reason why our bowling attack is the best in the world right now."