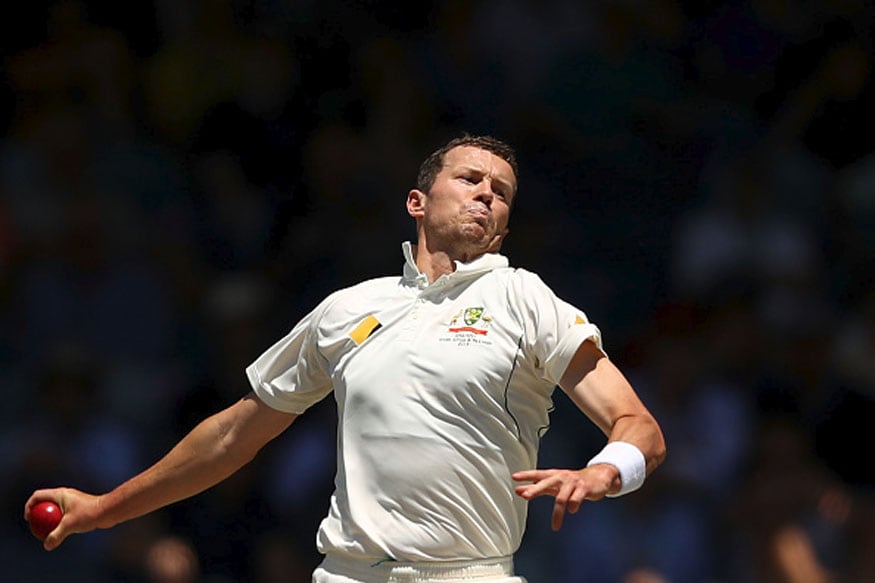 Peter Siddle last played for Australia in 2016 in Perth against South Africa, where he aggravated an injury before being forced out of action. Over the next two years, he seemed in danger of fading into oblivion as far as international cricket was concerned. He's now 33, and Australia have a strong pace unit in Mitchell Starc, Josh Hazlewood, Pat Cummins. Siddle was also left out of the Cricket Australia contract list for the 2017-18 season.
But Siddle earned a surprise recall to the Test side for the two-match series against Pakistan with Australia turning to his experience in the absence of the injured Cummins and Hazlewood.
Over the two years, Siddle performed consistently for Essex in the county championship, picking up 37 wickets from seven matches with three five-wicket hauls. He was also a part of the victorious Adelaide Strikers team in the Big Bash League earlier this year.
The reason for his success this season, Siddle explained, was a shift in mindset. He was not focusing on a recall to the Australian side, but instead, had his eyes firmly on the process that would take him there.
"A strong Big Bash gave me a lot of confidence and then playing a bit more cricket in England after being injured has helped," Siddle told Cricbuzz before his selection. "Getting more cricket under my belt is starting to pay dividends. (It's) showing that I can still perform at the highest level and am putting the ball in the right place. I could definitely still be doing that at international level.
"The big thing in the past 12 months is that I've concentrated a lot more than I probably have previously on not being too focused about getting back into the Australian side. Instead, I've tried to focus on the games I am playing in. Over the last year, my attitude has been that I've got to be on the park and performing for whatever side I'm playing for. I'm enjoying cricket. The last twelve months, I've had a lot of fun. I've played some of my better cricket and over here this summer, I've put in some of my best performances in a very long time. That's the pleasing thing."
Despite the lows of the last two seasons, Siddle stressed retirement was not in his mind.
"I still want to play for Australia. I still have that drive to represent my country," he said. "It's bringing out the best of me in whatever tournament I am playing in. If I got to a stage where I wasn't performing, there would be a lot of pressure to move on but while I am still performing, I want to keep playing for as long as I can. I've got a good few years still to go."
Siddle has played 62 Tests for 211 wickets, apart from 17 ODIs and two T20Is. He could add to the tally in UAE against Pakistan, and perhaps even make a case for himself for next year's Ashes, considering his vast experience in England.
"I've always enjoyed the English conditions," he said. "For the last couple of summers back home, we have used the Dukes ball for the back half of our seasons so adapting to the ball isn't perhaps as difficult as it has been in the past. It's length which is the big change in England. The pitches aren't quite as quick and as bouncy as back home so you want to pitch the ball up.
"The benefits of a bit of seam and swing movement over here is a massive bonus for the bowlers. Trying to hit the stumps is the big thing here as well. You can get a lot of bowled and LBWs by pitching the ball up with a bit of seam movement. If you put it in the right areas, you will get results."