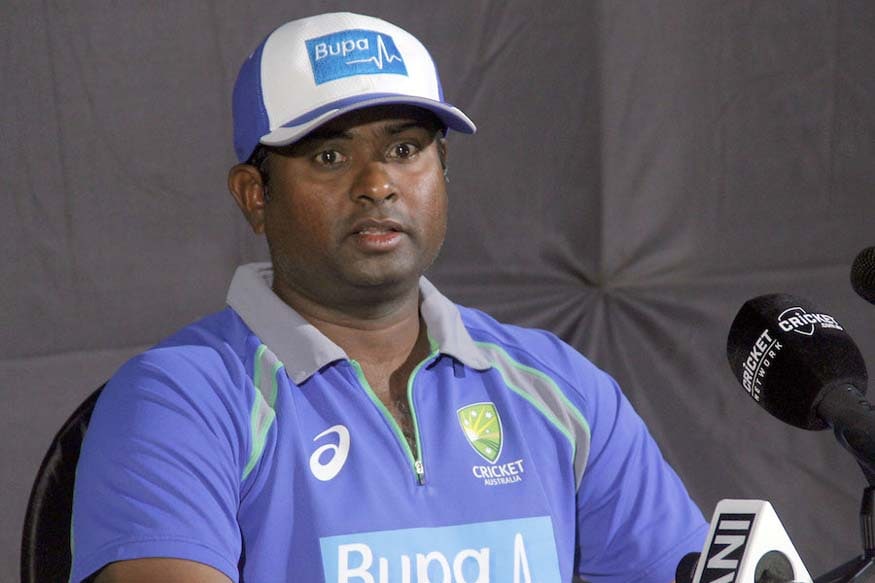 Pune: Australia's spin consultant Sridharan Sriram, who has been credited for Steeve O'Keefe's sensational performance in the first Test against India, feels it's not the name of a coach but his inputs that earn him respect from players.
Sriram, who played 8 ODIs for India during early part of the last decade, is considered the guiding force behind left-arm spinner O'Keefe's match-winning figures of 12 for 70 in Australia's 333-run win in the first Test against India.
"I don't think the name really matters, does it? How does a name matter? I mean, I come in and if I talk sense they listen to me, if I talk bull**** they don't. It's as simple as that," Sriram said on Monday when asked if he has faced problems of acceptability considering he is not a big name.
"I think it's taken time... They have really been open. That's the best thing about this Australian team. They have been open to listening first. And then obviously I made sense a little bit and they started listening and they started trying out things in the nets and saw that it worked for them and I think that's how it's gone," said Sriram.
Also Read - Team India Report Card: First Test Against Australia in Pune
"I have a chat with everyone, it is not just the spinners, that is the freedom I get from my head coach which is amazing so I can chat to anyone if I feel there is something they should do, I go up to them and suggest and it is up to them if they implement it or not, some say no some say yes, I am willing to try and prolong the conversation,"
Sriram sounded practical in his approach.
Sriram said O'Keefe's success should be attributed to his "preparedness" and "willingness to experiment".
Asked what exactly did O'Keefe change, Sriram said: "Not necessarily change, more I would use the word adapt. Because India is such a big country, there's no one-stop solution. If you say 'this will work', it is not going to work. So you have just got to adapt on the go. You have got to see what works for you on that day.
"And so I think that's where O'Keefe really scored, because he was well-prepared. He was prepared to experiment, he was prepared to sort of try different things in the nets. Which goes back to our time in Chennai in 2015. So, I think he knew that he had to come with an open mind for every day of a Test Match. What works on day one may not work on day three. He knows that. I think that's his biggest strength," said Sriram.
@media only screen and (max-width:740px) {
.quote-box{font-size:18px; line-height:30px; color:#505050; margin-top:30px; padding:22px 20px 20px 70px; position:relative; font-style:italic; font-weight:bold}
.special-text{font-size:24px; line-height:32px; color:#505050; margin:20px 40px 20px 20px; border-left:8px solid #ee1b24; padding:10px 10px 10px 15px; font-style:italic; font-weight:bold}
.quote-box img{width:60px; left:6px}
.quote-box .quote-nam{font-size:16px; color:#5f5f5f; padding-top:30px; text-align:right; font-weight:normal}
.quote-box .quote-nam span{font-weight:bold; color:#ee1b24}
}