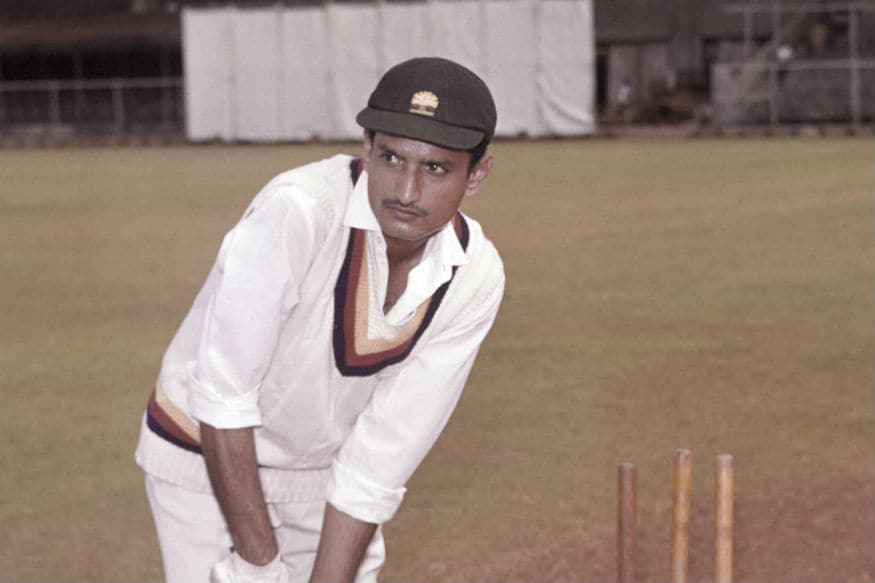 Did you know that Ajit Wadekar was asleep when the winning runs were hit at the Oval to give India their first win on English soil in 1971? Or that he left West Indies captain Garry Sobers shell-shocked by deciding to impose the follow-on in the first Test of the storied 1971 tour in Jamaica? Or that he insisted that the team met at the bar every evening, whether the players drank alcohol or not, to ensure no cliques are formed in a group of players from diverse backgrounds?
Wadekar, who passed away in Mumbai at the age of 77 on Wednesday, shared some of these memories of his time as Indian captain in an interview published on BCCI.tv after his demise. Though Wadekar only averaged a shade over 31 in his 37-Test career, he is regarded as one of the doyens of Indian cricket for taking India to series wins over West Indies and England in 1971.
Interestingly, Wadekar had revealed in the interview that he wasn't even expecting to be named captain, convinced that the responsibility will fall on his cricketing hero Tiger Pataudi.
"He (Pataudi) was always nice to me and we were very close," Wadekar said. "I told him one day, 'Tiger, I am not getting many runs of late. Please make sure that I am in the team'. He said, 'Okay, Ajit. But when you become the captain, you ensure that I am in the team'. I replied, 'There is no chance of that happening, but if it does, you will be in the team'.
"When I came to know that I was appointed the captain, it came as a shock. It suddenly hit me what great responsibilities came with becoming the captain of the Indian cricket team, especially since I was taking over from Tiger – a man who had such charisma. It was going to be very difficult for me to lead the players who had played under Pataudi for so long, and to think how they would adjust and react to my captaincy.
"What worked in my favour was that coming from Bombay, I played a lot of cricket and interacted a lot with some of the senior players in the team, like Polly Umrigar, Ramakant Desai and Dilip Sardesai, and had a good idea about how to get the team together and win."
Getty Images
The twin series triumphs announced India's arrival on the world stage as a force to be reckoned with. Prior to those wins, India's only overseas series win had come in New Zealand in 1967. Wadekar began by leading with aplomb against West Indies, who were captained by Sobers, a man he described as his 'idol'. Wadekar reflected on the reasons for the victory in the course of the interview, from putting together a unit that was sharp in the field, to ensuring the players took the field as cohesive unit though they came from completely different cultural settings.
"The job of an Indian captain is much more difficult than say that of England, Australia or any other country," Wadekar explained. "That is because we have people coming from all different backgrounds and cultures, speaking various languages. It is natural that guys speaking the same language will hang out together and although unconsciously, cliques could be formed.
Then it becomes difficult to get together as a team because you don't know what the other guy is talking about. The biggest challenge was to keep the whole team together. So, we had a system where all of us would meet at the bar every evening. Whether you have a beer or lemonade, doesn't matter, but the relaxed atmosphere of a bar is a good place to just talk and mingle. Then someone would say, 'Let's go and have idli dosa'. The guy who is not from South India would also say, 'Yes, it is a good change'. And he would join too. That would bind the team together.
"Another thing we focused a lot was on our catching and fielding. We lacked in that aspect and I really wanted to change that. I gathered a few good close-in fielders in Srinivas Venkataraghavan, Sunil Gavaskar, Abid Ali, Eknath Solkar and myself. Our spinners needed the support of good close-in catching to be effective. We knew we were facing tough opponents but we didn't want to bow down to them. This belief was instilled in the team by Tiger Pataudi, along with the fact that he stressed on the importance of fielding – he was an excellent fielder in the cover region himself. So, that came from him as well."
It was under Wadekar's guidance that Sunil Gavaskar took his first steps towards building what would become a legendary career, making 774 runs in his debut series. Having missed the first Test in the West Indies with an injury, Wadekar took no time in introducing the 21-year old into the playing XI as soon as he was fit in the second Test. It helped of course that Wadekar had seen Gavaskar from close quarters since both came from the same city and knew instinctively that he had the tools to succeed in international cricket.
"From the day he started playing cricket, I knew it in my heart that he would play for India one day," Wadekar said. "He was a prolific batsman right from his school days and continued to score tons of runs in the Ranji Trophy for Mumbai, when I was the captain. He had everything – talent, concentration, and he wasn't daunted by any bowler or the big names. It was rather sad that I had to drop Jayantilal for the second Test despite the fact that we all failed as batsmen in the first Test except Sardesai. But I knew Sunil had to make his Test debut and decided it was time.
"We, as Indians, are superstitious. It was in my mind that whenever someone scored a century for India on debut, he failed miserably later on. So, I actually asked everyone in the change room to pray that Sunil doesn't get a century, in both innings. He scored 65 and 67 in that match and then went on to pile on the runs."
While the win against the West Indies was celebrated, Wadekar recalled that some observers had described it as a 'flash in the pan' at the time. However, those critics were silenced a few months later when India triumphed 1-0 in England, beating England at the Oval on the back of an unforgettable spell by B S Chandrasekhar. Memorably, Wadekar recalled, that when the winning runs were scored, he was taking a nap!
"I was run-out off the first ball on the last day and we still needed 97 to win," he remembered. "I crossed GR Viswanath, who was walking in to bat. He said to me, 'Relax, captain. Go and take a nap. We will get the runs'. I went back, watched for a while, but then Vishy and Farokh Engineer got a little tied down with runs. The superstition kicked in and I thought, 'Let me go inside and see if they start scoring fluently'.
"The moment I went in, I heard some noise and it was a four. So, I decided to remain in. I lied down and fell asleep. Their manager, Ken Barrington, came and woke me up. He said, 'Hey, Ajit, wake up. You know, you have won'? I said, 'You don't have to tell me. I knew we would win'."