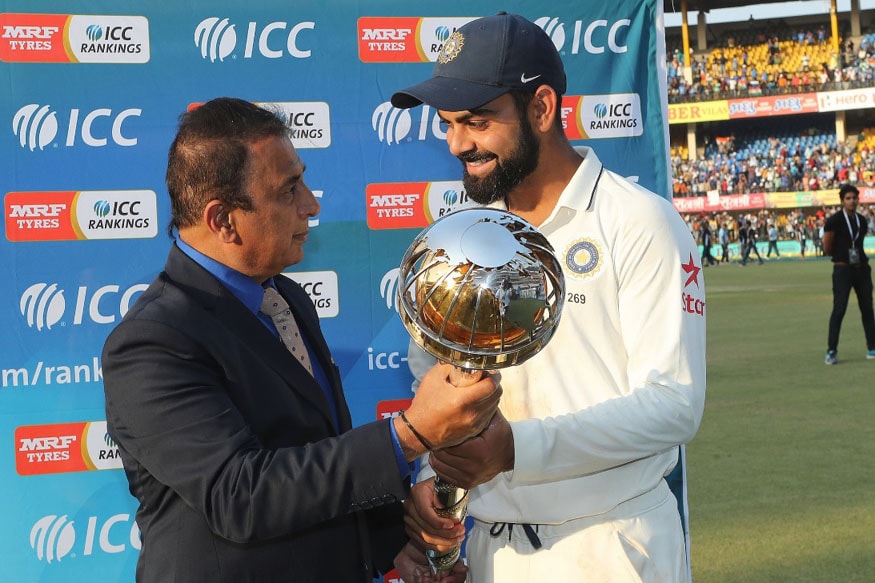 New Delhi: The International Cricket Council (ICC) presented the ICC Test Championship mace to Team India captain Virat Kohli at the Holkar Stadium in Indore after the end of the third and final Test against New Zealand.
On behalf of the ICC, former India captain and ICC Cricket Hall of Famer Sunil Gavaskar handed the mace to Skipper Kohli immediately after the awards ceremony for the series.
India was guaranteed number-one spot on the ICC Test Team Rankings after it took a 2-0 lead in Kolkata. Since the Test team rankings are only updated at the end of the series, India formally replaced Pakistan at the top of the table at the end of the Indore Test which it won by 321 runs.
"It's an honour and a moment of great pride to receive the ICC Test Championship mace. To be recognised as the best in the traditional form of the game is as good as it gets for any team and stuff that dreams are made of," Kohli said.
Kohli has become only the second India captain after Mahendra Singh Dhoni and 10th overall to receive the mace, even though it is for the third time since Kohli took over as captain that India has led the rankings table.
Kohli credited his players for performing consistently to take the team to the top.
"Individual performances are important, but in the end it is what those performances do for the team that matter. If we have been able to become the best in the world, it is because there is a lot of bonding among team members and there is always someone to raise his hand in a difficult situation. I think that is what makes a top side.
"I would like to thank all players and support staff, who have all been part of our team because I feel such an achievement is only possible with contribution from all quarters. To reach the top of the Test rankings takes a lot of hard work and perseverance," the India captain said
Kohli said playing Test cricket is an ambition for any cricketer and to be part of such a team is to be treasured.
"We all grow up playing cricket, hoping to represent our country in Test cricket. But to be part of a team that does well continuously in Test cricket is something altogether different. I'm confident we will continue to win matches at home as well as abroad in the coming seasons. I want this team to be remembered as one of the finest Test teams ever," Kohli said.
India have a busy Test season at home coming up with England and Australia slated to visit and Kohli's team will look to keep the winning run going to maintain their top billing in the Test rankings.
First Published: October 11, 2016, 11:49 AM IST