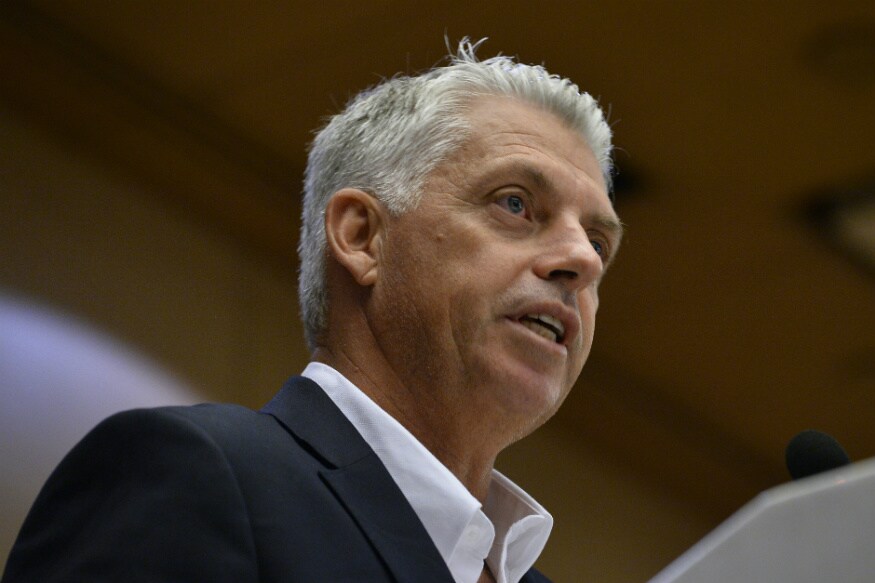 New Delhi: Cricket is keen on truly going global and the fastest way to do that will be to join the Olympic movement as soon as possible. While there might be only 12 Test playing nations currently, the International Cricket Council (ICC) has 104 member nations competing under their wing.
The ICC is now aspiring for cricket's entry into the 2028 Olympics which will be hosted in Los Angeles. The biggest hurdle in that path is the Board of Control for Cricket in India's (BCCI) reluctance to becoming WADA-compliant, a process that ICC is trying to facilitate.
"ICC is trying to facilitate a dialogue between WADA and the BCCI. There is a willingness on the part of BCCI to resolve the situation with the Indian Olympic Association (IOA). I think that can be resolved quite quickly. BCCI is not reluctant to do dope testing, but they are not ready to send samples to NADA," ICC chief executive Dave Richardson said after a promotional event in the Capital on Wednesday.
"As far as Olympics are concerned, we have the ambition of getting cricket into Olympics by 2028, but that's easier said than done. We need to convince the IOC itself to have cricket — 103 out of 104 members are strongly behind the decision. There are some issues between BCCI and IOA and I am confident they can be resolved," he said about ICC's Olympic aspirations.
The world body is also hoping for women's T20 cricket to be included in the 2022 Commonwealth Games which will take place in Birmingham.
"We think cricket and CWG is a good fit. It affords women's cricket a much bigger market. From CWG point of view, women's sport is a huge agenda for them and this will give them an opportunity to tap into a big cricketing market. CWG organisers need to go through their decision-making process and we'll hear about their decision only next year," the former South Africa wicketkeeper-batsman said.
One of the ICC's bigger headache in recent times has been the fixing menace especially in Sri Lanka where at least three cricketers were charged in the month of November alone.
"There are some on-going investigations, ACSU (anti-corruption unit) is trying to be much more pro-active to disrupt these criminals who are travelling around the world, trying to corrupt the game. We are getting much better intelligence about who are these people, the education programs we have put in place have worked really well, we have hardened the target at the international level to the extent that these unscrupulous elements are trying to approach players at a much lower level.
"Of course it bothers ICC when names like (Sanath) Jayasuriya crop up but he has only been accused of failing to co-operate. Let's not jump the gun with that investigation. We are trying to persuade governments to make cricket match-fixing a criminal offence and put these types of people behind bars," the ICC CEO said.
Richardson was pleased with the new format of the 50-over World Cup which will feature 10 teams, all facing each other in the first round with the top four progressing to the semifinals at the 2019 event, a throwback to the 1992 tournament.
"We want World Cups to be a global showpiece event. T20 is the format to globalize the sport but there is nothing worse than seeing a match with one team completely out of their depth. It is harder to compete in 50-over cricket," he said about the 10-team format.
Asked if weather could possibly raise controversy as it did in the 1992 World Cup with Pakistan scraping through after a rain-affected tie against England, he said, "We don't want the weather to play a big influence on any tournament but rained out international matches in England are surprisingly few. English grounds have very good drainage. Also, Pakistan sneaked in but won the semis and final convincingly."